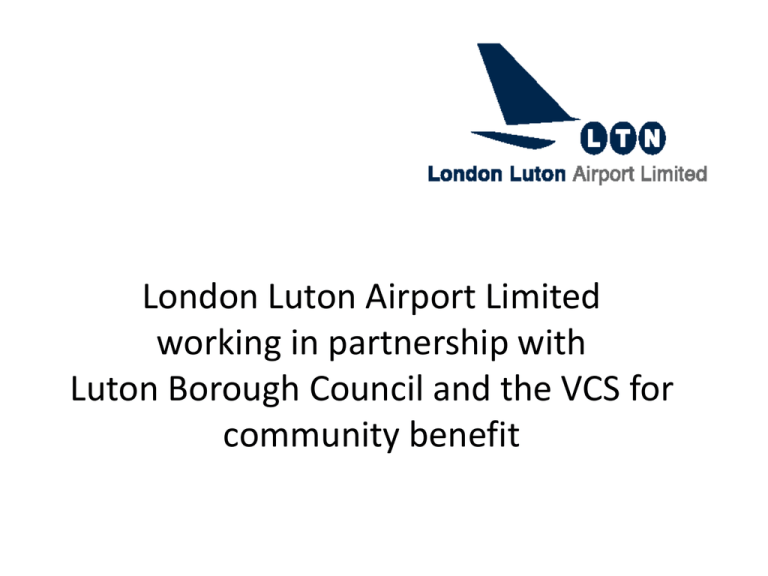 London Luton Airport Limited
working in partnership with
Luton Borough Council and the VCS for
community benefit
Agenda
•
•
•
•
•
•
The Strategic Context
Themes and Theme Leads
Priority Outcomes
Process and Timetable
LLAL's Business Development
Over to you…………
On the Panel
• Fiona Sheil, NCVO – Chair
• Robin Porter, Chief Operations Officer, LLAL
• Mark Turner, Chief Finance Officer, LLAL
Key Headlines
•
•
•
•
•
•
•
•
5th Largest Airport in the UK
70 destinations
10m passengers per year
Of which 89% are international
Growth of 54% in last 10 years
Running at close to capacity
One terminal; one runway
40 mins to from gate to Central London
Overview- Ownership
• London Luton Airport Limited (LLAL) owns the freehold to
the airport
• Luton Borough Council is the majority shareholder of LLAL
and appoints the Board of Directors (all Councillors)
• Operated through a 30 year concession agreement by
London Luton Airport Operations Limited signed in 1998
• LLAL receives a per passenger fee
• LLAL received in 2011 £26.7m
• Around £14m of which invested in local communities
through supporting charitable organisations
Voluntary Sector Funding Review
The Drivers:
the Council's drive to ensure that all public money and LLAL
Dividend is utilised in the most impactful way
the recommendations of the 2011 Commission on Council and
Voluntary and Community Sector Relations
LLAL's Community Funding Policy
Community Funding Policy
• Part of our Corporate Social Responsibility strategy
• Keen to share the economic benefits of the Airport
• Successful, vibrant, economically active catchment area
supports our commercial interests
• Keen to develop transparency and clarity on what we
will and will not fund
• Partnering; Sustainability; and Supporting Objectives
• 4 separate funds
Community Funding PolicyFund 1 Partnership Fund
• Informed by Recommendations of the
Shareholder
• Priority Outcome Partners
• Partnerships formed around specific
shareholder polices - e.g. Health and
Wellbeing
• Monitoring of outcomes
Themes and Theme Leads
•Health and Wellbeing, consisting of two sub-themes:
a) Health Inequalities - Glynis Allen
b) More Independent Living - Simon Pattison
•Children and Families – David Bruce
•Community Safety – Nikki Middleton
•Youth – Jo Fisher
•Community – Sandra Hayes
•Environment and Economy – Laura Church
•Information, Advice and Guidance – Sue Nelson
•Leisure and Culture – Michelle Griffin
Priority Outcomes
• Stronger and safer communities
• strengthening communities; building capabilities and
resources of community, voluntary and social enterprise
groups together to work out shared solutions
• increasing the number of active citizens; people with
motivation, skill and confidence to speak up for their
communities and say what improvements are needed
• reducing anti social behaviour and fear of crime, ensuring all
people feel safe
• tackling alcohol and drug abuse
• more well-designed, safer and accessible open spaces
Priority Outcomes
• Environment and economic development
• protecting & enhancing the natural and built
environment including rivers and natural
habitats within Luton's green spaces
• enhancing skills for employability and
entrepreneurship and reducing differences in
achievement levels between communitie
Priority Outcomes
•
•
•
•
•
Health and wellbeing
supporting people to live independently
improving mental health services
improving services for carers
improving leisure and cultural opportunities
for all and better access
Priority Outcomes
• Children & young people
• improving the health of children and young people
• ensuring children and young people in Luton are safe
and well cared for
• supporting our children and young people to achieve
skills and experience to enhance their prospects for
the future
• reducing the differences in educational achievements
between ethnic groups
Timetable
• July 2013 – development of Theme outcome
specifications
• September 2013 – mid-year review and evaluation of
progress towards outcomes, and assessment of
future needs
• October 2013 – development of Theme funding
proposals
• November 2013 – review of proposals by
shareholder
• December 2013 – approval of donations by LLAL
Growth Plans
• Growth plan to expand from 10mppa to 18mppa
• Agreement signed between LLAL and LLAOL to invest £105m
in the asset
• Good level of response on pre planning consultation
– Around 1,300 on line or physical responses; around 65%
positive
• Objections focus on noise and roads
• LLAOL submitted planning application for development
• Potentially 9,500 additional jobs in the region
• LLAL revenue potentially up to £48m by 2020
• GVA - £580m
Some Key Questions
•
•
•
•
•
•
•
What format will the review and evaluation process take?
Why is LBC involved in the process?
Can I ask for more money?
Who do I ask for more money?
How long will the Relationship Management Agreement last?
What risk is there to airport passenger numbers?
My organisation is not included in the Partnership Fund –
why?