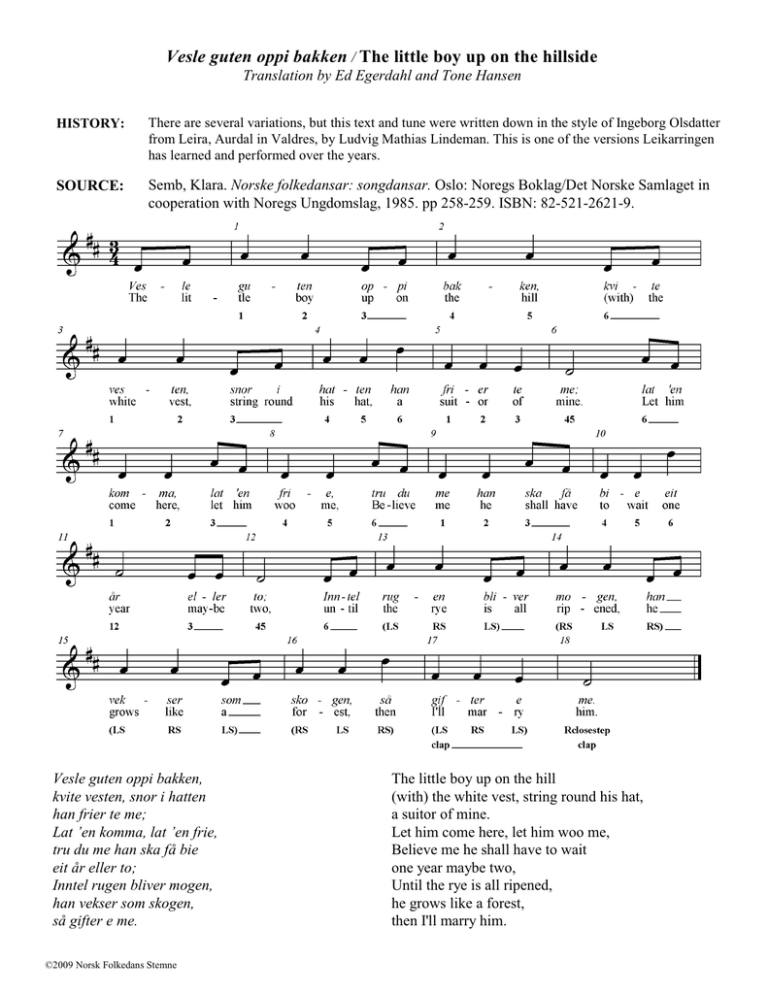 Vesle guten oppi bakken / The little boy up on the hillside
Translation by Ed Egerdahl and Tone Hansen
HISTORY:
There are several variations, but this text and tune were written down in the style of Ingeborg Olsdatter
from Leira, Aurdal in Valdres, by Ludvig Mathias Lindeman. This is one of the versions Leikarringen
has learned and performed over the years.
SOURCE:
Semb, Klara. Norske folkedansar: songdansar. Oslo: Noregs Boklag/Det Norske Samlaget in
cooperation with Noregs Ungdomslag, 1985. pp 258-259. ISBN: 82-521-2621-9.
Vesle guten oppi bakken,
kvite vesten, snor i hatten
han frier te me;
Lat 'en komma, lat 'en frie,
tru du me han ska få bie
eit år eller to;
Inntel rugen bliver mogen,
han vekser som skogen,
så gifter e me.
©2009 Norsk Folkedans Stemne
The little boy up on the hill
(with) the white vest, string round his hat,
a suitor of mine.
Let him come here, let him woo me,
Believe me he shall have to wait
one year maybe two,
Until the rye is all ripened,
he grows like a forest,
then I'll marry him.