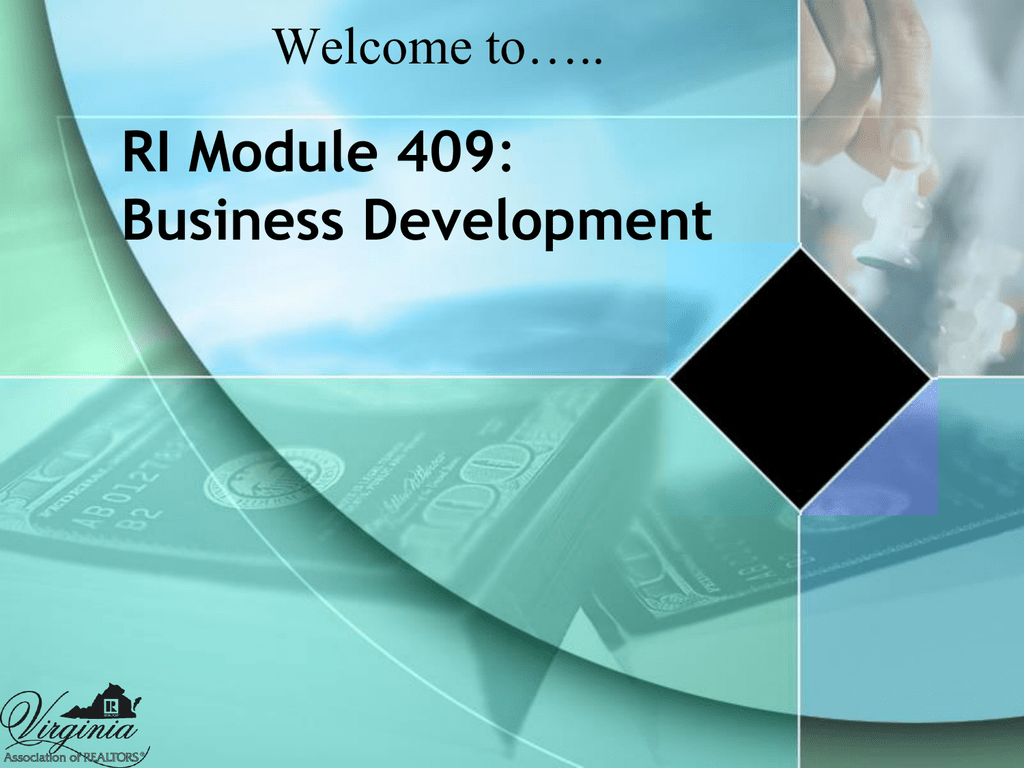 Welcome to…..
RI Module 409:
Business Development
Course Objectives:
Upon completion of this course, you will be
able to:
• define the difference between a goal and an
activity.
• formulate an effective and measurable
business plan.
Course Objectives:
• determine when a personal assistant is
needed, develop a budget for hiring, and
develop a job description for an assistant
• identify professional networking
opportunities
• identify ways to retain current clients and
make them permanent, i.e. "clients for
life".
Building a Positive Professional
Image:
*Show consideration
*Self-confidence
*Communication
Mission Statement
&
Establishing
Goals
A Mission Statement Allows
You To:
• 1. Examine your innermost thoughts & feelings
• 2. Clarify the purpose of your life
• 3. Identify what's really important to you---in your
business and your personal life
Developing & Writing Your
Mission Statement:
Setting Goals:
"If you fail to plan, you plan to fail"
How Do You Get To
Rockefeller Center?
Short-Term Goals:
Achievable
Measurable
Deadline-oriented
Compatible with long-term goal
Should be in writing
Long-term Goals Require
Decisions Regarding:
1.
2.
3.
4.
5.
6.
Money
Hours of work
Sacrifices
Relationships
Health & recreation
Other time commitments (volunteer
work, etc.)
7. Spiritual needs
A Successful Business Plan Includes:
•
•
•
•
•
•
Goals
Objectives
Action Plans
Daily Actions
Personal Promotion Plan
Budget
My Five Business
Goals Are:

Write them down on Page 14
Now Prioritize Your
Five Business Goals
Write Short-term
Goals and Action
Plans for Your
Top Two Goals
Starting on Page 16
After Class, Complete the Balance of
Your Goal Writing
Constantly Evaluate Your Goals
Ask yourself: What have I found to be the
toughest aspect of writing and sticking to
goals?
What can I do to overcome this obstacle?
Complete Your
Financial Analysis
Beginning on page 20
If you completed it prior to attending class,
give yourself a well-deserved break!
What Did You Learn
from Completing the
Financial Information?
Business Sources and
Networking
Identifying your SOI---Sphere of Influence!
My Top Three SOIs Are:
1.
2.
3.
(enter them on page 28)
Develop Your
Marketing Plan
Personal Assistants and
Groups/Teams
The "Dream List" of Tasks for a
Personal Assistant include:
1.
2.
3.
4.
5.
6.
7.
8.
Questions to Answer Regarding a
Personal Assistant
1.
2.
3.
4.
5.
6.
7.
Full or part-time?
Activities to perform?
Skill sets required?
Resident in office or virtual?
How to compensate?
Time/patience to train?
Write out a job description
Attracting, Interviewing and
Selecting An Assistant
Should You Hire a Licensed or
Unlicensed Assistant?
Benefits of Working as a Team:
1.
2.
3.
4.
Detriments of Working as a Team:
1.
2.
3.
4.
Planning Your Budget
Projected Annual Income Goal
Projected income goal $____________ divided
by 12 = $__________ average per month to
reach my goal.
Each month, I must sell ____ # of homes (sides)
at an average sales price of $___________ in
order to meet my monthly projected income
of $_____________.
Prioritizing Your Time to
Generate Business
Determining the Cost of a
Transaction Side
Last year's expenses divided by the number of
transaction sides you did (one side per listing;
one side per sale)
Example:
$36,000 expenses divided by 20 sides =
$1,800 cost per side
Projecting Income and
Closed Transaction Goal
1. Use last year's production as a "benchmark"
a. Last year's income _________ (a)
b. # of closings last year _______ (b)
c. __________ (a) divided by _______(b)
Equals _________________ (Average Income
Per Closing)
Projecting Income and
Closed Transaction Goal
2. Estimate the number of closings necessary to meet
next year's income goals
a. Income desired
____________ (a)
b. Average Income Per Closing __________(b)
c. __________ (a) divided by ____________(b)
Equals _________________ (Total Number of
Closings Needed to Reach My goal)
Finalizing Your
Business Plan
---on page 42
Your Daily Planner
Question: What do you use and how is it
working?
Your "To Do" List
---on page 44
Time-saving Tips:
What Works for YOU?
Name Three Steps You'll Take to
Implement What You've Learned
Today:
1.
2.
3.