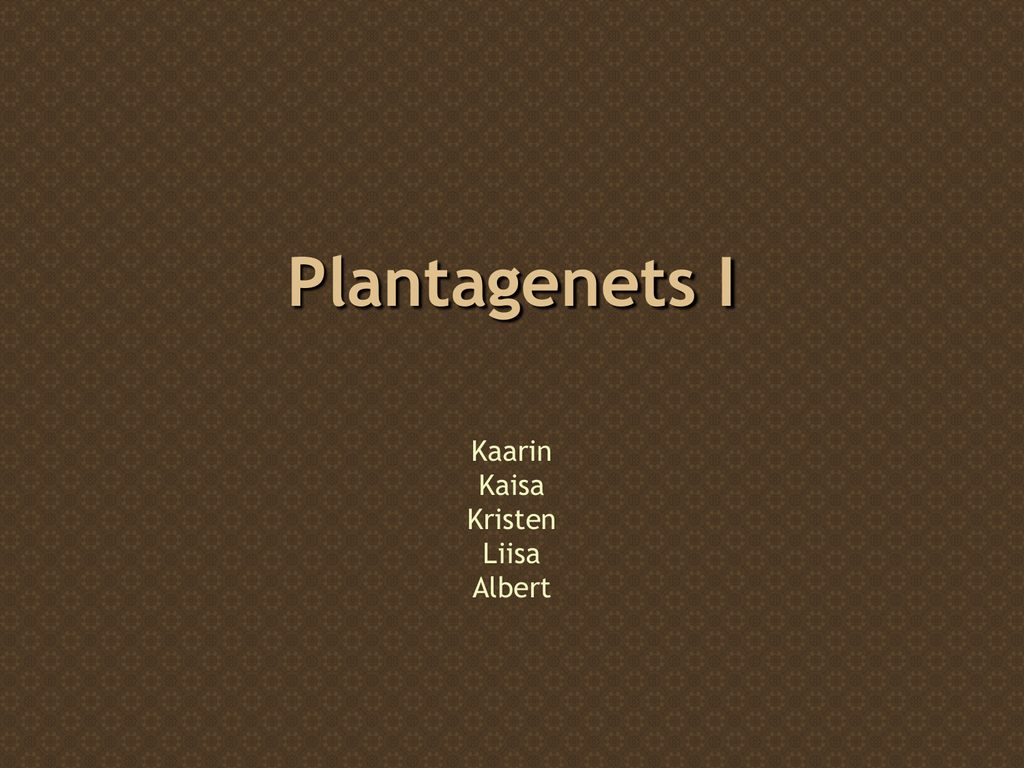 Plantagenets I
Kaarin
Kaisa
Kristen
Liisa
Albert
Family tree
Henry II (1133-1189)
•First Plantagenet king
•His coronation ended
the civil war
Reign
• Reforms in law system
• Military system
• Had more lands in Europe
than the King of France
Thomas à Beckett
• Tense relations with the
Church led to the murder of
Thomas Beckett
• "Will no one rid me of this
turbulent priest?"
Last years
• In order to protect
his throne, Henry
II had many wars
both with his sons
and the king of
France.
• Died in 1189 on
the 6th of July.
John I (1166 - 1216)
• Son of Henry II and
Eleanor of
Aquitaine
• Had two
nicknames:
"Lackland" and
"Soft-sword"
Claiming the Throne
• Usurped the throne while
Richard was in Third
Crusade
• Had to fight his nephew
Arthur for the lands in
France
Magna Carta
• Had a quarrel with Pope Innocent III
• The barons forced him to sign the Great
Charter
Henry III (1207 – 1272)
•
•
•
•
•
was the son of John I Lackland
tried to regain French possessions
married with Eleanor de Provence
was influenced by the Pope
replaced English officers with French
nobility
The Second Barons' War
•
•
•
•
•
Barons vs. the King
Simon de Montfort
The Battle of Lewes
The Battle of Evensham
Dictum of Kenilworth
The First Parliament
• The Provisions of Oxford
• The summoning of the Parliament
in 1264
• Right to vote
• Arrangement
Edward I
• Son of Henry III
Conquered Wales,
failed to defeat Scotland
Strenghtened the Crown
and the Parliament
"The English Justinian"
Edward II
• Also called Edward of Caernarvon
Highly unsuccessful king
Put down a rebellion
Was forced to abdicate
Edward III
• Also known as Edward of
Windsor
Focused on military
issues in Scotland and in
France
Started the Hundred
Years´ War
Founded the Order of the
Garter
The Order of the Garter
• Was begun in or around 1348 by
Edward III
First, and the most prestigious,
British order of chivalry
Patron saint was St. George
St. George's Chapel at Windsor
Castle
Membership in the Order today fills
its role as a mark of royal favour
Thank you!