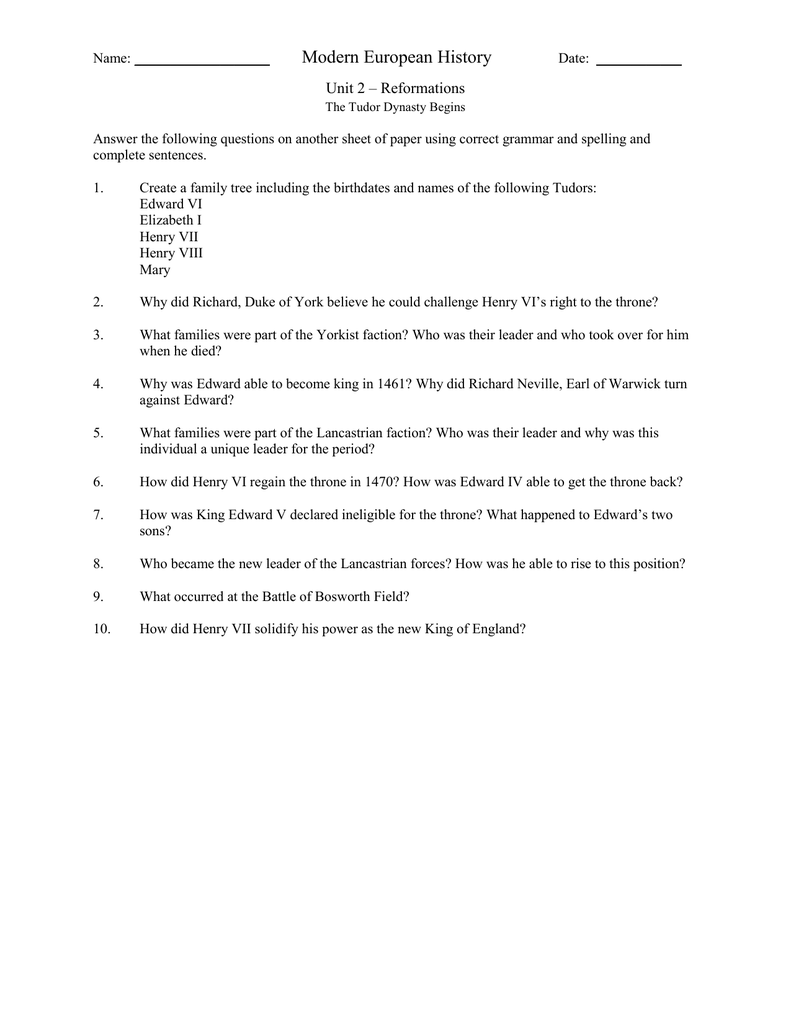 Name: ___________________
Modern European History
Date: ____________
Unit 2 – Reformations
The Tudor Dynasty Begins
Answer the following questions on another sheet of paper using correct grammar and spelling and
complete sentences.
1.
Create a family tree including the birthdates and names of the following Tudors:
Edward VI
Elizabeth I
Henry VII
Henry VIII
Mary
2.
Why did Richard, Duke of York believe he could challenge Henry VI's right to the throne?
3.
What families were part of the Yorkist faction? Who was their leader and who took over for him
when he died?
4.
Why was Edward able to become king in 1461? Why did Richard Neville, Earl of Warwick turn
against Edward?
5.
What families were part of the Lancastrian faction? Who was their leader and why was this
individual a unique leader for the period?
6.
How did Henry VI regain the throne in 1470? How was Edward IV able to get the throne back?
7.
How was King Edward V declared ineligible for the throne? What happened to Edward's two
sons?
8.
Who became the new leader of the Lancastrian forces? How was he able to rise to this position?
9.
What occurred at the Battle of Bosworth Field?
10.
How did Henry VII solidify his power as the new King of England?