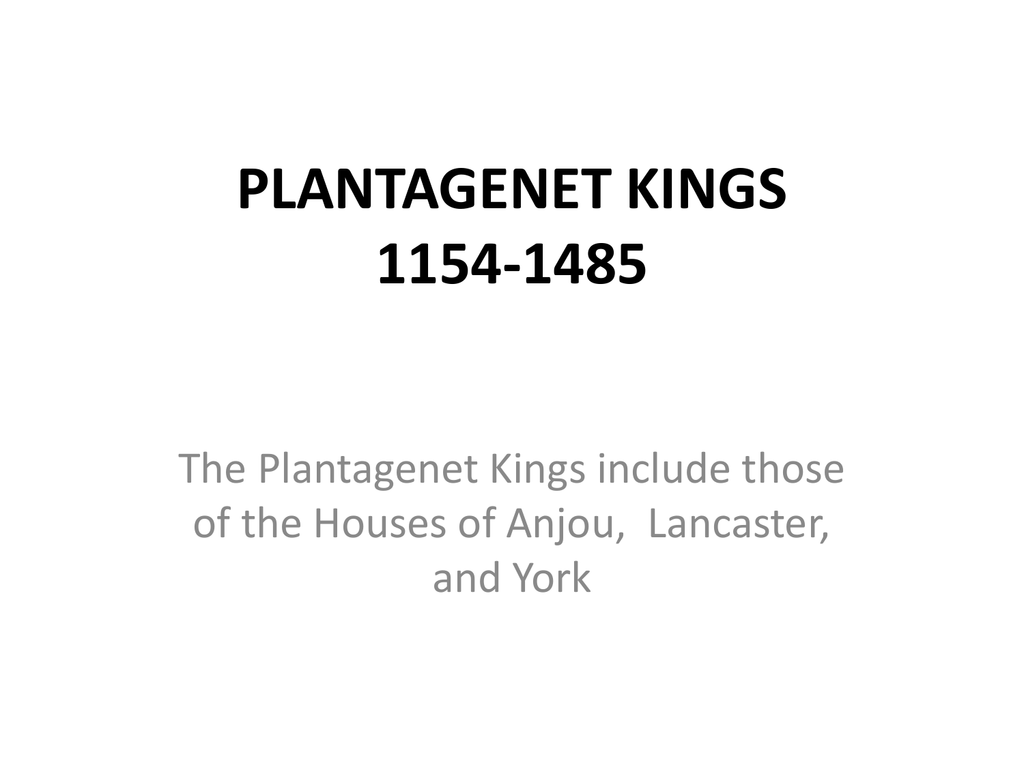 PLANTAGENET KINGS
1154-1485
The Plantagenet Kings include those
of the Houses of Anjou, Lancaster,
and York
HOUSE OF ANJOU
1154-1399
•
What were the legacies of the Angevin English monarchs?
•
How did the actions of the Angevin monarchs shape the development of
Parliament and an English nation?
•
How did the actions of the Angevin monarchs impact European conflict?
HENRY II (House of Anjou)
r. 1154-1189
• First unopposed rise to power since 1066.
• Controlled a vast empire—most of British Isles
and parts of France
• Married to Eleanor of Aquitaine (French)
• Acquired Ireland with the help of Pope Adrian IV
(the only English pope). Pope recognized his
authority over
• Laid down the foundations of English Common
Law—consistent and accessible
• Quarrel with Thomas Becket, Archbishop of
Canterbury (Becket thought the Church should
be independent from royal power), led to the
clergyman's murder in Canterbury Cathedral;
1170.
ELEANOR
• Good marriage w/ Henry II until it was soured
by his promiscuity
• Encouraged her sons' rebellion against Henry
II
– Henry crushed the rebellion and put Eleanor
under house arrest
RICHARD I (THE LION HEART)
r. 1189 - 1199
• Son of Henry II. Kept Henry's empire intact
• Forced his father from power with the help of French Philip II
• Third Crusade
– Absentee King
– Known for the slaughter of 2,500 men women and children at Acre.
– Captured in Germany
• In his absence, legendary Robin Hood poached in Sherwood Forest.
JOHN
r. 1199 - 1216
• Has possibly the worst reputation of any English king
• MAGNA CARTA, Runnymede 1215.
– Result of disagreements with barons over taxation
– Limits on royal power—subjected monarch to the law of the land.
• Named king of Ireland while still prince.
• Lost Normandy, Anjou and most of
Aquitaine to the French king, Philip II.
HENRY III
r. 1216 - 1272
•
•
•
•
King at age 9; regents reestablished order for him (following father, John)
Married Eleanor of Provence
Magna Carta reasserted.
Papal control of appointments under Henry III would set the stage for
support of the English Reformation under Henry VIII.
• Oversaw the rebuilding of Westminster Abbey
EDWARD I (Longshanks)
r. 1272 - 1307
• Son of Henry III
• Surveyed the country and codified laws
• Introduced the "Model Parliament"
– Originally called to approve campaigns in Scotland and
France
• Battled William Wallace and Robert
Bruce of Scotland regarding Edward's
supremacy over the Scottish king
• Conquered Wales and made his eldest
son the first Prince of Wales—this
practice still continues today.
EDWARD II
r. 1307 – 1327
•
Defeated by Robert the Bruce at Bannockburn
– Edward should have won—outnumbered the Scots
– Lead to Scottish independence
•
•
•
Parliament gained power through the Ordinances of 1311
1326- Deposed by wife Isabella (daughter of Philip IV of France), and her lover,
Roger Mortimer (Edward's political rival)
1327- Murdered in Berkeley Castle where he had been imprisoned
EDWARD III
r. 1327 - 1377
• Took the throne at 14
• 3 years later, he arrested his
mother (now known as the "SheWolf of France") and her lover,
Roger Mortimer.
• He was a legitimate rival to the
French throne
– The Hundred Years War begins 1337.
Major victories at: Sluys (1340), Crecy
(1346), Calais (1347) and Poitiers (1356)
mostly because of the king's son Edward
the Black Prince.
EDWARD III CONT'D
• The Black Death began and ended.
• All but a few towns were eventually
lost to France.
• He divided Parliament into two houses.
• English became the official language.
• John Wycliffe began his campaign.
• Chaucer began his masterpieces.
• In his last years, Edward experienced
the loss of his loyal wife Philippa and
his favorite son, the Black Prince.
RICHARD II
r. 1377 – 1399
(Last of the House of Anjou)
• Grandson of Edward III (Son of Edward, the
Black Prince)
• Became king at 10 – Court controlled by his
uncle; John of Gaunt, Duke of Lancaster.
• Believed in his divine right and absolute
power
– Faced rebellions (Peasants in 1381)
– Antagonized barons
• While on a military campaign in Ireland,
Richard's cousin, Henry Bolingbroke seized
the throne, and Richard was eventually
forced to surrender to Henry.
• Richard was imprisoned in the tower of
London and died within a few months (by
Feb. 1400).