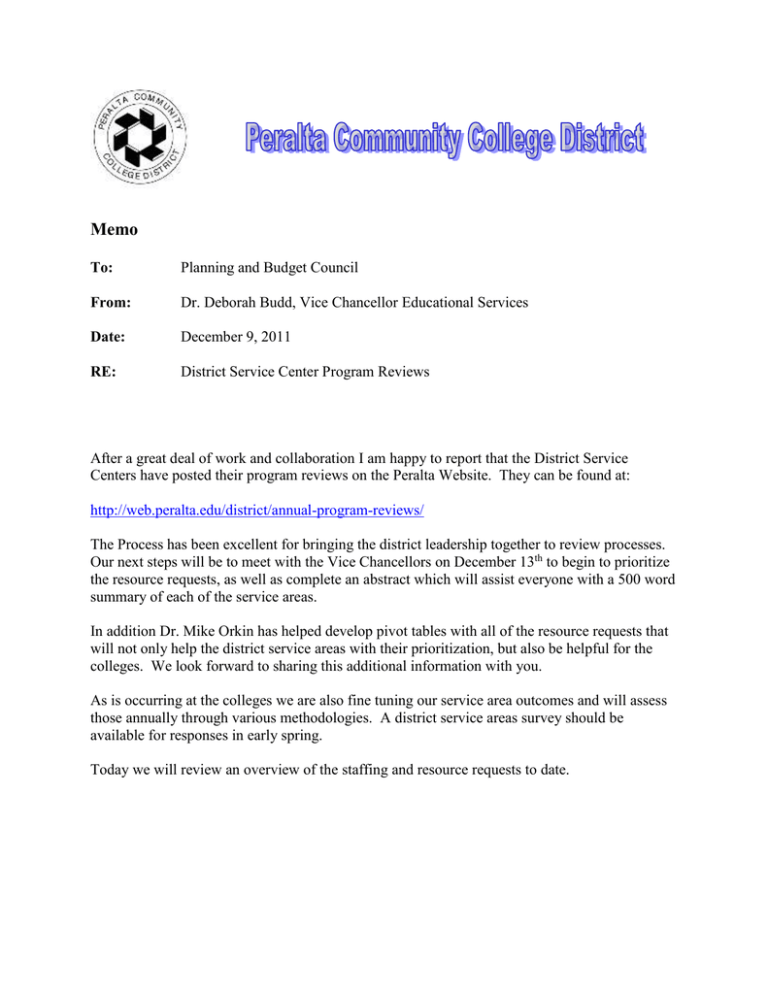 Memo
To:
Planning and Budget Council
From:
Dr. Deborah Budd, Vice Chancellor Educational Services
Date:
December 9, 2011
RE:
District Service Center Program Reviews
After a great deal of work and collaboration I am happy to report that the District Service
Centers have posted their program reviews on the Peralta Website. They can be found at:
http://web.peralta.edu/district/annual-program-reviews/
The Process has been excellent for bringing the district leadership together to review processes.
Our next steps will be to meet with the Vice Chancellors on December 13th to begin to prioritize
the resource requests, as well as complete an abstract which will assist everyone with a 500 word
summary of each of the service areas.
In addition Dr. Mike Orkin has helped develop pivot tables with all of the resource requests that
will not only help the district service areas with their prioritization, but also be helpful for the
colleges. We look forward to sharing this additional information with you.
As is occurring at the colleges we are also fine tuning our service area outcomes and will assess
those annually through various methodologies. A district service areas survey should be
available for responses in early spring.
Today we will review an overview of the staffing and resource requests to date.