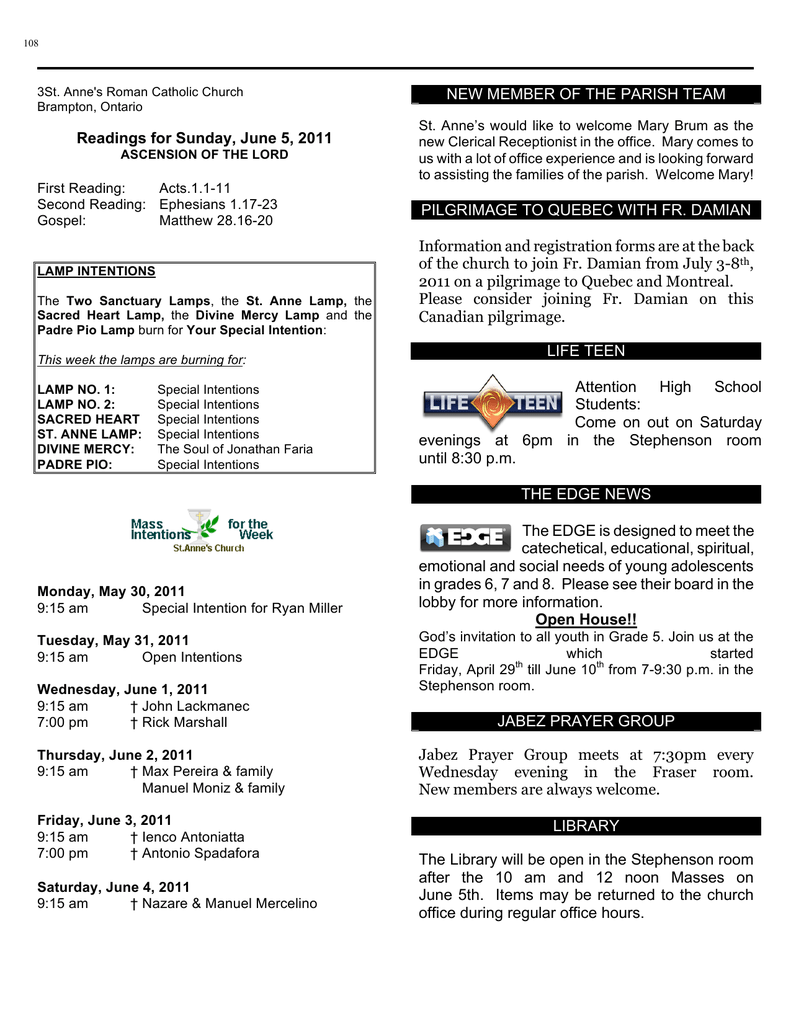 108
3St. Anne's Roman Catholic Church
Brampton, Ontario
Readings for Sunday, June 5, 2011
ASCENSION OF THE LORD
First Reading:
Acts.1.1-11
Second Reading: Ephesians 1.17-23
Gospel:
Matthew 28.16-20
LAMP INTENTIONS
The Two Sanctuary Lamps, the St. Anne Lamp, the
Sacred Heart Lamp, the Divine Mercy Lamp and the
Padre Pio Lamp burn for Your Special Intention:
This week the lamps are burning for:
LAMP NO. 1:
LAMP NO. 2:
SACRED HEART
ST. ANNE LAMP:
DIVINE MERCY:
PADRE PIO:
Special Intentions
Special Intentions
Special Intentions
Special Intentions
The Soul of Jonathan Faria
Special Intentions
NEW MEMBER OF THE PARISH TEAM
St. Anne's would like to welcome Mary Brum as the
new Clerical Receptionist in the office. Mary comes to
us with a lot of office experience and is looking forward
to assisting the families of the parish. Welcome Mary!
PILGRIMAGE TO QUEBEC WITH FR. DAMIAN
Information and registration forms are at the back
of the church to join Fr. Damian from July 3-8th,
2011 on a pilgrimage to Quebec and Montreal.
Please consider joining Fr. Damian on this
Canadian pilgrimage.
LIFE TEEN
Attention High School
Students:
Come on out on Saturday
evenings at 6pm in the Stephenson room
until 8:30 p.m.
THE EDGE NEWS
Monday, May 30, 2011
9:15 am
Special Intention for Ryan Miller
Tuesday, May 31, 2011
9:15 am
Open Intentions
Wednesday, June 1, 2011
9:15 am
† John Lackmanec
7:00 pm
† Rick Marshall
Thursday, June 2, 2011
9:15 am
† Max Pereira & family
Manuel Moniz & family
Friday, June 3, 2011
9:15 am
† Ienco Antoniatta
7:00 pm
† Antonio Spadafora
Saturday, June 4, 2011
9:15 am
† Nazare & Manuel Mercelino
The EDGE is designed to meet the
catechetical, educational, spiritual,
emotional and social needs of young adolescents
in grades 6, 7 and 8. Please see their board in the
lobby for more information.
Open House!!
God's invitation to all youth in Grade 5. Join us at the
EDGE
which
started
Friday, April 29th till June 10th from 7-9:30 p.m. in the
Stephenson room.
JABEZ PRAYER GROUP
Jabez Prayer Group meets at 7:30pm every
Wednesday evening in the Fraser room.
New members are always welcome.
LIBRARY
The Library will be open in the Stephenson room
after the 10 am and 12 noon Masses on
June 5th. Items may be returned to the church
office during regular office hours.
PENTECOST SUNDAY
SUNDAY, JUNE 12TH
Lord, send out your
Spirit, and renew the face
of the Earth!!
We need to open our ears
and our hearts to the Lord. May we be filled with
the Holy Spirit and our hearts shine with pure light.
On Pentecost Sunday you are all encouraged to
wear red if possible. Also, there will be cakes in
the Stephenson room after every Mass.
VOCATIONS
The Lord said, "I will not leave you orphaned". Pray for
an increase of vocations to the ordained and
consecrated life. If God is calling you, contact
Fr. Hansoo Park (416) 968-0997.
email: [email protected]
www.vocationstoronto.ca
SHARELIFE
ShareLife
Our Parish Goal:
$70,000.00
"You can work WONDERS!"
Total todate: $33,369.65
WORKING WONDERS FOR THE YOUTH…
Mitch was 15 when he was kicked out of home by his
mentally unstable mother. He lived on the streets, stole
food, dropped out of school. To ward off the cold, "finding
grates was the big thing". Mitch was saved from the dangers
of the streets by Covenant House, a ShareLife agency.
Today, he lives in the agency's shelter and attends its on-site
high school. In 2009, ShareLife agencies provided
residential programs for 1,500 young people. An
additional 40,000 were also given food, shelter, guidance,
care and education. Please support ShareLife..
Next Sunday, June 5, 2011 is ShareLife Sunday
Please give generously.
You can work WONDERS!
RETREAT FOR WIDOWS & WIDOWERS
Day of Retreat at Queen of Apostles Renewal Centre in
Mississauga. Saturday, June 11, 2011, 9 a.m. to 3 p.m.
Theme: The Mystery of Jesus in our Loss – A hot
lunch included, day concludes with Mass. To register
or for further information call 905-278-5229.
BIRTHRIGHT BRAMPTON BABY BOTTLES
Birthright Brampton does not receive
Government Funding because of our ProLife status. We are a Registered
Charity so please give generously so
that
many can be helped. All donations
made by cheque will receive a charitable tax receipt.
Alternatively, send your donation directly to: Birthright
Brampton, 27A John Street, Brampton, ON L6W 1Z1
ANNUAL WALKING PILGRIMAGE
Get ready everyone to return on our 27th Annual
Walking Pilgrimage from Brampton to the Martyrs'
Shrine in Midland.
We will be leaving from
St. Marguerite d'Youville on Saturday, August 6th
and arriving at Martyrs' Shrine on Saturday, August
13th.
Please mark your calendars today and plan to attend
this wonderful spirit filled walking experience.
Registration forms will be available soon.
On June 11 at 1:30 p.m. a meeting will be held in the
Fraser Room for all those who are interested.
ATTENTION CONFIRMATION CANDIDATES
You are cordially invited to a
Post-Confirmation Celebration On
Wednesday, June 15, 2011
6:30 p.m. – Rosary
7:00 p.m. – Celebration of the Eucharist (Mass)
7:45 p.m. – Reception with cake, refreshments
and
a DVD Presentation in the Stephenson Room
All are welcome and encouraged to attend !
KNIGHTS OF COLUMBUS
On Wednesday, June 8th at 7:30 pm in the
Stephenson Room, the Knights of Columbus will
have their final general meeting for this fraternal
year 2010/2011. It is a family event; all Knights are
requested to bring a plate of finger foods. Please
stay and share your company with each other.
The Knights of Columbus 14749 have some bronze
12" statues of Blessed Pope John Paul II for sale
for $100.00 each.
Please contact Vivian Pereira at (905) 450-6757.
108
Lighthouse Catholic Media CD's
We often have very good intentions to deepen our
relationship with Jesus, but life can be so busy.
Lighthouse has a number of excellent titles
available. CDs are $5 each or 5 for $20. There is
also an excellent book from Matthew Kelly, called
Rediscovering Catholicism. It can make a
wonderful gift for both someone who has been
away from the Church and those who want to
deepen their faith. And the book only costs $5.
Send them to the Teopoli
Summer
Experience
(TSE)
– a 12-day Catholic
residential
summer
program for youth, ages 6
to 16 in the Muskoka area
of Ontario.
Activities
include
swimming,
canoeing, sports, art, music, drama, culture, theology,
daily Holy Mass and rosary. Since 1973, the TSE has
provided a life-long spiritual formation for thousands of
children. For more information, visit our website
www.teopoli.com or call Joe at 416-243-7319.
Men's Retreat
Men's "ACTS" Retreat: June 2-5 at Queen of
Apostles, Mississauga. A new and exciting retreat
experience helping us to grow in personal
relationship with God.
"ACTS" Adoration,
Community, Theology and Service. Call
(905) 278-5229 for further information or
reservation.
Inspirational Music In The Park
Starts
June
7th
from
7-9
pm
in
Gage
Park
(Main and Queen Street) Brampton and continues
every Tuesday until the end of the summer.
St. Anne's will be singing
on August 9
Free admission and parking.
Bring your lawn chair and be
prepared to be entertained. Refreshments
available
www.inspirationalmusic.org.
Women's University Residence
Young Women of Faith, heading off to University and
looking for a home away from home?
Check out these links to three Women's
University Residences:
www.fonteneige.ca. in
Montreal;
www.valrideau.ca
in
Ottawa;
www.pev.ca/kintore-college in Toronto 2012! You
will find the friendship, good cheer and encouragement
needed to make the most of your studies, strengthen
your faith and make lifelong friends. Read the
testimonials from the young women who have lived this
experience. For further information you can call
Kathleen Pope 905 451-4481.
16th
Annual
ShareLife
Corporate
Golf
Tournament
June 6, 2011 – Lionhead
Golf & Country Club
www.sharelife.org/golf
Join community and business representatives
from across the diocese for a day of golf on one
of Ontario's premier golf courses, followed by
an evening reception and a silent auction – all
in support of ShareLife and its family of
Catholic agencies.
Planning to be a Catholic Teacher?
It is critical for you to know that to be hired to
teach in any Catholic School Board in Ontario as
part of your application for employment, there
must be a letter of reference from your pastor. If
you, or if your adult child, are planning to apply to
teach in a Catholic School, contact with the pastor
before Thanksgiving is highly recommended.
Please plan to have a conversation with your
pastor early in the process and you will avoid
disappointment and stress at a time when
applications are to be submitted.