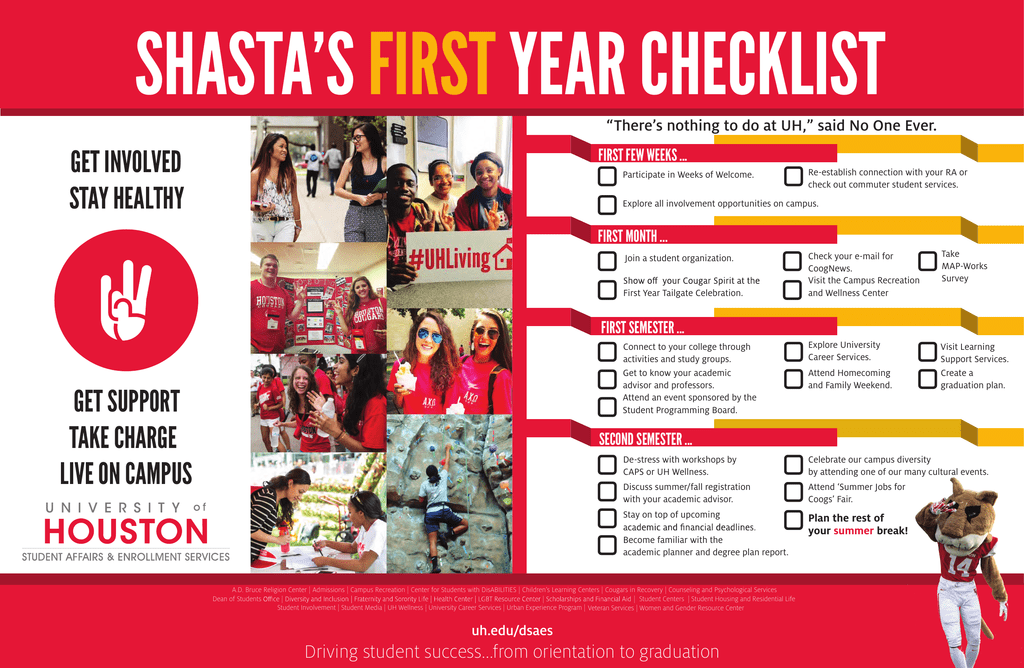 SHASTA'S FIRST YEAR CHECKLIST
"There's nothing to do at UH," said No One Ever.
GET INVOLVED
STAY HEALTHY
FIRST FEW WEEKS ...
Participate in Weeks of Welcome.
Re-establish connection with your RA or
check out commuter student services.
Explore all involvement opportunities on campus.
FIRST MONTH ...
Join a student organization.
First Year Tailgate Celebration.
Check your e-mail for
CoogNews.
Visit the Campus Recreation
and Wellness Center
Take
MAP-Works
Survey
Explore University
Career Services.
Visit Learning
Support Services.
Create a
graduation plan.
FIRST SEMESTER ...
Connect to your college through
activities and study groups.
Get to know your academic
advisor and professors.
Attend an event sponsored by the
Student Programming Board.
GET SUPPORT
TAKE CHARGE
LIVE ON CAMPUS
Attend Homecoming
and Family Weekend.
SECOND SEMESTER ...
De-stress with workshops by
CAPS or UH Wellness.
Discuss summer/fall registration
with your academic advisor.
Stay on top of upcoming
Become familiar with the
academic planner and degree plan report.
A.D. Bruce Religion Center | Admissions | Campus Recreation | Center for Students with DisABILITIES | Children's Learning Centers | Cougars in Recovery | Counseling and Psychological Services
| Student Centers | Student Housing and Residential Life
Dean of Students
Student Involvement | Student Media | UH Wellness | University Career Services | Urban Experience Program | Veteran Services | Women and Gender Resource Center
uh.edu/dsaes
Driving student success...from orientation to graduation
Celebrate our campus diversity
by attending one of our many cultural events.
Attend 'Summer Jobs for
Coogs' Fair.
Plan the rest of
your summer break!