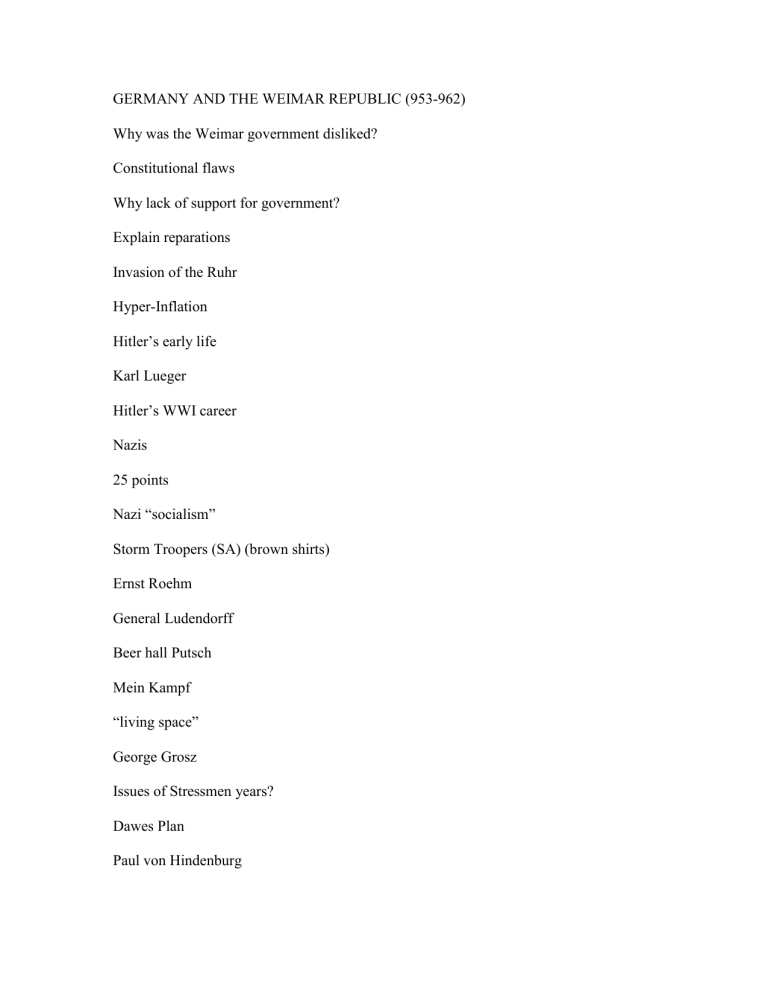 GERMANY AND THE WEIMAR REPUBLIC (953-962)
Why was the Weimar government disliked?
Constitutional flaws
Why lack of support for government?
Explain reparations
Invasion of the Ruhr
Hyper-Inflation
Hitler's early life
Karl Lueger
Hitler's WWI career
Nazis
25 points
Nazi "socialism"
Storm Troopers (SA) (brown shirts)
Ernst Roehm
General Ludendorff
Beer hall Putsch
Mein Kampf
"living space"
George Grosz
Issues of Stressmen years?
Dawes Plan
Paul von Hindenburg
Locarno Agreement
Kellogg-Briand Pact
Treaty of Rapallo
Young Plan
Germany: Nazi Seizure of Power (973-981)
Explain," All the fragility of the Weimar constitution stood exposed…"?
Hindenberg
Bruening/ Article 48
Issues associated with Great Depression
Reichstag problems
Describe events that led to Hitler's appointment as Chancellor
Who supported Hitler and the Nazis?
March Enabling Act
Josef Geobbels- Ministry of propaganda
Ernst Roehm and purge of 1934
SS and Himmler
SA
What were the first actions taken against German Jews?
Kristallnacht
Describe Nazi economic policy
Goerring- Air Force