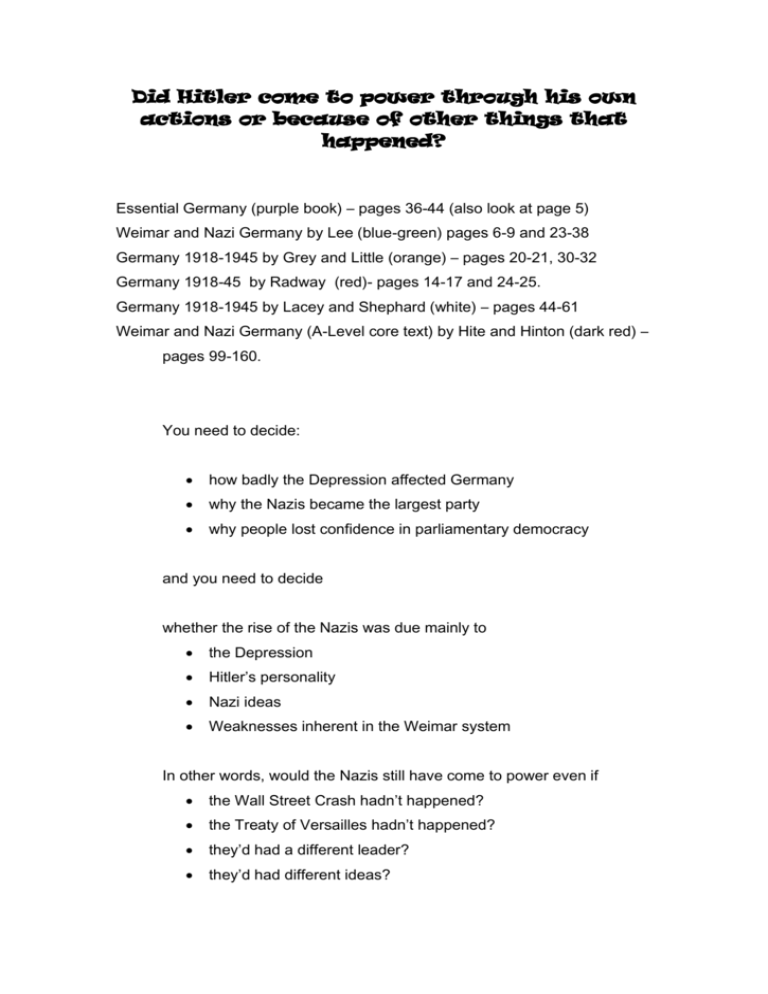 Did Hitler come to power through his own
actions or because of other things that
happened?
Essential Germany (purple book) – pages 36-44 (also look at page 5)
Weimar and Nazi Germany by Lee (blue-green) pages 6-9 and 23-38
Germany 1918-1945 by Grey and Little (orange) – pages 20-21, 30-32
Germany 1918-45 by Radway (red)- pages 14-17 and 24-25.
Germany 1918-1945 by Lacey and Shephard (white) – pages 44-61
Weimar and Nazi Germany (A-Level core text) by Hite and Hinton (dark red) –
pages 99-160.
You need to decide:

how badly the Depression affected Germany

why the Nazis became the largest party

why people lost confidence in parliamentary democracy
and you need to decide
whether the rise of the Nazis was due mainly to

the Depression

Hitler's personality

Nazi ideas

Weaknesses inherent in the Weimar system
In other words, would the Nazis still have come to power even if

the Wall Street Crash hadn't happened?

the Treaty of Versailles hadn't happened?

they'd had a different leader?

they'd had different ideas?