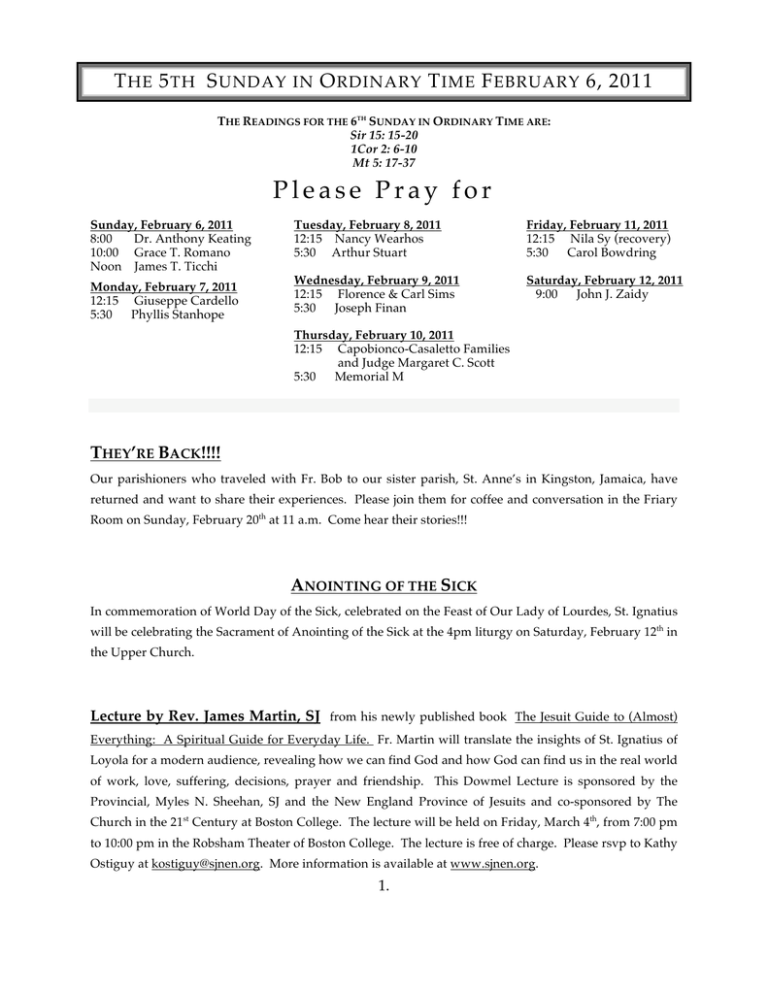 T HE 5 TH S UNDAY IN O RDINARY T IME F EBRUARY 6, 2011
THE READINGS FOR THE 6TH SUNDAY IN ORDINARY TIME ARE:
Sir 15: 15-20
1Cor 2: 6-10
Mt 5: 17-37
Please Pray for
Sunday, February 6, 2011
8:00
Dr. Anthony Keating
10:00 Grace T. Romano
Noon James T. Ticchi
Monday, February 7, 2011
12:15 Giuseppe Cardello
5:30
Phyllis Stanhope
Tuesday, February 8, 2011
12:15 Nancy Wearhos
5:30 Arthur Stuart
Friday, February 11, 2011
12:15 Nila Sy (recovery)
5:30
Carol Bowdring
Wednesday, February 9, 2011
12:15 Florence & Carl Sims
5:30
Joseph Finan
Saturday, February 12, 2011
9:00
John J. Zaidy
Thursday, February 10, 2011
12:15 Capobionco-Casaletto Families
and Judge Margaret C. Scott
5:30
Memorial M
THEY'RE BACK!!!!
Our parishioners who traveled with Fr. Bob to our sister parish, St. Anne's in Kingston, Jamaica, have
returned and want to share their experiences. Please join them for coffee and conversation in the Friary
Room on Sunday, February 20th at 11 a.m. Come hear their stories!!!
ANOINTING OF THE SICK
In commemoration of World Day of the Sick, celebrated on the Feast of Our Lady of Lourdes, St. Ignatius
will be celebrating the Sacrament of Anointing of the Sick at the 4pm liturgy on Saturday, February 12th in
the Upper Church.
Lecture by Rev. James Martin, SJ from his newly published book The Jesuit Guide to (Almost)
Everything: A Spiritual Guide for Everyday Life. Fr. Martin will translate the insights of St. Ignatius of
Loyola for a modern audience, revealing how we can find God and how God can find us in the real world
of work, love, suffering, decisions, prayer and friendship. This Dowmel Lecture is sponsored by the
Provincial, Myles N. Sheehan, SJ and the New England Province of Jesuits and co-sponsored by The
Church in the 21st Century at Boston College. The lecture will be held on Friday, March 4th, from 7:00 pm
to 10:00 pm in the Robsham Theater of Boston College. The lecture is free of charge. Please rsvp to Kathy
Ostiguy at [email protected] More information is available at www.sjnen.org.
1.
THIS WEEK'S CALENDAR
Sunday, February 6th
Contemporary Music Ensemble – Upper Church
4:30 pm
Monday, February 7th
RCIA – Friary Room
7:15 pm
Wednesday, February 9th
Transitions Group – Friary Room
Children's Carol Choir – Choir/Media Room
Parish Choir Rehearsal – Choir/Media Room
Thursday, February 10th
Latino Choir – Choir/Media Room
Friday, February 11
th
Adoration of the Blessed Sacrament – Lannon Chapel
12:45 pm
4:30 pm
7:15 pm
7:15 pm
12:45 pm
SACRAMENTAL INFORMATION
Preparation for First Reconciliation, First Eucharist, and Confirmation
is well under way. If you feel you are missing information, please
contact Amy as soon as possible at [email protected] or
617.552.6103.
FAMILY MASS ICE SKATING & POTLUCK
Anyone who attends Family Mass is warmly invited to a
community-building event. We will be ice skating at Larz
Anderson Park, 25 Newton Street, Brookline on Saturday,
February 26 from 5:30-6:30pm. We'll follow up our skating with a
potluck supper in the Friary Room. Come and join us!
Want to join us? Email Amy at [email protected] to RSVP and
let her know what dish you'll be bringing (to feed 6-8
people).
YOUTH LITURGY – All high school students are invited to a special 5:30 liturgy on
Sunday, February 13 in the Parish Center Chapel. Please join us for liturgy and a social (with
dinner) following in the Parish Center!
NEW YEAR'S RESOLUTION – Looking to try something new in 2011? Why not check out one of our
Music Ministry Groups? The 10:00 AM Liturgy Choir, the 5:30 PM Contemporary Ensemble, Ministerio
de Musica Latina, The Children's Carol Choir, The Youth Ensemble and the St. Ignatius Symphonia are
all welcoming new members in the new year; and if you play an instrument, let us know! Details of all of
our Music Ministry groups are available on our Music Ministry webpage: www.bc.edu/saintignatius or
contact Michael Burgo (617-552-6108).
2.
BOOK DISCUSSION – On February 13th at
ONGOING DIALOGUE SESSION - The
Church: A Spiritual Home for Gay and Lesbian
Catholics?
All are welcome to attend ongoing dialogue
11:15 am in the Rectory living room, there will
sessions around the issues and challenges for
of a Tender God by Craig Rennebohm with
Catholics who are gay, their families and their
David Paul. Describing the book in USA Today,
children. Participants are gay and straight,
Laura Vanderkam writes:
friends and family. Non-participating Catholics
years, the Rev. Craig Rennebohm has spent at
and those estranged from the church are most
least three days a week walking the streets of
welcome. The facilitated dialogue sessions are
Seattle. His mission? Helping the chronically
being hosted by area Catholic parishes and
homeless people everyone else bustles past. He
communities, as well as the Center. The next
shepherds people with mental illnesses to doctor
be a discussion of the book, Souls in the Hands
th
"For the past 20
session: Wednesday, February 9 , 7:00 PM, St.
appointments. He warms folks up with coffee at
Ignatius
Starbucks. And, always, this United Church of
Parish,
in
the
Lannon
Chapel
(http://www.bc.edu/bc_org/prs/stign//).
Christ minister tries to get some of the 2,000 plus
More info: contact Bob Bowers at the Paulist
people 'sleeping rough' on any given night into
Center Office of Outreach and Reconciliation
housing.
617-948-2422 or [email protected]
It's slow going".
February 13
th
Please join us on
and share your response to this
thought-provoking book.
WEEKLY COLLECTION INFORMATION
After the Prayers of the Faithful at weekend Masses, the baskets are passed just once for those who
contribute to the parish on a weekly basis. Others contribute by using a credit card or automatic
deduction. We appreciate your generosity and the generosity of everyone who contributes to St. Ignatius.
MAKE A RETREAT AT ST. JOSEPH RETREAT CENTER! St. Joseph Retreat Center invites you to
scheduled events, including mornings and days of prayer and guided and directed retreats of varying
lengths. The retreat house is also often available for individual or group private retreats. Check out their
offerings at www.csjretreatcenter.org. St. Joseph Retreat Center, 339 Jerusalem Road, Cohasset MA
02025.
BEREAVEMENT SUPPORT GROUP
The Irish Pastoral Centre is offering a bereavement support group to those who have suffered the recent
loss of a loved one. This support group will provide a safe & comfortable environment where people can
express their feelings with volunteer leaders and facilitators.
We invite you to avail of this wonderful service to come to the Irish Pastoral Centre, 953 Hancock Street,
Quincy on Tuesday March 8th, March 15th, March 22nd, March 29th, April 5th and April 12th from 7:00- 8:30
PM. Please call Fr. John at 617-479-7404 to pre-register – thank you.
3.
OUTREACH MINISTRIES
THIS WEEKEND: Our annual "Be Their Valentine" at-the-door
collection to underwrite lunches at St. Francis House Day Shelter in
Boston. Look for the heart-shaped boxat any church exit! ***St. Francis House,
open for twenty-six years, is New England's largest day shelter, serving
approximately 800 men and women each day. Complementing the night shelters of
the area, St. Francis House provides a place for those in need to receive
protection from the elements and services to help them rebuild their lives. Doors
are open from 7 A.M. to 3 P.M., 365 days a year. During those hours, free
breakfasts, lunches, and take-away sandwiches are provided.
LOOKING FOR CHEATERS! That is- looking for gently
used or new non-prescription reading glasses!
Our
"missionaries" to our sister parish, St. Anne's, in Kingston,
Jamaica, discovered that many parishioners are hampered in
their daily lives, even from doing common (and sometimes very important) things
like reading prescription medication instructions, because they can't read the fine
print. Let's help them out. On the weekend of February 26th-27th, we'll gather
donations of cheaters and get them ready to be brought to their new homes! For
those who would like to contribute but don't have old magnifiers or cheaters at
home, on the weekend of February 12th-13th, you'll find tags with power/strength
numbers (like 1.75, 2.25 etc...) that, if you like, you could purchase for St Annie's
parishioners. This will allow us to make sure we have several different strengths to
send. Look for the tags in the gathering space of the upper church and Lannon
Chapel. Please note: no prescription glasses – only non-prescription ones.
A HEADS UP: LET'S SOCK IT TO 'EM AGAIN! For the entire
month of March, we'll be collecting new, white cotton socks and
shower flip-flops for patients of Boston Health Care for the
Homeless Program.
Registration begins soon!
4.
CHURCH OF SAINT IGNATIUS OF LOYOLA
28 COMMONWEALTH AVENUE – CHESTNUT HILL, MA 02467
PHONE 617-552-6100
FAX: 617-552-6101
E-MAIL [email protected]
WEB: HTTP://BC.EDU/ST-IGNATIUS
THE PARISH STAFF
REV. ROBERT F. VER EECKE, SJ, PASTOR
REV. KENNETH G. LOFTUS, SJ, ASSOCIATE
REV. JOHN ALLAN LOFTUS, SJ, ASSOCIATE
CAP TEAM MEMBER (CHAIR)
REV. JAMES F. MORGAN, SJ, EMERITUS
[email protected] 617-552-6100
[email protected] 617-552-6100
[email protected]
617-552-6100
617-552-6100
MICHAEL BURGO, DIR. OF MUSIC MINISTRY
[email protected]
617-552-6108
TIMOTHY ZIMMERMAN, ASSOCIATE DIR.
[email protected] 617-552-6114
OF MUSIC / ORGANIST
SR. DIANE VALLERIO, OSF, DIR. OF OUTREACH [email protected] 617-552-6107
AMY CHAPMAN, FAITH FORMATION DIRECTOR [email protected] 617-552-6103
DANIEL ROBB, CORD. FAITH FORMATION [email protected] 617-552-6105
JOSE MARIO LOPEZ, CORD. SPANISH MINISTRY [email protected]
617-552-6128
RICHARD MOYNIHAN, BUSINESS MANAGER
[email protected] 617-552-6117
ELIZABETH MCLAUGHLIN, ADM. ASSISTANT
[email protected]
617-552-6102
WALTER FOTHERGILL, FACILITIES MANAGER
WALTER.FOTHERGILL 617-552-6119
@BC.EDU
KATHY MAHER
CAP TEAM MEMBER
[email protected]
MARC GERVAIS
CAP TEAM MEMBER
[email protected]
THE CELEBRATION OF EUCHARIST
SUNDAY
WEEKDAY
SATURDAY
UPPER CHURCH 8:00 AM, 10:00 AM, 12:00 NOON, 5:30 PM
LOWER CHURCH 8:00 AM FAMILY LITURGY, 10:00 AM, FAMILY LITURGY
12:00 MISA EN ESPANOL EN LA CAPILLA LANNON
12:15 PM 5:30 PM – LOWER CHURCH
LOWER CHURCH 9:00 AM, UPPER CHURCH 4:00 PM (Vigil)
THE SACRAMENTS
BAPTISM
Adults are baptized at the Easter Vigil as part of the Rites of Christian Initiation for
Adults. Infant and child baptisms are by arrangement.
FIRST EUCHARIST
Preparation begins in Grade 1 and includes classes, retreats and home instruction.
CONFIRMATION
Our Confirmation program begins in the 9th grade. Students are confirmed in the
Spring of the 10th grade. Young adults who have been catechized but are not yet
confirmed should contact the rectory for an alternative program.
MATRIMONY
Must be registered as a parishioner six months prior to beginning Marriage
arrangements.
RECONCILIATION
Saturdays 3:15 - 3:45 PM Upper Church or by arrangement
ANOINTING OF THE SICK by arrangement
5.