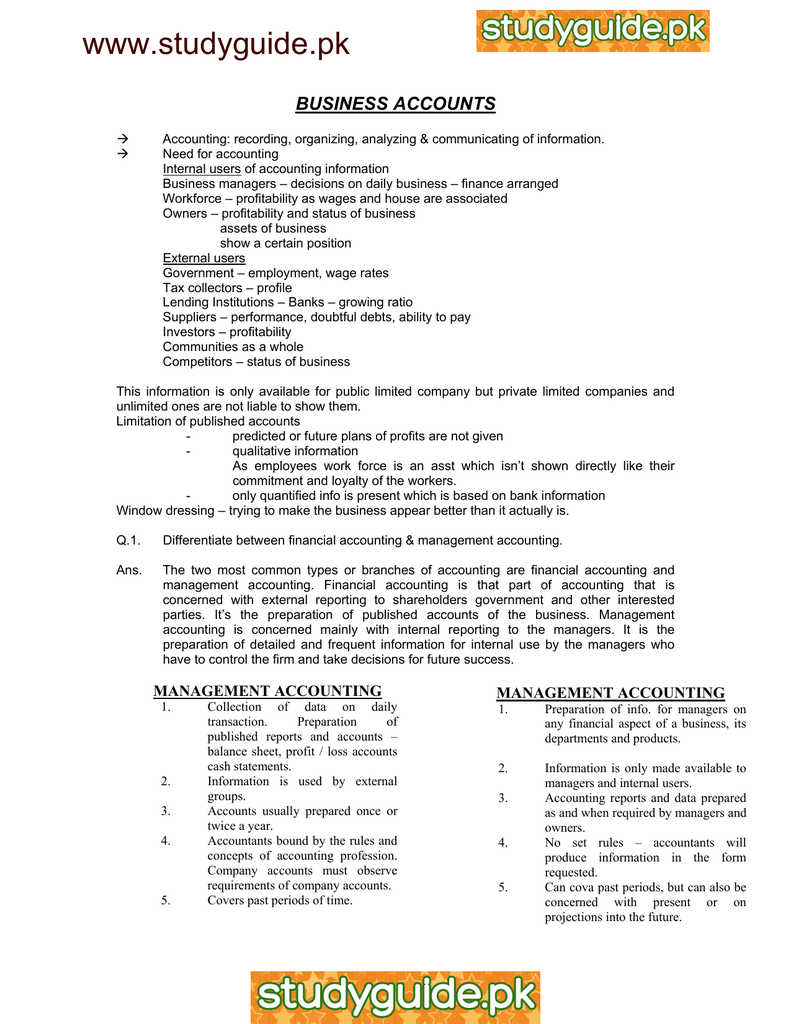 www.studyguide.pk
BUSINESS ACCOUNTS
Æ
Æ
Accounting: recording, organizing, analyzing & communicating of information.
Need for accounting
Internal users of accounting information
Business managers – decisions on daily business – finance arranged
Workforce – profitability as wages and house are associated
Owners – profitability and status of business
assets of business
show a certain position
External users
Government – employment, wage rates
Tax collectors – profile
Lending Institutions – Banks – growing ratio
Suppliers – performance, doubtful debts, ability to pay
Investors – profitability
Communities as a whole
Competitors – status of business
This information is only available for public limited company but private limited companies and
unlimited ones are not liable to show them.
Limitation of published accounts
predicted or future plans of profits are not given
qualitative information
As employees work force is an asst which isn't shown directly like their
commitment and loyalty of the workers.
only quantified info is present which is based on bank information
Window dressing – trying to make the business appear better than it actually is.
Q.1.
Differentiate between financial accounting & management accounting.
Ans.
The two most common types or branches of accounting are financial accounting and
management accounting. Financial accounting is that part of accounting that is
concerned with external reporting to shareholders government and other interested
parties. It's the preparation of published accounts of the business. Management
accounting is concerned mainly with internal reporting to the managers. It is the
preparation of detailed and frequent information for internal use by the managers who
have to control the firm and take decisions for future success.
MANAGEMENT ACCOUNTING
1.
2.
3.
4.
5.
Collection of data on daily
transaction.
Preparation
of
published reports and accounts –
balance sheet, profit / loss accounts
cash statements.
Information is used by external
groups.
Accounts usually prepared once or
twice a year.
Accountants bound by the rules and
concepts of accounting profession.
Company accounts must observe
requirements of company accounts.
Covers past periods of time.
MANAGEMENT ACCOUNTING
1.
Preparation of info. for managers on
any financial aspect of a business, its
departments and products.
2.
Information is only made available to
managers and internal users.
Accounting reports and data prepared
as and when required by managers and
owners.
No set rules – accountants will
produce information in the form
requested.
Can cova past periods, but can also be
concerned with present or on
projections into the future.
3.
4.
5.