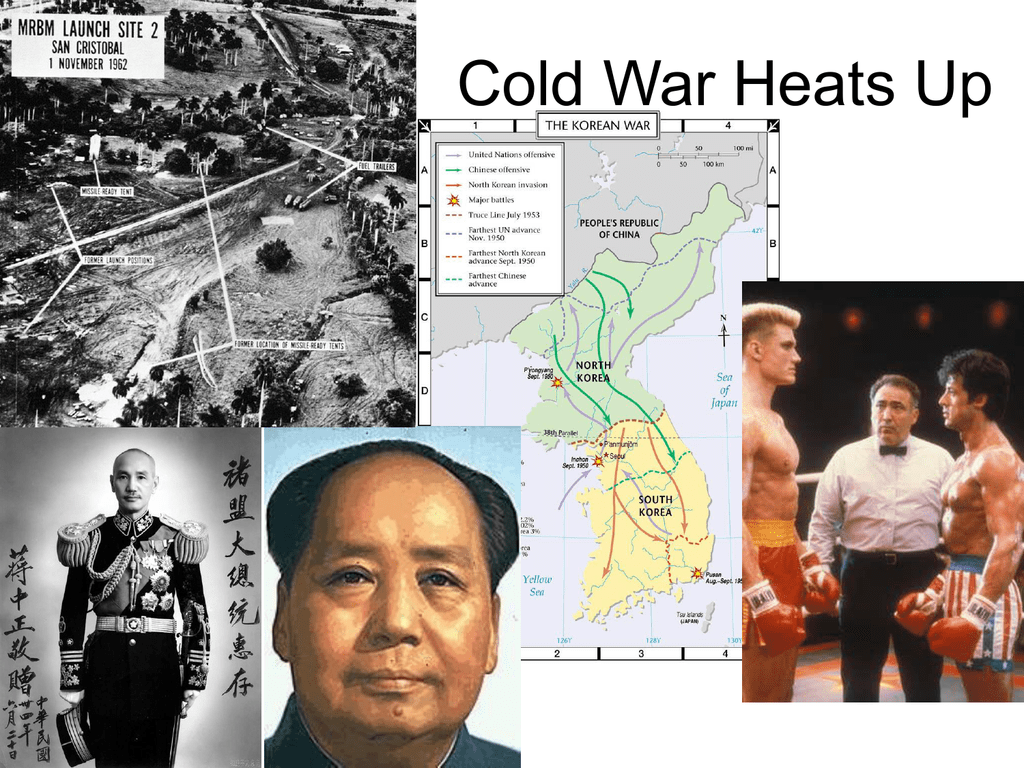 Cold War Heats Up
Chinese Communist Revolution
a.
b.
c.
d.
e.
f.
In China, there had been a long battle
for control between the Nationalists
and the Communists.
During WWII, they both fought against
the Japanese.
After the war, there struggle renewed,
and they fought a civil war from
1946-1949.
The U.S. provided aid to the
Nationalists, and the U.S.S.R.
provided aid to the Communists.
The Nationalists were led by Chiang
Kai-shek and the Communists were
led by Mao Zedong.
The Communists won the war and
the Nationalists fled to Taiwan.
The Korean War
a.
b.
c.
d.
e.
f.
Korea had been a part of the Japanese empire
since 1905.
After WWII, the U.S. and U.S.S.R. agreed to
divide the country at the 38th parallel.
Two separate governments formed, and the
North became communist, and the South
became a free society.
In June of 1950, Stalin gave permission to
North Korea to invade the South, and
President Truman, with the support of the U.N.
sent troops to defend the South.
After the North's initial surge into South Korea,
American troops pushed the North all the way
back into China with the idea of unifying the
country, however, the Chinese sent in troops
to push the Americans back.
The war ended with an armistice in 1953, and
the 38th parallel remains the border today.
Cuban Missile Crisis
a.
b.
c.
d.
e.
f.
Cuba became a communist country
when Fidel Castro overthrew the
dictator Fulgencio Batista.
Cuba had close ties to the U.S.S.R.
The U.S. tried to remove Castro from
power, but failed during the Bay of
Pigs invasion.
In order to help prevent future
aggression by the U.S. and in
response to U.S. weapons in Turkey,
the Soviets built missile launch sites in
Cuba.
President Kennedy was unwilling to
allow the Soviets to place nuclear
weapons so close to U.S. soil, and he
blockaded Cuba to prevent more
weapons from being brought to the
island.
The crisis ended with an agreement by
the Soviets to remove their missiles if
the U.S. agreed not to invade Cuba
again.
Vietnam War
a.
b.
c.
d.
e.
Ho Chi Minh led the communist
Vietminh to defeat the French
after WWII.
After the French surrendered, the
country was divided at the 17th
parallel with a non-communist
government in the South.
The North invaded and fought to
unify the country.
The U.S. supported the South and
fought to contain communism.
The North received support from
both U.S.S.R. and the Chinese
and ended up taking over the
South after the U.S. left.