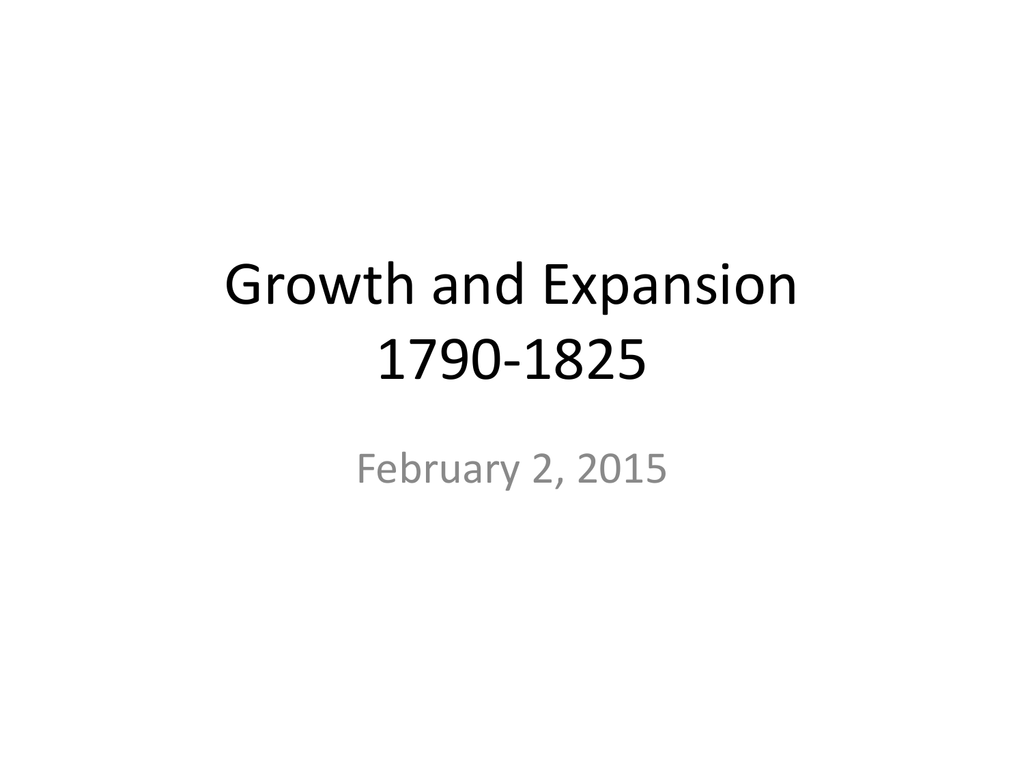 Growth and Expansion
1790-1825
February 2, 2015
Early Industry and Inventions
• A. Industrial Revolution- factory machines began
replacing hand tools and manufacturing replaced
farming as the main form of work
– Samuel Slater built first factory in
New England
– Factories were built near water
– New sources of power such as steam
replaced human and animal power
• The economy
gradually shifted to
manufacturing which
replaced farming
Free Enterprise system
– American economy –
people are free to buy,
sell, and produce
whatever they want.
Cities come of Age
• A. Growth of factories made the surrounding cities
grow as well
– 1. poor sanitary conditions – no sewers, dirty water –
caused disease – cholera and yellow fever
– 2. Some advantages
•
•
•
•
Variety of jobs and steady wages
Libraries, museums, and shops
Theaters and music
http://miniature-earth.com/ TODAYS WORLD
New Technology
• Steam boat- Robert Fulton- could
move against the current
(Clermont)
• Telegraph- Samuel F.B. Morse- pulses of
energy sent along an electric wire for
communication (Morse Code)
• Steel Plow- John Deere- made farming easier
• Mechanical reaper- Cyrus McCormick- made
farming easier
Eli Whitney- built the cotton gin which
separates seeds from cotton
Interchangeable partsparts
Scientific discoveries that work
Agriculture Expands
• In 1820's more than 65 percent of Americans
were farmers
• Mainly due to the demand for cotton growing
steadily
Moving West
• Population Expands
– U.S. census in 1790 counted 4million people – 30
yrs. later, the population was 10 million with 2
million living west of the Appalachian Mountains
– National Road – built in 1806 – went to west
– River Travel –comfort flowed North and South
Canals
• Canals – man made or
artificial waterway
– 1. Erie Canal – 363 miles
that joined the east to
the Midwest
– 2. teams of mules hauled
boats and barges along
the canal
– 3. by 1850 there were
3,600 miles of canals
• Western Settlement- four
new states added between
1791-1803
–
–
–
–
Vermont
Kentucky
Tennessee
Ohio
• Five more added between
1816-1821
–
–
–
–
–
Indiana
Mississippi
Illinois
Alabama
Maine
Unity and Sectionalism
• The Era of Good
Feelings- James Monroe
• Became 5th president in
1816
• A time of few political
differences-represented
a united America
• Extremely popular
president: Last
Founding Father as
president
Sectionalism Grows
• Leading Voices for
different sections of the
country
• Problems grew over:
–
–
–
–
–
States rights
Slavery
Tariffs
National Banks
Internal Improvements
Unemployment soared
State banks failed
Recession
• John C. Calhoun- War
Hawk from the south
– Defended slavery
• Henry Clay-War Hawk
from the west- "great
compromiser"
– Favored a more active
role for the central
government in
promoting the country's
growth
• Daniel Websternationalist from the
north
– Thought that slavery
was evil
Missouri Compromise
• Problems over new
states entering the
union- Conflict over
slave states and free
states
• Compromise by Henry Clay
that allowed a balance
between the north and the
south
• Representation
• Missouri came into the Union
as a slave state and Maine
came in as a free state
• http://www.teachingamerica
nhistory.org/neh/interactives/
sectionalism/lesson1/
Foreign Affairs
• Border created with
Canada
• Andrew Jackson
invaded Spanish Florida
• Spain loosing power:
– Possible unrest
– Possible European
involvement
Monroe Doctrine
Because of unrest and possible European involvement – President
James Monroe issued the Monroe Doctrine:
America would oppose any new colonization in North and
South America and would stop it with force if necessary.