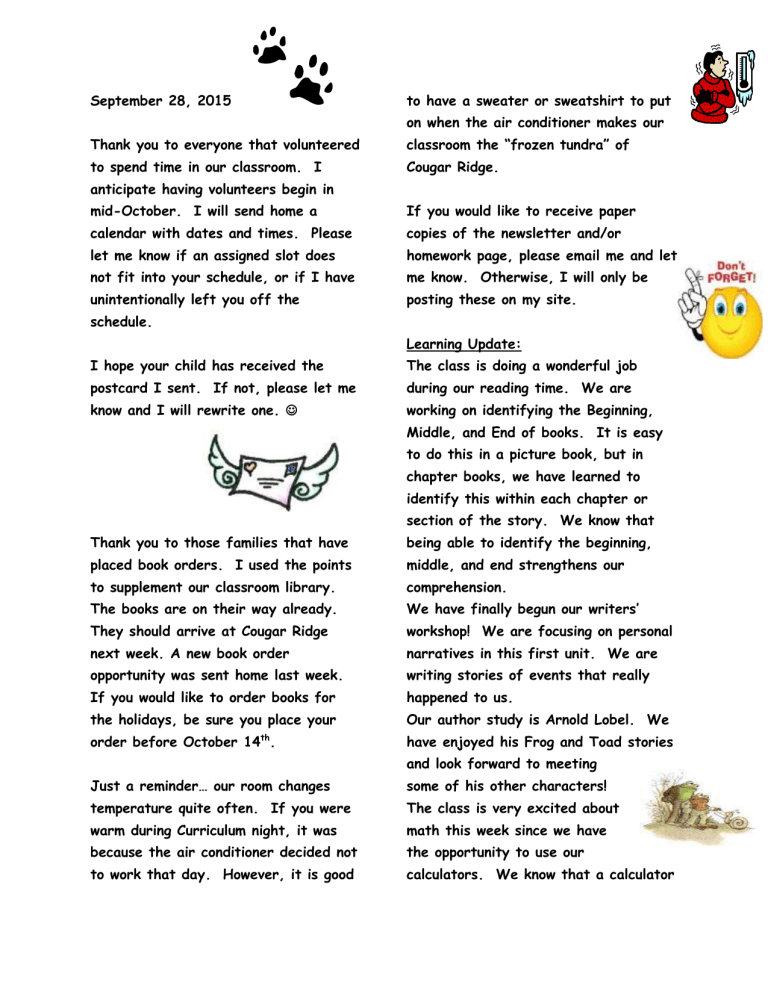 September 28, 2015
to have a sweater or sweatshirt to put
on when the air conditioner makes our
Thank you to everyone that volunteered
classroom the "frozen tundra" of
to spend time in our classroom. I
Cougar Ridge.
anticipate having volunteers begin in
mid-October. I will send home a
If you would like to receive paper
calendar with dates and times. Please
copies of the newsletter and/or
let me know if an assigned slot does
homework page, please email me and let
not fit into your schedule, or if I have
me know. Otherwise, I will only be
unintentionally left you off the
posting these on my site.
schedule.
Learning Update:
I hope your child has received the
The class is doing a wonderful job
postcard I sent. If not, please let me
during our reading time. We are
know and I will rewrite one. 
working on identifying the Beginning,
Middle, and End of books. It is easy
to do this in a picture book, but in
chapter books, we have learned to
identify this within each chapter or
section of the story. We know that
Thank you to those families that have
being able to identify the beginning,
placed book orders. I used the points
middle, and end strengthens our
to supplement our classroom library.
comprehension.
The books are on their way already.
We have finally begun our writers'
They should arrive at Cougar Ridge
workshop! We are focusing on personal
next week. A new book order
narratives in this first unit. We are
opportunity was sent home last week.
writing stories of events that really
If you would like to order books for
happened to us.
the holidays, be sure you place your
Our author study is Arnold Lobel. We
th
order before October 14 .
have enjoyed his Frog and Toad stories
and look forward to meeting
Just a reminder… our room changes
some of his other characters!
temperature quite often. If you were
The class is very excited about
warm during Curriculum night, it was
math this week since we have
because the air conditioner decided not
the opportunity to use our
to work that day. However, it is good
calculators. We know that a calculator
is simply a tool to help solve problems.
Upcoming Events:
We will take our first unit math test
Oct. 1st – Mrs. Lowes gone
this week. The challenging part will be
Oct. 9th – vision and hearing screening
the Open Response portion. Taking the
Oct. 14th – book order will be sent in
time to read the question, solve it, and
Oct. 30th – class party and story book
show/explain our thinking are skills we
character spirit day
will work on this school year.
Nov. 25th – PJ spirit day
We started taking our Minute Math
timed tests. We begin with +0 so that
Birthdays:
we have immediate success. Many of
Oct. 2nd – Isaac
us are close to moving to the next level
Oct. 13th -- Anousha
of our timed tests. If your child came
home with three tests stapled
Please feel free to contact me if you
together, then he/she has moved on up
have any questions, concerns, or
our mountain of math facts. The
suggestions.
newest level will be +1.
Dorothy Lowes
lowesd@issaquah.wednet.edu
425 837-7257
Our first science unit is almost
complete. We did an amazing job
learning all about shadows and being
able to explain our thinking.
Our next focus will be a Social Studies
unit on Communities. If you would like
to come in and tell us about your job,
please let me know. Most people let
the class know why they were
interested in the area, what training or
schooling was required, and what they
like and dislike about the job. I will
work around your schedule! You will
have to be cleared through the
district's background check.