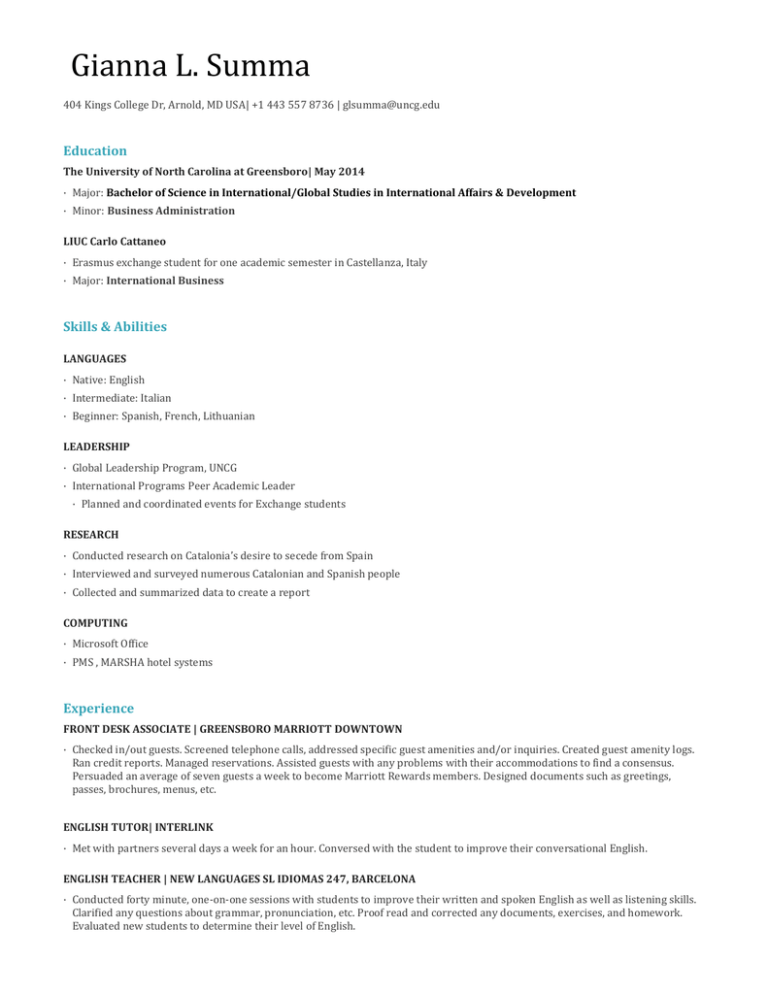 Gianna L. Summa
404 Kings College Dr, Arnold, MD USA| +1 443 557 8736 | glsumma@uncg.edu
Education
The University of North Carolina at Greensboro| May 2014
· Major: Bachelor of Science in International/Global Studies in International Affairs & Development
· Minor: Business Administration
LIUC Carlo Cattaneo
· Erasmus exchange student for one academic semester in Castellanza, Italy
· Major: International Business
Skills & Abilities
LANGUAGES
· Native: English
· Intermediate: Italian
· Beginner: Spanish, French, Lithuanian
LEADERSHIP
· Global Leadership Program, UNCG
· International Programs Peer Academic Leader
· Planned and coordinated events for Exchange students
RESEARCH
· Conducted research on Catalonia's desire to secede from Spain
· Interviewed and surveyed numerous Catalonian and Spanish people
· Collected and summarized data to create a report
COMPUTING
· Microsoft Office
· PMS , MARSHA hotel systems
Experience
FRONT DESK ASSOCIATE | GREENSBORO MARRIOTT DOWNTOWN
· Checked in/out guests. Screened telephone calls, addressed specific guest amenities and/or inquiries. Created guest amenity logs.
Ran credit reports. Managed reservations. Assisted guests with any problems with their accommodations to find a consensus.
Persuaded an average of seven guests a week to become Marriott Rewards members. Designed documents such as greetings,
passes, brochures, menus, etc.
ENGLISH TUTOR| INTERLINK
· Met with partners several days a week for an hour. Conversed with the student to improve their conversational English.
ENGLISH TEACHER | NEW LANGUAGES SL IDIOMAS 247, BARCELONA
· Conducted forty minute, one-on-one sessions with students to improve their written and spoken English as well as listening skills.
Clarified any questions about grammar, pronunciation, etc. Proof read and corrected any documents, exercises, and homework.
Evaluated new students to determine their level of English.