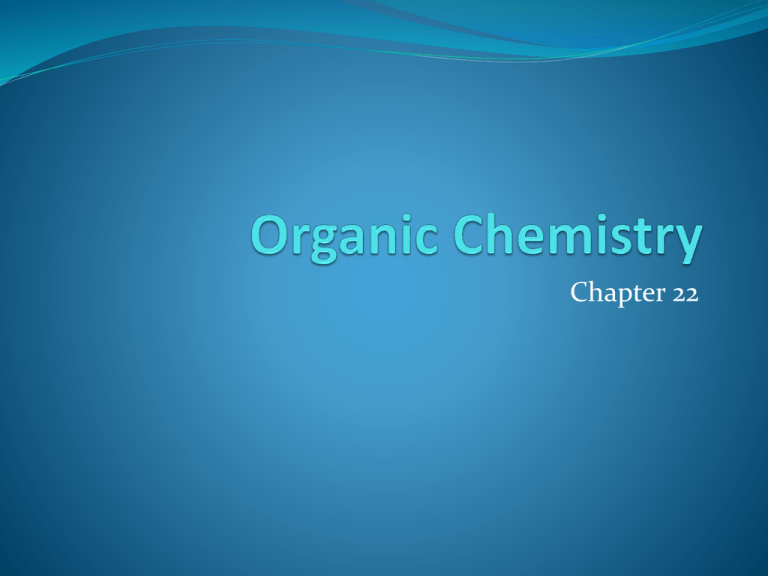 Chapter 22
Organic Compounds
 All organic compounds contain CARBON.
 However, not all carbon-containing compounds are
classified as organic.
 Examples: carbonates and oxides are excluded.
Carbon-Carbon bonding
 Carbon atoms are unique in their ability to form long
changes and rings of covalently bonded atoms.
 Can be linked in single, double, or triple bonds.
Carbon bonding to other elements.
 Hydrocarbons-compounds that consist of only




hydrogen and carbon. The simplest of the organic
compounds
Oxygen
Nitrogen
Sulfur
Any Halogen
Arrangement of Atoms
 Due to the bonding capabilities of carbon, many
arrangements of atoms can be formed.
 This effects their properties. They will be completely
different.
 These are called isomers.
 Example: ethanol and dimethly
Structural Formulas
 We use structural formulas to represent organic
compounds.
 One line-single bond
 Two lines- double bond
 Three lines- triple bond
 Structural Isomers- just the structure form for the two
compounds containing the same elements.
 Geometric Isomers- cis=same side and trans-opposite
side
Historical Cemistry
 Read page 715
Hydrocarbons
 Contain only carbon and hydrogen
 Prefix
# of Carbons
 meth
1
 Eth
2
 Prop
3
 But
4
 Pent
5
 Hex
6
 Hept
7
 Oct
8
 Non
9
 Dec
10
Alkyl group name
methyl
ethyl
propyl
butyl
pentyl
heptyl
heptyl
octyl
nonyl
decyl
Alkanes-Saturated Hydrocarbons
 Hydrocarbons containing only single bonds.
 Use prefixes to name. Prefix ending in ___ane.
 Count the number of C's
 If arranged in a ring or cyclic stucture
 Cyclo…prefix…ane
 Branched-Chain
 Use the longest chain of C's
 Look at naming on page 721
 CnH2n+2 where n is the number of C's
 This can be used to write formulas
Properties and Uses of Alkanes
 Look and table 5 on page 722
 Most alkanes exist at room temperature (those that
have the lowest molar mass are gases)
 Natural Gas is a fossil fuel is a hydrocarbon containing
from one to 4 carbon chains.
 Gasoline and Kerosene are mostly liquid alkanes.
 Paraffin wax-solid alkanes
 Petroleum- one to 50 carbon's. Different carbons
represent different properties and boiling points. Look
at table 6
Unsaturated Hydrocarbons
 All of the carbons do not have 4 single bonds
 Alkenes- double bonds
 CnH2n
 Rules for naming page 725
 Alkynes-triple bonds
 CnH2n-2 or CnHn
 Rules for naming page 728
 Common name for ethyne is acetylene which is used in
welding torches
Aromatic Hydrocarbons
 Six membered carbon rings and delocalized electrons.
 Benzene is the primary aromatic hydrocarbon.
 C6H6
 Doesn't behave like alkene's
 Look on page 729 for an example of aromatic
hydrocarbons
Functional groups
 An atom or group of atoms that is responsible for the
specific properties of an organic compound
 A given functional group undergoes the same types of
chemical reactions in every molecule in which it is
found.
 Table 9 on page 731 shows the most common
functional groups.
Alcohols
 Used in cold creams, lipsticks, body lotions, alternative
fuels, octane enhancers, etc… not just beverages.
 Not always so good in fuels because the presence of
ethanol causes an increased water absorption in fuel.
Alkyl Hides
 The most widely used organic chemicals
 CFC's chlorofluorocarbons- used in Freon, also used to
make Teflon (nonstick surfaces)
Ethers
 Not very reactive, so commonly used as solvents
Aldehydes and Ketones
Responsible for odors and flavors
Amines
 All derivatives of ammonia
 Form from the breakdown of proteins in animal cells
Carboxylic Acids
 Much weaker than inorganic acids
 Occur naturally in plants and animals
 Vinegar
 Citric Acid
 Benzoic, propanoic, and sorbic acid-preservatives
Esters
 Derivatives of carboxylic acids.