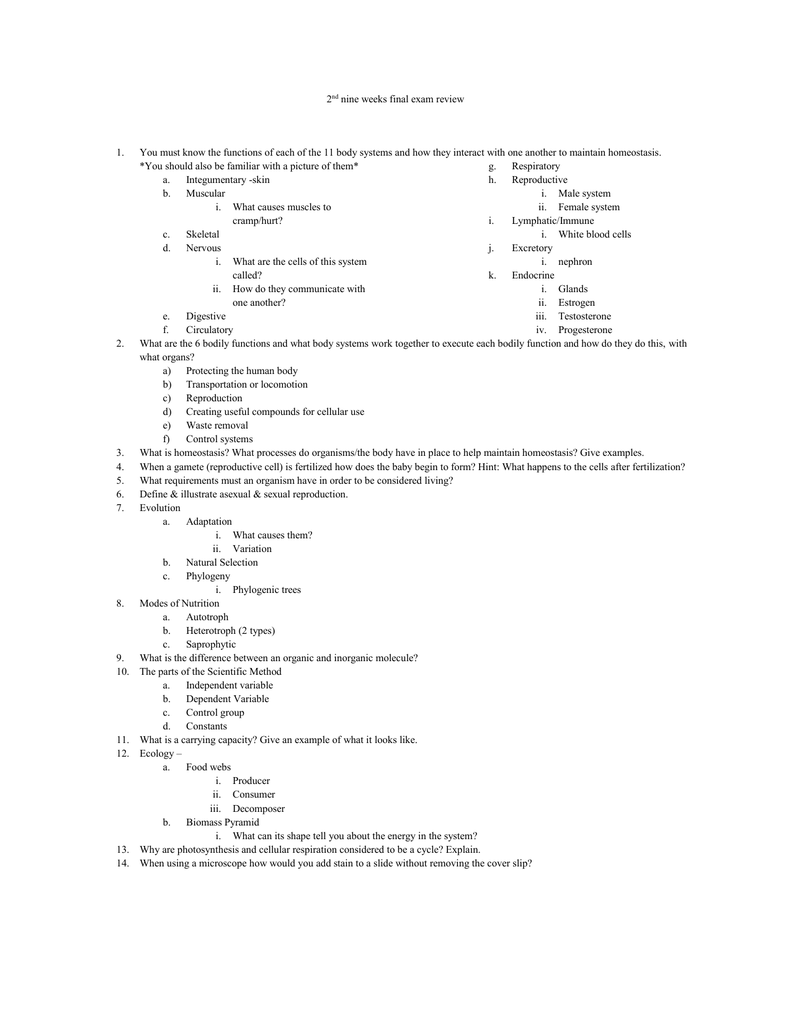 2nd nine weeks final exam review
1.
2.
3.
4.
5.
6.
7.
8.
9.
10.
11.
12.
13.
14.
You must know the functions of each of the 11 body systems and how they interact with one another to maintain homeostasis.
*You should also be familiar with a picture of them*
g. Respiratory
a.
Integumentary -skin
h. Reproductive
b. Muscular
i. Male system
i. What causes muscles to
ii. Female system
cramp/hurt?
i.
Lymphatic/Immune
c.
Skeletal
i. White blood cells
d. Nervous
j.
Excretory
i. What are the cells of this system
i. nephron
called?
k. Endocrine
ii. How do they communicate with
i. Glands
one another?
ii. Estrogen
e.
Digestive
iii. Testosterone
f.
Circulatory
iv. Progesterone
What are the 6 bodily functions and what body systems work together to execute each bodily function and how do they do this, with
what organs?
a) Protecting the human body
b) Transportation or locomotion
c) Reproduction
d) Creating useful compounds for cellular use
e) Waste removal
f)
Control systems
What is homeostasis? What processes do organisms/the body have in place to help maintain homeostasis? Give examples.
When a gamete (reproductive cell) is fertilized how does the baby begin to form? Hint: What happens to the cells after fertilization?
What requirements must an organism have in order to be considered living?
Define & illustrate asexual & sexual reproduction.
Evolution
a.
Adaptation
i. What causes them?
ii. Variation
b. Natural Selection
c.
Phylogeny
i. Phylogenic trees
Modes of Nutrition
a.
Autotroph
b. Heterotroph (2 types)
c.
Saprophytic
What is the difference between an organic and inorganic molecule?
The parts of the Scientific Method
a.
Independent variable
b. Dependent Variable
c.
Control group
d. Constants
What is a carrying capacity? Give an example of what it looks like.
Ecology –
a.
Food webs
i. Producer
ii. Consumer
iii. Decomposer
b. Biomass Pyramid
i. What can its shape tell you about the energy in the system?
Why are photosynthesis and cellular respiration considered to be a cycle? Explain.
When using a microscope how would you add stain to a slide without removing the cover slip?