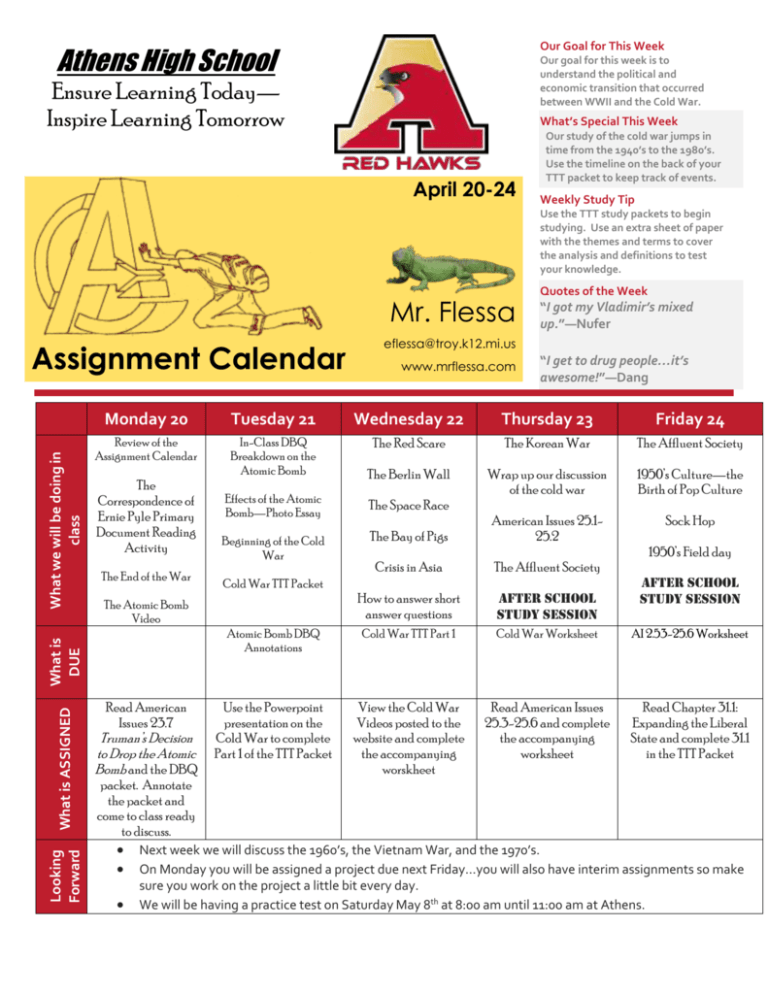 Our Goal for This Week
Athens High School
Our goal for this week is to
understand the political and
economic transition that occurred
between WWII and the Cold War.
Ensure Learning Today—
Inspire Learning Tomorrow
What's Special This Week
April 20-24
Our study of the cold war jumps in
time from the 1940's to the 1980's.
Use the timeline on the back of your
TTT packet to keep track of events.
Weekly Study Tip
Use the TTT study packets to begin
studying. Use an extra sheet of paper
with the themes and terms to cover
the analysis and definitions to test
your knowledge.
Mr. Flessa
What is ASSIGNED
Looking
Forward
"I got my Vladimir's mixed
up."—Nufer
eflessa@troy.k12.mi.us
www.mrflessa.com
"I get to drug people…it's
awesome!"—Dang
Monday 20
Tuesday 21
Wednesday 22
Thursday 23
Friday 24
Review of the
Assignment Calendar
In-Class DBQ
Breakdown on the
Atomic Bomb
The Red Scare
The Korean War
The Affluent Society
The Berlin Wall
Wrap up our discussion
of the cold war
1950's Culture—the
Birth of Pop Culture
Sock Hop
The
Correspondence of
Ernie Pyle Primary
Document Reading
Activity
The End of the War
Effects of the Atomic
Bomb—Photo Essay
The Space Race
Beginning of the Cold
War
The Bay of Pigs
American Issues 25.125.2
Crisis in Asia
The Affluent Society
How to answer short
answer questions
AFTER SCHOOL
STUDY SESSION
Atomic Bomb DBQ
Annotations
Cold War TTT Part 1
Cold War Worksheet
AI 2.53-25.6 Worksheet
Read American
Issues 23.7
Use the Powerpoint
presentation on the
Cold War to complete
Part 1 of the TTT Packet
View the Cold War
Videos posted to the
website and complete
the accompanying
worskheet
Read American Issues
25.3-25.6 and complete
the accompanying
worksheet
Read Chapter 31.1:
Expanding the Liberal
State and complete 31.1
in the TTT Packet
Truman's Decision
to Drop the Atomic
Bomb and the DBQ
1950's Field day
Cold War TTT Packet
The Atomic Bomb
Video
What is
DUE
What we will be doing in
class
Assignment Calendar
Quotes of the Week
AFTER SCHOOL
STUDY SESSION
packet. Annotate
the packet and
come to class ready
to discuss.
 Next week we will discuss the 1960's, the Vietnam War, and the 1970's.
 On Monday you will be assigned a project due next Friday…you will also have interim assignments so make
sure you work on the project a little bit every day.
 We will be having a practice test on Saturday May 8th at 8:00 am until 11:00 am at Athens.