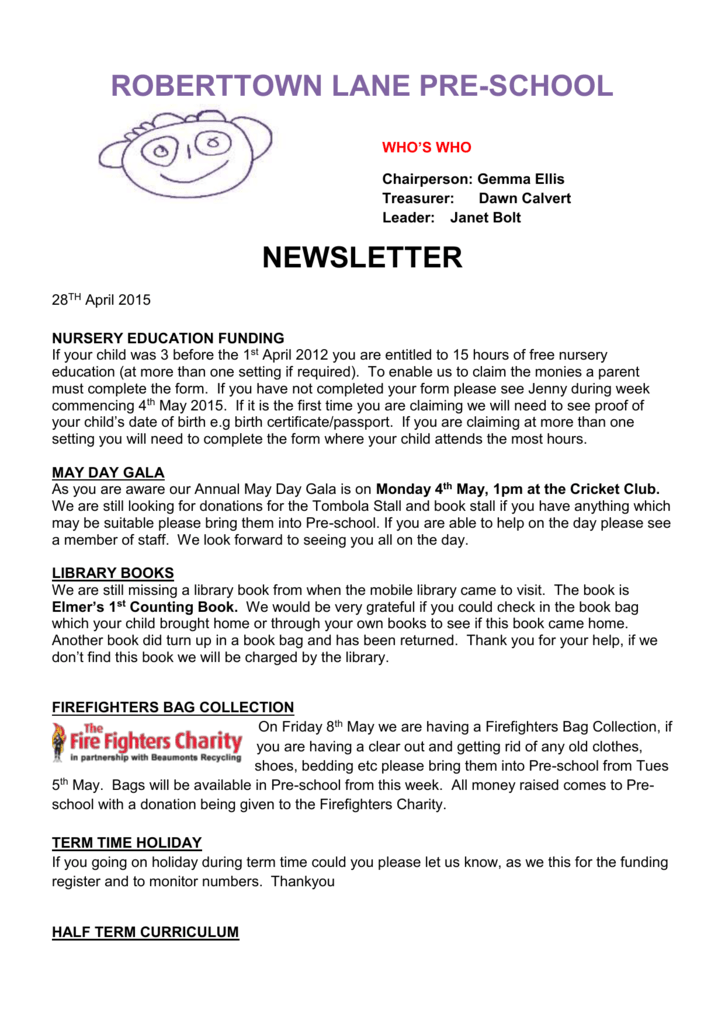 ROBERTTOWN LANE PRE-SCHOOL
WHO'S WHO
Chairperson: Gemma Ellis
Treasurer:
Dawn Calvert
Leader: Janet Bolt
NEWSLETTER
28TH April 2015
NURSERY EDUCATION FUNDING
If your child was 3 before the 1st April 2012 you are entitled to 15 hours of free nursery
education (at more than one setting if required). To enable us to claim the monies a parent
must complete the form. If you have not completed your form please see Jenny during week
commencing 4th May 2015. If it is the first time you are claiming we will need to see proof of
your child's date of birth e.g birth certificate/passport. If you are claiming at more than one
setting you will need to complete the form where your child attends the most hours.
MAY DAY GALA
As you are aware our Annual May Day Gala is on Monday 4th May, 1pm at the Cricket Club.
We are still looking for donations for the Tombola Stall and book stall if you have anything which
may be suitable please bring them into Pre-school. If you are able to help on the day please see
a member of staff. We look forward to seeing you all on the day.
LIBRARY BOOKS
We are still missing a library book from when the mobile library came to visit. The book is
Elmer's 1st Counting Book. We would be very grateful if you could check in the book bag
which your child brought home or through your own books to see if this book came home.
Another book did turn up in a book bag and has been returned. Thank you for your help, if we
don't find this book we will be charged by the library.
FIREFIGHTERS BAG COLLECTION
On Friday 8th May we are having a Firefighters Bag Collection, if
you are having a clear out and getting rid of any old clothes,
shoes, bedding etc please bring them into Pre-school from Tues
th
5 May. Bags will be available in Pre-school from this week. All money raised comes to Preschool with a donation being given to the Firefighters Charity.
TERM TIME HOLIDAY
If you going on holiday during term time could you please let us know, as we this for the funding
register and to monitor numbers. Thankyou
HALF TERM CURRICULUM
This half term's curriculum is attached for your information.
GENERAL INFORMATION
VOUCHERS
Please continue to send in any Sainsbury's vouchers, Nestle Box Tops and Petit Filous Yoghurt tops.
PRE-SCHOOL T/SHIRTS AND SWEATSHIRTS
Pre-school T/shirts and sweatshirts are now available to purchase in pre-school at £5.00 per t/shirt and £9 per
sweatshirt. Please see a member of staff.
CHILDRENS FOLDERS – PARENT PAGE
A parent page has been inserted into the front of every child's folder. Please feel free to write any comments
regarding your child. It may be something that they have done at home or at another club i.e swimming, dancing.
We would also be grateful if you could sign and date this each time you look in your child's folder, this is a
requirement of OFSTED to show that the files are available for parents to look at. We thank you for your
assistance.
WEATHER
Please ensure that your child brings a coat to pre-school, we do play out as much as possible and the weather can
change throughout the day.
REMINDERS
PARKING – Please be considerate when dropping off or picking up and DO NOT block driveways, we have had
complaints from the residents. The Cricket Club are happy for us to use their car park.
COLLECTION OF CHILDREN – It is extremely important that your child is collected by 12.30 prompt due to
insurance purposes (if for unforeseen reasons you are going to be late please telephone).
ABSENCE – If your child is not attending pre-school for any reason could you let us know as soon as possible.
We have to complete an attendance record for Kirklees Funding Department and unknown absences could affect
your child's free entitlement.
ARRIVAL WITH INJURY – If your child has a fall or bump resulting in a cut or graze (or any marks) could you
please inform your child's key person who will assist with completion of the arrival with injury document.
If you have any comments or suggestions about this newsletter please see Janet or Jenny.