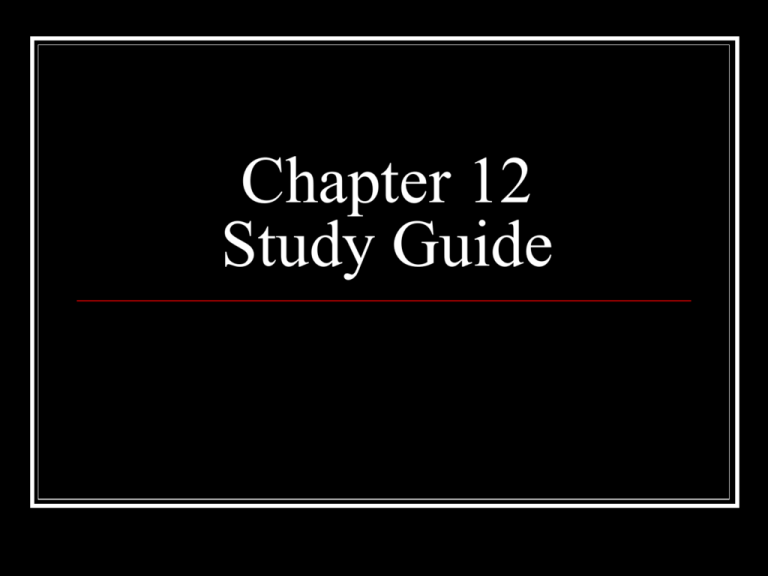 Chapter 12
Study Guide
Who became President after Lincoln
was assassinated?
14th Amendment:

Everyone born
in the US is a
citizen and
entitled to equal
protection of
their civil rights.
15th Amendment

Guaranteed African
American men the
right to vote
What was the name for the laws that
discriminated against African Americans?

Black Codes
What was tenant farming?

System in which
farmers paid cash rent
to
landowners
What group targeted and terrorized African
Americans during Reconstruction?

Ku Klux Klan
Who were the Radical Republicans?
What did they support?

Supported harsh
punishment for
Confederates
and full citizenship for
African Americans
Who was elected President after a
dispute over vote counts?
Define Reconstruction

Period in which the
Union tried to readmit
the southern states
Why was a plan needed for the
Reconstruction of the South?

The Constitution
provided no guidance
on secession or
readmission of
states.
What was President Lincoln's plan for
Reconstruction?

He wanted to reunite
the country.
What Radical Republican policy was
President Lincoln in support of?

Formation of the Freedmen's Bureau
How did Congress try to limit the
President's power?

Tenure of Office Act
Which group of people saw a significant
increase of voting in the South during
Reconstruction?

African-American Men
Whose idea was it to take over large plantations
and give them out to freedman?

William Sherman
What did the Supreme Court rule in
the Slaughterhouse Cases?

The states had the
power to define their
citizens' rights
List at least two successes of
Reconstruction in the South.



Improved Education
for everybody.
Improved railroads.
Reunited black
families.
List two failures of Reconstruction of
the South.



Violence and racism
by the KKK.
Black Codes and
Jim Crow laws still
limit the freedom of
freedmen.
No changes for
women.