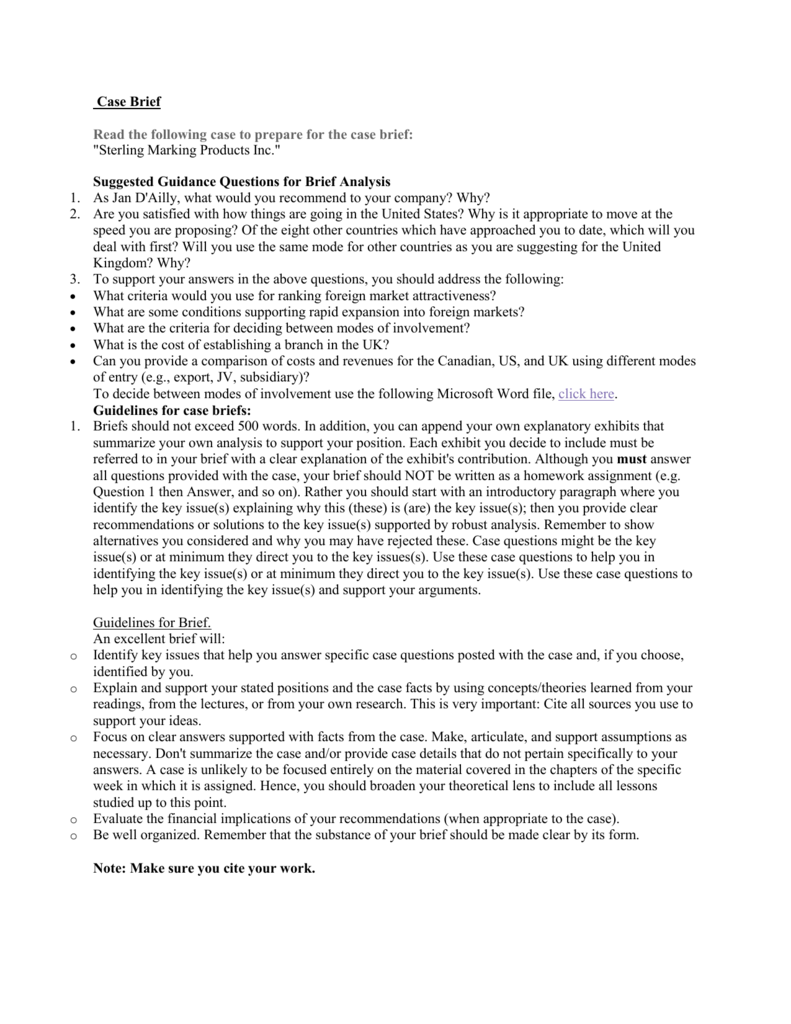 Case Brief
Read the following case to prepare for the case brief:
"Sterling Marking Products Inc."
Suggested Guidance Questions for Brief Analysis
1. As Jan D'Ailly, what would you recommend to your company? Why?
2. Are you satisfied with how things are going in the United States? Why is it appropriate to move at the
speed you are proposing? Of the eight other countries which have approached you to date, which will you
deal with first? Will you use the same mode for other countries as you are suggesting for the United
Kingdom? Why?
3. To support your answers in the above questions, you should address the following:
 What criteria would you use for ranking foreign market attractiveness?
 What are some conditions supporting rapid expansion into foreign markets?
 What are the criteria for deciding between modes of involvement?
 What is the cost of establishing a branch in the UK?
 Can you provide a comparison of costs and revenues for the Canadian, US, and UK using different modes
of entry (e.g., export, JV, subsidiary)?
To decide between modes of involvement use the following Microsoft Word file, click here.
Guidelines for case briefs:
1. Briefs should not exceed 500 words. In addition, you can append your own explanatory exhibits that
summarize your own analysis to support your position. Each exhibit you decide to include must be
referred to in your brief with a clear explanation of the exhibit's contribution. Although you must answer
all questions provided with the case, your brief should NOT be written as a homework assignment (e.g.
Question 1 then Answer, and so on). Rather you should start with an introductory paragraph where you
identify the key issue(s) explaining why this (these) is (are) the key issue(s); then you provide clear
recommendations or solutions to the key issue(s) supported by robust analysis. Remember to show
alternatives you considered and why you may have rejected these. Case questions might be the key
issue(s) or at minimum they direct you to the key issues(s). Use these case questions to help you in
identifying the key issue(s) or at minimum they direct you to the key issue(s). Use these case questions to
help you in identifying the key issue(s) and support your arguments.
o
o
o
o
o
Guidelines for Brief.
An excellent brief will:
Identify key issues that help you answer specific case questions posted with the case and, if you choose,
identified by you.
Explain and support your stated positions and the case facts by using concepts/theories learned from your
readings, from the lectures, or from your own research. This is very important: Cite all sources you use to
support your ideas.
Focus on clear answers supported with facts from the case. Make, articulate, and support assumptions as
necessary. Don't summarize the case and/or provide case details that do not pertain specifically to your
answers. A case is unlikely to be focused entirely on the material covered in the chapters of the specific
week in which it is assigned. Hence, you should broaden your theoretical lens to include all lessons
studied up to this point.
Evaluate the financial implications of your recommendations (when appropriate to the case).
Be well organized. Remember that the substance of your brief should be made clear by its form.
Note: Make sure you cite your work.