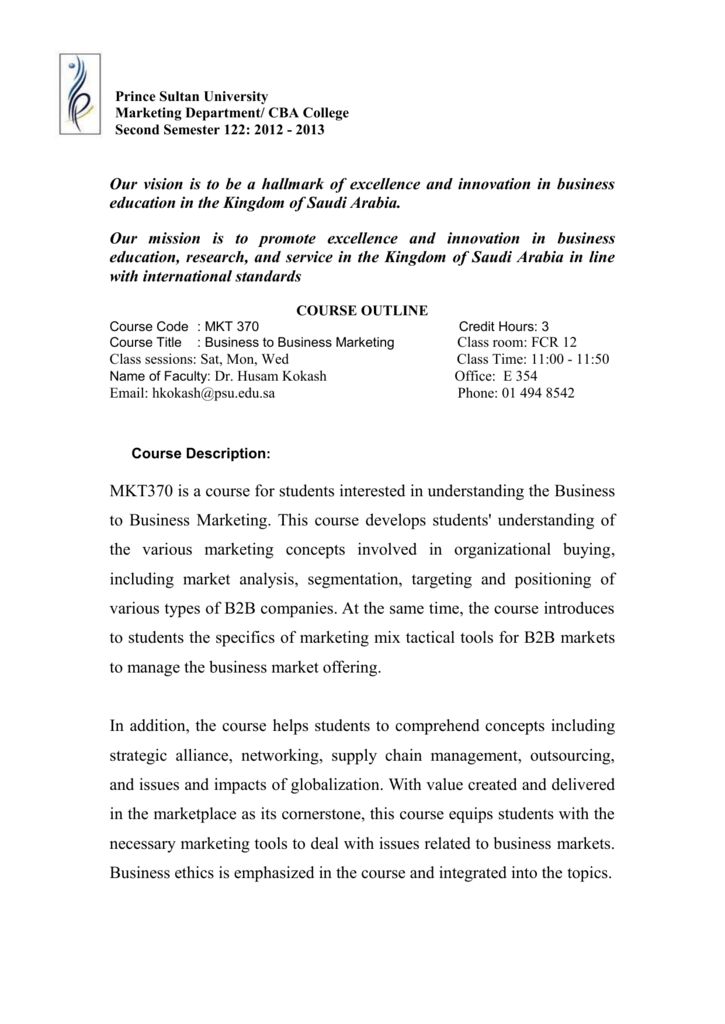 Prince Sultan University
Marketing Department/ CBA College
Second Semester 122: 2012 - 2013
Our vision is to be a hallmark of excellence and innovation in business
education in the Kingdom of Saudi Arabia.
Our mission is to promote excellence and innovation in business
education, research, and service in the Kingdom of Saudi Arabia in line
with international standards
COURSE OUTLINE
Course Code : MKT 370
Course Title : Business to Business Marketing
Class sessions: Sat, Mon, Wed
Name of Faculty: Dr. Husam Kokash
Email: [email protected]
Credit Hours: 3
Class room: FCR 12
Class Time: 11:00 - 11:50
Office: E 354
Phone: 01 494 8542
Course Description:
MKT370 is a course for students interested in understanding the Business
to Business Marketing. This course develops students' understanding of
the various marketing concepts involved in organizational buying,
including market analysis, segmentation, targeting and positioning of
various types of B2B companies. At the same time, the course introduces
to students the specifics of marketing mix tactical tools for B2B markets
to manage the business market offering.
In addition, the course helps students to comprehend concepts including
strategic alliance, networking, supply chain management, outsourcing,
and issues and impacts of globalization. With value created and delivered
in the marketplace as its cornerstone, this course equips students with the
necessary marketing tools to deal with issues related to business markets.
Business ethics is emphasized in the course and integrated into the topics.
Course Objectives:
All students receiving a passing grade in the class will be able to:
 Describe the nature of business markets and the related concepts
and theories involved in business activities among business
organizations.
 Recognize the similarities and differences between consumer
markets and business markets.
 Familiarize the business organization buying behavior with
particular emphasis on the globalization of modern business and
related ethical issues and consideration of corporate social
responsibility.
 Analyze business situations in the context of buyer-seller
relationships, consumer relationship management and supply chain
management.
 Apply concepts and theories to business marketing situations and
take appropriate decisions using a strategic marketing perspective.
 Explain the marketing challenges which faced the business
organizations.
Course materials:
Required Text Book:
 Brennan, R. Canning, L. McDowell, R. Business-to-Business
Marketing. Second edition, Sage Publications. 2011.
Reference Book:
 Robert, V. Pfoerstch, W. & Giglierano, J. Business to Business
Marketing; Analysis and Practice, Pearson/Prentice- Hall. 2011.
 Additional supplemental readings and cases will be announced
and/or distributed in class.
Exams:
There are Three examinations for the semester, Two major exams and
Final Exam. These examinations will follow the normal college pattern.
The final exam will be comprehensive.
Assessments &Evaluation:
Major First Exam
20%
Major Second Exam
20%
Final Exam
40%
Cases, Presentations
10%
Class participation and Attendance
10%
Class participation & attendance:
The course includes a mixture of learning activities- lectures, discussion
on B-to-B topics, case analyses, presentation, and students' activity in
group based assignmnets. It is critical that each of you comes to class
prepared. Attendance for regular classes is expected. Class participation
is a crucial part of the course which will take place during lectures, will
be evaluated on regular bases. Keep in mind that poor attendance will
negatively affect students grades.
Assignments:
Throughout the semester, a number of chapter questions, short cases, field
research and exercises will be assigned. I expect you to have spent a
sufficient amount of time preparing answers or notes which will assist
you in learning and during class discussion. All written reports and
assignments are due either at the beginning of class on the due date or a
designated time.
Typed-written work is mandatory for all assignments. No one late
assignment will be accepted.
DN Policy
As the course is delivered in one hour sessions, any student who exceeds
the number of absences allowed will be recommended for DN. The
absences will be counted from the day first of the official start of classes
given in the semester calendar, no matter when the student has actually
registered the course.
Besides, any student who is late by more than five minutes after the
scheduled start of a class will be marked absent, and such absences will
also be counted for DN purpose.
Indicative Course Contents
Week
1
2
3
4
5
6
7
Topic
Business to Business Markets & Marketing:
Chapter
1
Business Buyers' Behavior
2
Inter-Firm Relationships & Networks
3
Business to Business Marketing Analysis & Strategies
4
Major First Exam
7
8
9
10
11
12
Business Market Segmentation
6
Market Communication
7
Relationships Portfolios
Major Second Exam
12
13
14
15
15
16
Relationship Communication
8
Managing Product Offering
10
Cases, presentation & discussions – general review
Final Exam
Note: The instructor reserves the right to change or modify the course
syllabus and revised it to generate the maximum benefits for students.
The possible modifications will be discussed with students in the
classroom.
An updated and improved copy will be linked to the instructor's
Website, where the students are responsible for checking and keeping
up with any change.