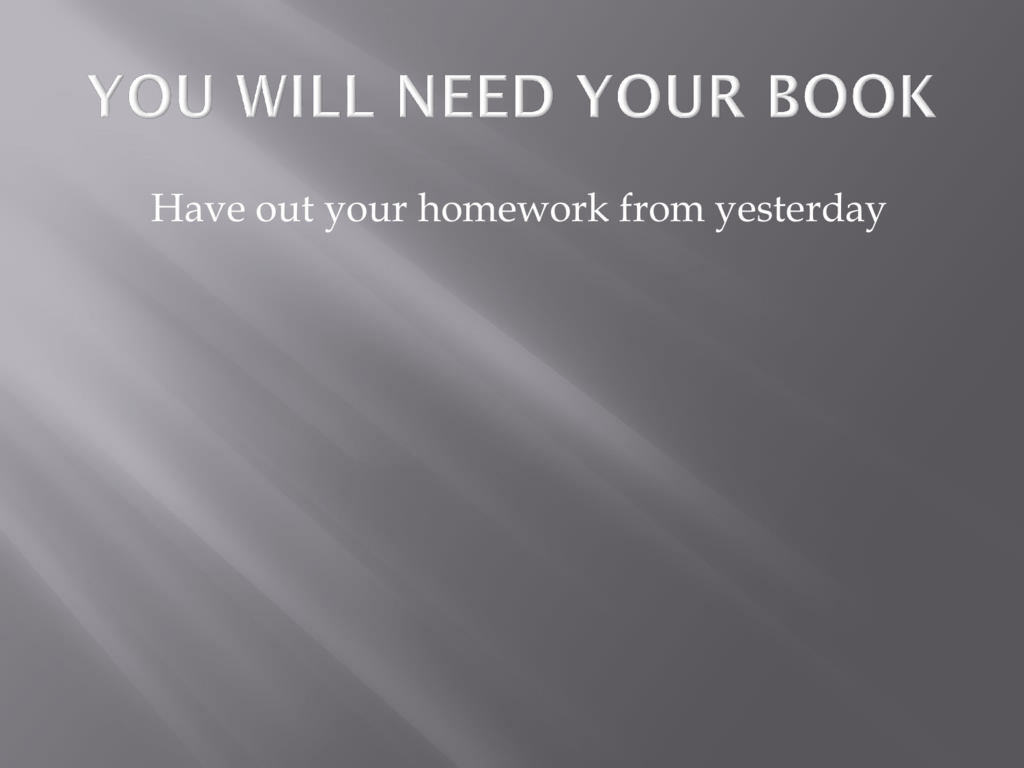 Have out your homework from yesterday












On your own, without looking at your notes, see if you
remember the next two steps of the levels of organization
(before cell):
Biosphere
Ecosystem
Community
Population
Organism
Organ System
Organ
Tissue
Cell
Molecule
Atom




All matter in the universe, living and
nonliving, van be broken down in to the basic
substances called elements
MOST matter exists a form made up of two or
more elements joined together, known as a
compound
The smallest unit of any element is called an
atom
Most compounds in a cell are made up of
atoms bonded together in molecules




Water is a compound
What are the elements that compose a water
molecule?
Hydrogen and Oxygen
How many atoms of each element?
H=2
O=1
What is another name for water?
H2O


Most activities that take place within a cell
involve atoms and molecules interacting
This is called a chemical reaction


Bonds between atoms are broken and new bonds
form to make different molecules
Energy is needed to break bonds and energy is
released when new bonds form


ALL cells need a CONSTANT supply of
energy
All cells use chemical energy


Energy stored in bonds between atoms of every
molecule
Must be able to release the chemical energy to
stay alive

Carbohydrates


Simple carbs are sugars


Provide the cell with energy
Made from carbon, oxygen and hydrogen
Major energy source for most cells is stored in
glucose

Sugar molecule
 Plants make sugars, animals have to eat plants


Ultimate source of energy for almost all
organisms is sunlight
Plants change the energy in sunlight to a form
of energy they can use– chemical energy in
glucose

What is the name of this process??
Why do people talk to their plants?


Process done by plants to convert light energy
into food
The requirements for photosynthesis are:
 CO2
 Sunlight
 Water

Leaves
 Chloroplasts
 Root System
 Stomata


Organelles of plant
cells
Capture light energy
to conserve/store in
form of ATP
Chloroplasts
trap light
energy

Obtains water from
soil, travels through
stem and to leaves
Water enters leaf



Microscopic pores on leaves of plant
Act as gateway for
efficient gas exchange
Surrounded by guard
cells that open and close
the pore
Carbon
Dioxide
enters leaf
through
Stomata
DUE: Crossword Puzzle





By yourself
On a half sheet of paper
What are the 3 things a plant requires from its
external environment to complete
photosynthesis
What are the 3 main parts of a plant that are
involved in photosynthesis
Keep this piece of paper, we will need it at the
end of the presentation
Photosynthesis
(Formula)
Light Energy
6 CO2 + 6 H2O
C6H12O6 + 6 O2
6 CO2 + 6 H O
2
C6H12O6 + 6 O2
CO2 = __________ = What we breath out
6 _________ molecules
6 CO2 +
6 H2O
C6H12O6 + 6 O2
H2O= __________
6 __________ water molecules
Light Energy
With light energy present, the product will be…
6 CO2 + 6 H2O
C6H12O6 + 6 O
C6H12O6 = ____________ = sugar
= organic matter or food
2

6 CO2 + 6 H2O
C6H12O6 +
6 O2
O2 = __________ = what we breath in
6 ________ molecules



A plant absorbs light energy from the sun and
combines that with carbon dioxide from the air
and water from the soil. This reaction creates
sugar/glucose and oxygen
The sugar/glucose is used as a food source for
the plant
The oxygen is put into the air for us to breath
Why do people talk to their plants?


Piece of paper
Colored pencils
Draw a model diagram of how Photosynthesis
works
Include: All the resources used, where the
actions are done, what resources are produced
and where they end up or how they are used.


EVERYONE needs to be in their own assigned desk,
studying (QUIETLY and on YOUR OWN) for the quiz
today by the time the bell rings.
Suggested studies:


All of the terms we have covered this far in the photosynthesis
notes
I will be collecting your homework shortly after the
quiz, and will be passing back your tests.