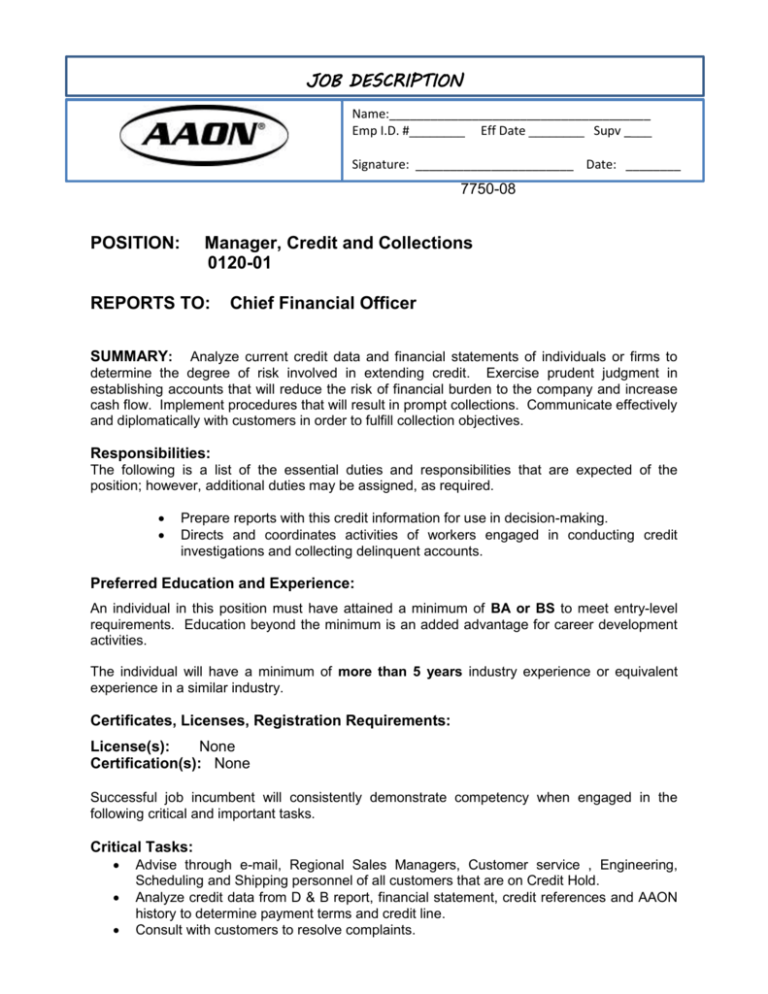 JOB JPTION
DESCRIPTION
AAON,
INC.
Name:______________________________________
EmpSo.
I.D. Yukon
#________
2425
Eff Date ________ Supv ____
Tulsa,
Ok. 74107
Signature:
_______________________ Date: ________
POSITION:
Tech 2 Final Wire/Control Box
918-583-2266; Fax: 918-382-6365
7750-08
DESCRIPTION
POSITION:
Manager, Credit and Collections
0120-01
REPORTS TO:
Chief Financial Officer
SUMMARY:
Analyze current credit data and financial statements of individuals or firms to
determine the degree of risk involved in extending credit. Exercise prudent judgment in
establishing accounts that will reduce the risk of financial burden to the company and increase
cash flow. Implement procedures that will result in prompt collections. Communicate effectively
and diplomatically with customers in order to fulfill collection objectives.
Responsibilities:
The following is a list of the essential duties and responsibilities that are expected of the
position; however, additional duties may be assigned, as required.


Prepare reports with this credit information for use in decision-making.
Directs and coordinates activities of workers engaged in conducting credit
investigations and collecting delinquent accounts.
Preferred Education and Experience:
An individual in this position must have attained a minimum of BA or BS to meet entry-level
requirements. Education beyond the minimum is an added advantage for career development
activities.
The individual will have a minimum of more than 5 years industry experience or equivalent
experience in a similar industry.
Certificates, Licenses, Registration Requirements:
License(s):
None
Certification(s): None
Successful job incumbent will consistently demonstrate competency when engaged in the
following critical and important tasks.
Critical Tasks:



Advise through e-mail, Regional Sales Managers, Customer service , Engineering,
Scheduling and Shipping personnel of all customers that are on Credit Hold.
Analyze credit data from D & B report, financial statement, credit references and AAON
history to determine payment terms and credit line.
Consult with customers to resolve complaints.









Consult with customers to verify financial and credit transactions.
Negotiate payment plan with customers with financial problems.
Oversee collection of accounts receivable through reviews of past accounts with credit
analyst every 2 weeks, (or as needed), to determine actions to be taken.
Oversee Mechanics Lien process: timely sending 1st lien notices and filing of mechanics
lien as required.
Perform credit review for new customers and existing customer without transaction in
past six months.
Review and sign all credit memo request forms issued by the Credit Department
Review customer orders throughout the day for release or credit hold, depending on
account status.
Review customers account files to identify and select delinquent accounts for collection.
Work closely with Sales Representatives regarding customer information, advising of
credit and payment problems and asking for assistance in account collections.

Important Tasks:
 Adjust customer accounts as needed.
 Confer with credit association and other business representatives to exchange credit
information.
 Lift up to 25 pounds.
 Respond to sales Representatives inquiries regarding sales commission.
 Sit up to 95 percent of work shift
 Update Credit Department reports and display charts regarding accounts receivable
aging, cash versus sales and DSO.
Since our business is continuously changing to meet the needs of our customers, you can
expect and assume your job will change.