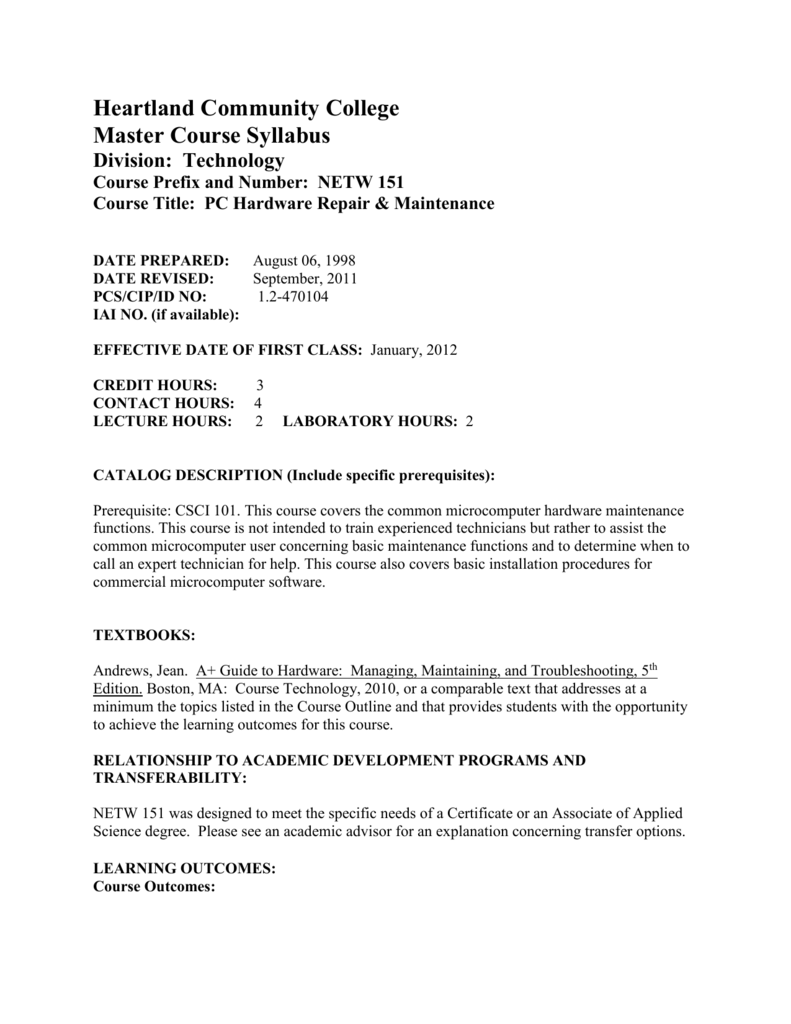 Heartland Community College
Master Course Syllabus
Division: Technology
Course Prefix and Number: NETW 151
Course Title: PC Hardware Repair & Maintenance
DATE PREPARED:
August 06, 1998
DATE REVISED:
September, 2011
PCS/CIP/ID NO:
1.2-470104
IAI NO. (if available):
EFFECTIVE DATE OF FIRST CLASS: January, 2012
CREDIT HOURS:
CONTACT HOURS:
LECTURE HOURS:
3
4
2
LABORATORY HOURS: 2
CATALOG DESCRIPTION (Include specific prerequisites):
Prerequisite: CSCI 101. This course covers the common microcomputer hardware maintenance
functions. This course is not intended to train experienced technicians but rather to assist the
common microcomputer user concerning basic maintenance functions and to determine when to
call an expert technician for help. This course also covers basic installation procedures for
commercial microcomputer software.
TEXTBOOKS:
Andrews, Jean. A+ Guide to Hardware: Managing, Maintaining, and Troubleshooting, 5th
Edition. Boston, MA: Course Technology, 2010, or a comparable text that addresses at a
minimum the topics listed in the Course Outline and that provides students with the opportunity
to achieve the learning outcomes for this course.
RELATIONSHIP TO ACADEMIC DEVELOPMENT PROGRAMS AND
TRANSFERABILITY:
NETW 151 was designed to meet the specific needs of a Certificate or an Associate of Applied
Science degree. Please see an academic advisor for an explanation concerning transfer options.
LEARNING OUTCOMES:
Course Outcomes:
1.
2.
3.
4.
5.
6.
7.
8.
9.
Evaluate a customer's requirements for computer hardware for a specific use.
Explain how to assemble a computer from modules, such as floppy diskette drives and
controllers, and multi-function cards.
Describe how to prepare a hard disk for use including how to perform low-level and
high-level formatting.
Explain the differences between different types and generation of microcomputers.
Provide suggestions and justifications for adding additional hardware to a working
system, such as a joystick or additional memory.
Explain the merits of different types of monitors.
Explain and demonstrate installing and troubleshooting of modems and their
communication problems.
Explain and demonstrate how to repair or build replacement cables.
Describe and demonstrate software troubleshooting, including suggestions for regaining
lost data.
Range of Assessment Methods:
Exams, Quizzes, Homework, Hands-On Labs, and Hands-On Performance Tests.
COURSE/LAB OUTLINE:
1. Introducing Hardware
2. Form Factors, Power Supplies, and Working Inside a Computer
3. All About Motherboards
4. Supporting Processors
5. Upgrading Memory
6. Supporting Hard Drives
7. Installing and Supporting I/O Devices
8. Multimedia Devices and Mass Storage
9. PC Maintenance and Troubleshooting Strategies
10. Networking Essentials
11. Supporting Notebooks
12. Supporting Printers
METHOD OF EVALUATION (Tests/Exams, Grading System):
Students will be evaluated by competency labs, examinations, quizzes, assignments, and
on the basis of their ability.
Assessment Method
Assignments & Competency Labs
Exams
Comprehensive Hands-On Final Exam
Comprehensive Final Exam
Total
% of final grade
40%
30%
10%
20%
100%
Grading Scale:
90% - 100% A
80% - 89%
B
70% - 79%
C
60% - 69%
D
Below 60%
F
REQUIRED WRITING AND READING:
Required reading consists of an approximately 400 page textbook. Writing includes
recommendations for microcomputer owners and explanations of various topics covered
in this course in assignments and exams.