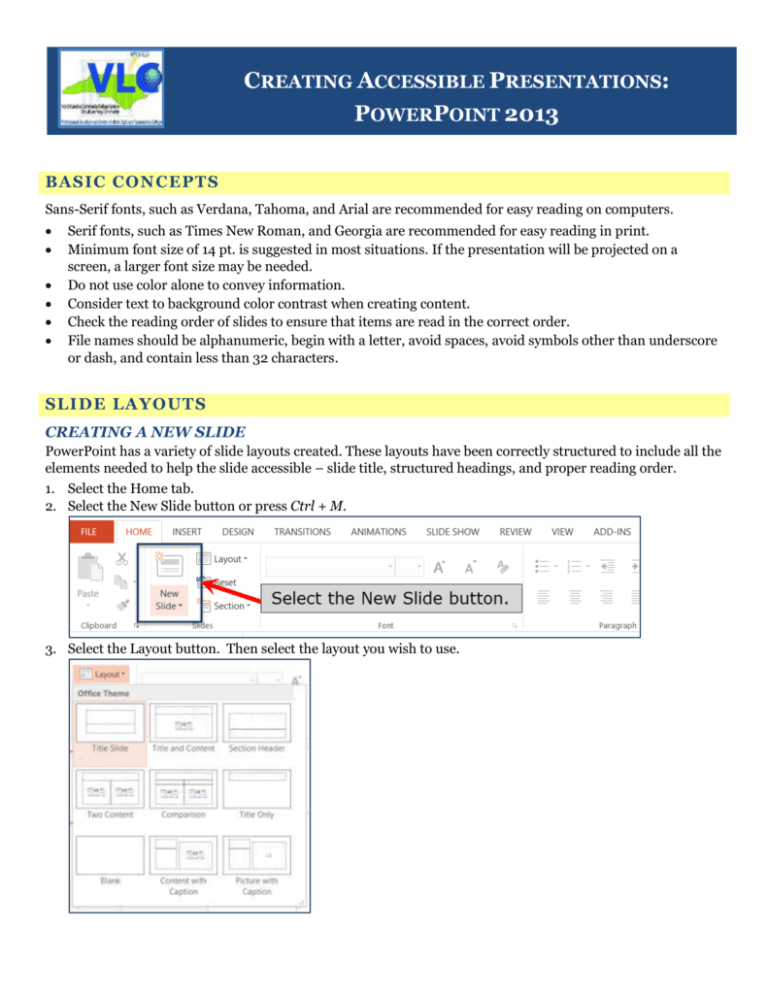 CREATING ACCESSIBLE PRESENTATIONS:
POWERPOINT 2013
BASIC CON CEP TS
Sans-Serif fonts, such as Verdana, Tahoma, and Arial are recommended for easy reading on computers.






Serif fonts, such as Times New Roman, and Georgia are recommended for easy reading in print.
Minimum font size of 14 pt. is suggested in most situations. If the presentation will be projected on a
screen, a larger font size may be needed.
Do not use color alone to convey information.
Consider text to background color contrast when creating content.
Check the reading order of slides to ensure that items are read in the correct order.
File names should be alphanumeric, begin with a letter, avoid spaces, avoid symbols other than underscore
or dash, and contain less than 32 characters.
SLIDE LA YOUT S
CREATING A NEW SLIDE
PowerPoint has a variety of slide layouts created. These layouts have been correctly structured to include all the
elements needed to help the slide accessible – slide title, structured headings, and proper reading order.
1. Select the Home tab.
2. Select the New Slide button or press Ctrl + M.
3. Select the Layout button. Then select the layout you wish to use.
You can create your own slide layouts using the Slide Master. The Slide Master is located on the View tab.
When creating a custom Slide Master, be sure to include the slide title, text and content boxes, and set reading
order.
ALTERNAT IVE TEXT
All non-text elements must have a text- based alternative that concisely presents (in context) the information to
be conveyed.



Average 8-80 characters
Never use image of or graphic of
Replace, don't describe…
ADD ALTERNATIVE TEXT
1. Right click on the image.
2. Select Format Picture.
3. Select the Size and Position button.
4. Select Alt Text.
5. Add alternative text in the Title and Description text box.
LONG DE SCRIP TIONS
If 8-80 characters will not convey the message, a Long Description is needed.
Long descriptions are usually necessary for:
 Complex images
 Graphs
 Charts
 Diagrams
 Tables
Add alternative text to the image (see instructions above), but include a longer description in the presentation
(as a caption or in the content of the presentation,) so it is available to all students. Do not use the Notes panel
to add the description. Screen readers may not have access to the Notes panel.
HYPERLIN KS
A properly formed hyperlink answers three important questions:
 Where am I going?
 Why am I going?
 What is going to happen when I get there?
A properly formed hyperlink makes sense independently.
It is not required, but it is a good idea to also provide the URL address as plain text (not an active hyperlink).
TABLES
Tables in PowerPoint are not read by screen readers. When using PowerPoint, find an alternative method for
tables.
RUNNING THE ACCE SSIB ILIT Y CHE CKER
PowerPoint 2010 and later contains an accessibility checker that can help identify and correct accessibility
errors. This tool is only available in the Windows version of PowerPoint.
1. Select the File tab.
2. Select Info and then select the Check for Issues button next to Inspect Presentation.
3. From the list, select Check Accessibility.
4. The accessibility checker will run and provide a list of errors and warnings that are present on the right side
of the window.
5. To correct an error, click on the error from the list. If you are unsure on how to correct the error,
instructions are provided below the list of errors and warning in the Additional Information section.
BARRIE RS - CH ALLENGE S
Potential PowerPoint presentation accessibility barriers include:





Content added to the Notes panel may not be accessed by a screen reader. Do not include important
information about the presentation in the notes.
Avoid automatic transitions in your presentation. Allowing user control of slides will provide more
accessibility to the presentation.
SmartArt accessibility is not consistent at this time.
WordArt is an image and requires alternative text.
Images should always be inline, never wrapped.