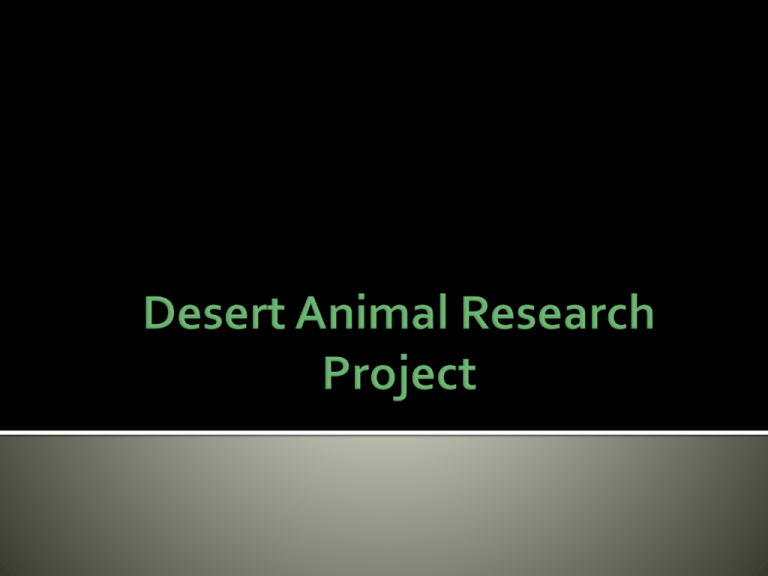 



Desert animals that live in Arizona
Each person will research an animal that no
one else in class is researching
Create a reference page
Create a Powerpoint presentation

You will mark your first, second, and third
choices
 Top choice - write #1
 Second choice – write #2
 Third choice – write #3

Each animal must be in a different
classification
 Example: roadrunner (bird), gila monster (reptile),
and coyote (mammal)


Use books in the library
Use reputable internet resources
 http://www.desertusa.com/mag06/nov/blkbear.ht
ml

Use Encyclopedia Britannica



Reference Page
This page that you create will be put together
with other students' pages to create a class
book.
You need to use a computer program to
create your page (Word, Publisher).
Powerpoint Presentation
Same information as on the reference page.
Each category should be its own slide. You may use more
than one slide for categories that have more information
in them if you would like to.
 You must write a shortened version of the information.
You should not have complete sentences.
 You should have at least one picture in your presentation,
but having more is recommended.
 You must practice your presentation before presenting it
to the class. Make sure that you practice using a clear
voice that everyone in our classroom can hear. You may
use note cards to write specific information that you
would like to share with us during your presentation.











Size
Appearance
Habitat
Adaptations
Behaviors
Babies
Diet
Fun Facts (optional)



Reference Page is due on Monday, April 19th.
Powerpoint Presentation is due on Monday,
May 9th.
Questions?