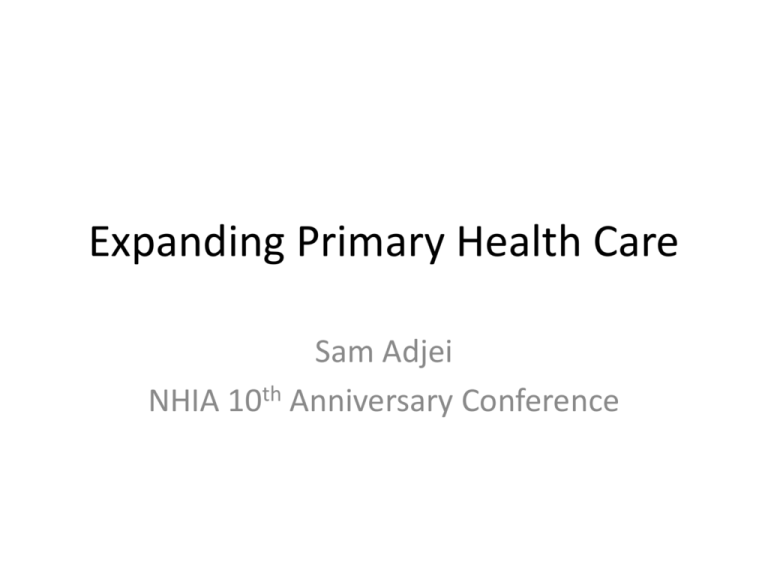 Expanding Primary Health Care
Sam Adjei
NHIA 10th Anniversary Conference
Outline
•
•
•
•
•
•
•
•
•
Introduction
Definitions of PHC
Global evolution of PHC
Goal, objectives and strategies
Ghana's organization of PHC
Package of services
Financing of services
Assessing performance
Moving forwards
Introduction
Evolution of health delivery systems 20yr cycle
• 1957- Basic health care
– Emphasis on infrastructure
• 1977/78- Health for All based on PHC
– Emphasis on rapid expansion of services
• 1997- Health sector Reforms and SWAP
– Health systems strengthnening and MDGs
• 2015- Post MDG
Definition and global commitment
Many definitions of PHC – here is the JLN's
Essential health care; based on practical, scientifically sound, and
socially acceptable method and technology; universally accessible to
all in the community through their full participation; at an affordable
cost; and geared toward self-reliance and self-determination
Primary care is the level of a health services system that provides entry
into the system for all new needs and problems, provides personfocused (not disease-oriented) care over time, provides care for all but
very uncommon or unusual conditions, and coordinates or integrates
care, regardless of where the care is delivered and who provides it.
First-contact access for each new need; long-term person-based care
(not disease-oriented), comprehensive care for most health needs,
and coordinated care when it is sought elsewhere.
"The provision of outpatient
non-secondary and nontertiary preventive and
curative care, with a
particular focus on ensuring
the quality delivery of health
interventions prioritized by
both countries and the global
health community against
the highest disease burdens"
Global commitments to PHC repeated over time, but not
realized in practice
Haikko Declaration
(40 member countries)
Reaffirmed Alma Ata
1978
Alma Ata
(WHO members)
Recognized PHC as an essential
right, and committed
governments to launching and
sustaining PHC as part of a
national health system
1986
Ouagadougou Declaration
(All African region members)

Reaffirmed Alma Ata

2008
Birchwood Declaration
(South Africa members)

Reaffirmed Alma Ata
Americas Region Declaration
(All Latin American members)
Reaffirmed Alma Ata
Countries still continue to struggle with issues of organizational
structures, demand, and financing of primary health care

Ghana experience
• Goals, organization
Goal, objectives and strategies of Ghana PHC
• Goal:
– Maximise total life of Ghanaians
• Objectives:
1) Achieve basic and primary health care for 80 of people
2) Effectively attack the diseases problems that contribute 80 of
morbidity and mortality
• Strategies:
1. Improve accessibility-coverage of services
2. Improve quality of PHC
3. Improve and strengthen management capacity to support to
the primary level
Organization of care
NATIONAL
REGIONAL LEVEL
DISTRICT LEVEL
POLICY
Policy
- MOH AND
-MOHGHS
GHS
TERTIARY
CARE
STRATEGY
TRANSLATION
-RHMT
SECONDARY
CARE
-REGIONAL
HOSPITALS
PRIMARY
HEALTH CARE
1ST REFERAL
HOSPITAL
District level organization
Level
Name
Population
Human Resources
A
Community
200-5000
TBA, CFHW, CEDW
B
Sub district
5-10,000
CHN, MIDWIFE, PA
C
District
175-24,000
DHMT-DDHS, DMOH,
DPHN, DNTO, DHI
The community level was problematic: there was little
evidence that their training and deployment effectively
affected morbidity and mortality. The MOH therefore took a
decision to replace them with trained staff. Hence the
Community-based Health Planning and Services-CHPS
Initiative which uses CHO.
What is CHPS
• Stands for Community-based Health Planning
Services
• Involves relocating a CHN (CHO) into
community with defined population (zone)
• Works with volunteers
• Supported by community through CHC
• Has a set of functions to perform
• Supervised by sub district team
Ref
Community Health Care
District
Hospitals
District
Health
Management Team
M&L
Ref
Sub-district health
management team
Health
Centres
Clinical Determinants Track
Ref
CHPS
Compound
Ref
CM
CHO
CHWS
TBA
CP
Planning,
M&E
Social Determinants Track
Trad.
Healers
Prayer
Camps
Env. &
Sanit.
Officers
Com.
Dev.
Officers
C H Vs
Service &
Surveilla
nce
Services/priority interventions
Health services-for PHC in 1978
• education concerning prevailing health problems and
the methods of preventing and controlling
• promotion of food supply and proper nutrition;
• adequate supply of safe water and basic sanitation;
• maternal and child health care, including family
planning;
• immunization against the major infectious diseases;
• prevention and control of locally endemic diseases;
• appropriate treatment of common diseases and
injuries;
• and provision of essential drugs;
Priority interventions-1996
•
•
•
•
•
•
Immunization
Reproductive health programs
Prevention and control of epidemics
Health promotion
Micronutrient deficiency control and prevention
Management of locally endemic diseases
– Malaria, TB, HIV, Oncho , filariasis etc
• Emergency care for accidents and trauma
Expressed Needs for Services at the Community level
Most Popular
Family Planning Counseling
Defaulter tracing and continuing
drug replacement
ARI in Children
Immunization and Vaccination
Services
School Health Services
Malaria case management
Nutrition Advisory Services and
Product Distribution
Growth Monitoring
Care of Children (1-59 months)
Care of Infants (7-28 days)
Diarrheal Disease Management
Distribution of contraceptive pills
and condoms
Post-delivery care of Mothers
Popular
Care for neonates (0-7
days)
Antenatal Care Services
on expectant mothers
Antenatal Education in
Groups
Dispensing of Antibiotics
Least Popular
Road Traffic Accidents (care of
victims/casualties)
Hypertension Management
Insertion and Removal of
Family Planning Implants
TB Treatment
HIV/AIDS Treatment
Minor Surgery (eg., Incision
and Drainage)
Diabetes Management
Dispensing of approved
traditional Medicines
Delivery
Yaws, Elephantiasis,
Schistosomiasis
Injuries and Poisoning
Obesity Management
Ulcer Management
Dispensing Class C Drugs
Comparison of disease problems
Top 10 conditions- 1977
Top 10 conditions-2003
•
•
•
•
•
•
•
•
•
•
•
•
•
•
•
•
•
•
•
•
Malaria
Prematurity
Measles
Birth Injury
Sickle Cell Disease
Child pneumonia
Malnutrition
Dysentry
Neonatal tetanus
Accidents
Malaria
Anemia
Pneumonia
Stroke
Typhoid Fever
Diarrhea
HPTN
Hepatitis
Meningitis
Sepsis
Financing
Trends in resource allocation
Year
Per Capit
Govt
Expend
Headquarters
Tertiary
Secondary
Primary or
district
1976
$3-5
-
40
45
15
1996
$6-7
28
31
17
23
2001
$10-12
16
19
23
42
2012
$30-50
42-50
Where is the money coming from
NHIS a major player
•
•
•
•
•
•
Contributes to 70-80 per cent of facility IGF
Contributing now 30-40 per cent of income
DWHIS focuses on the district
Capitation is for primary health care
Selection of PPP can be skewed to lower level
Potential of capitation for preventive care not
yet explore
• Can be considered in national roll out
Performance measurements
Measuring performance
• Data sources include
–
–
–
–
–
–
Routine administrative data
Program statistics
Surveys by GSS- MICS,GDHS, GLSS
Demographic surveillance centre
Other research studies
Composite assessment- Holistic Assessment
• Joint MOH-Partners Summit for policy/ strategy
• New Performance League table can be examined
Organization of assessment
•
•
•
•
•
BMC Review and performance hearing
Interagency performance review
In-depth review of key areas of concern
Independent Sector Review
Report to Parliamentary Select Committee on
health
• Annual Joint MOH-partner Summit
Areas of assessment
•
•
•
•
•
•
•
Goal 1: Mortality changes
Goal 2: Reduce excess morbidity
Goal 3: reduce inequality in service
SOB 1: Human Resources XXX
SOB2: Health, reproduction and nutrition
SOB3: Capacity Development
SOB4: Governance and Financing
1/04/2010
DEBRIEFING INDEPENDENT REVIEW TEAM
25
Challenges and way forward
Some challenges
• The capacity of DHMTs, sub district and
community teams
• Public private partnership
• Package of interventions
• Decentralization
• Financial strategies
• Evidence base for decision including Mand E
Moving forwards -1
Influencing factors
• Demographic transition
– Aging population, urbanization
• Economic transition
– Low to middle income
• Changing disease burden
– Double burden of diseases
• Financing changes
– The rise of NHIS, fragmented donor sources
Moving forwards-2
ICT potential
• Mobile Technology for Community Health
(MoTeCH)
• E-Blood Bank an electronic (web-based) blood
tracking system
• Community-based electronic registration
System for EPI
• DHIMS2
• E-Claim
Conclusion
• A lot has changed since 35 years
• Post MDG discussions affords opportunity for a
major thrust to rekindle PHC globally
• Because more than ever PHC is needed to
address equity issues and link services to financial
risk protection
• Opportunity to enhance quality in PHC
• Advances in technology mist be maximised
• Performance system that compares where
countries are will be an advantage.