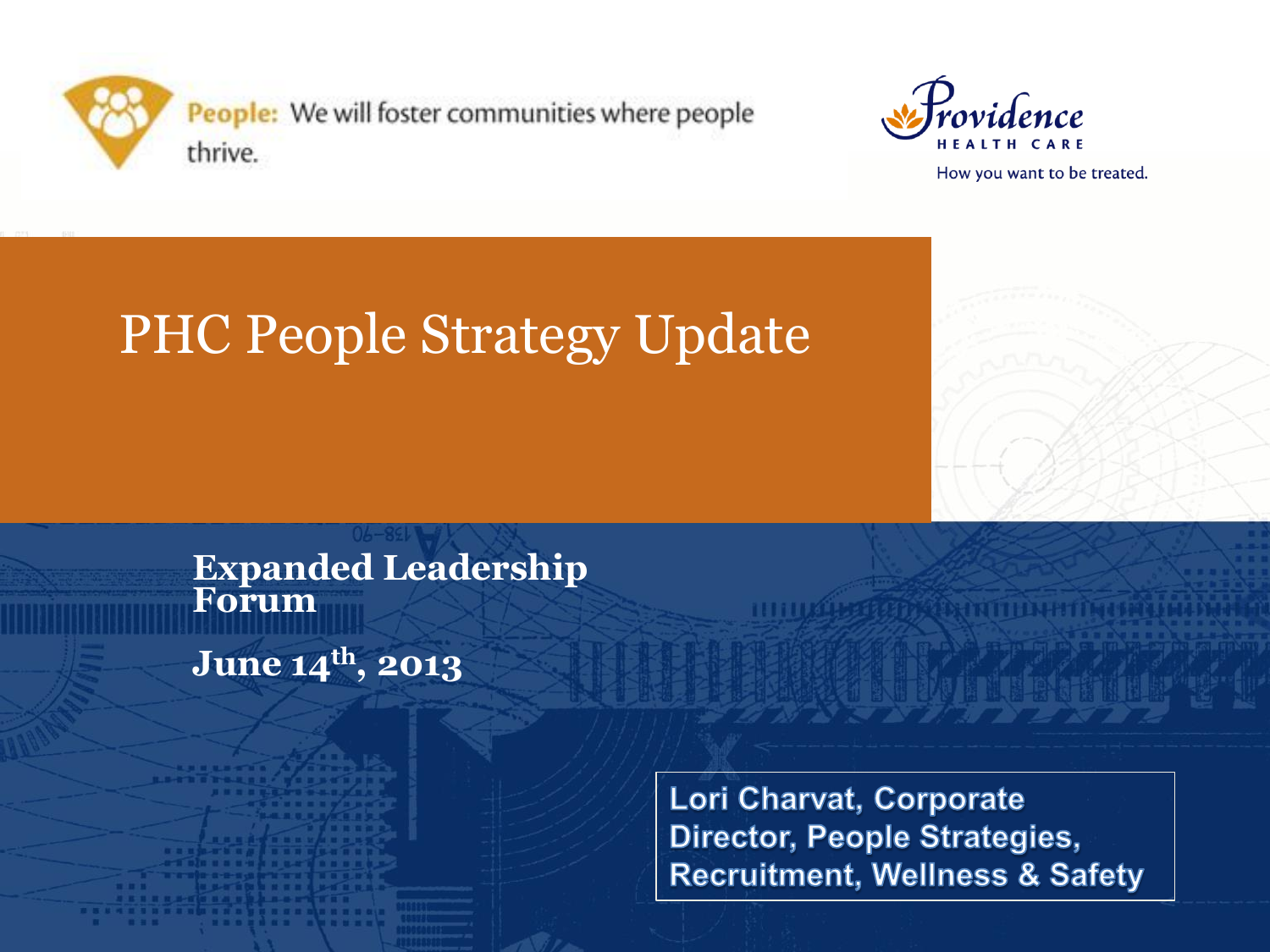 PHC People Strategy Update
Expanded Leadership
Forum
June 14th, 2013
AGENDA
 Strategy Aims, Objectives and Drivers
 Major Projects - overview
Performance Link
Respect & Civility at Work
Leadership Development Strategy
Leadership Support Project
 Key Accomplishments
 Measurement
 More information on the People Strategy
2
3
4
Strategy Aims, Objectives
and Drivers
People Strategy
Driver Diagram
6
People Strategies:
3 AIMS
Categories of Key
Organizational Work
Externally
Mandated
Work
Strategic
Work
Additional
Clinical
Priorities
Work on
Hold
(2012-2015
Providence
Plan)
6
Aim 1:
Aim 2:
Aim 3:
A workplace where all people are highly
engaged in contributing to PHC's success
Exceptional leaders who create environments
where people do their best
Teamwork that produces amazing results
7
Aim 1: What does "ENGAGEMENT"
mean within the Providence Plan?
OBJECTIVES
• Civility and respect
foundational
• Workload allocation
matched to capacity
The WORK
• PerformanceLink
• Respect at Work
• Clarity of roles &
accountability
• Transparency in
decision-making
• Learning
opportunities
8
PerformanceLink:
Performance Planning and Review
SUPPORTS…
•Engagement
•Professional Development
•Succession Planning
9
Performance linked to Strategic &
Operational Priorities AND
Individual Development
Strategic Directions & Operational Priorities
Competencies
10
Respect and Civility at Work
 Rooted in our Mission and Values
 Supports engagement, wellness, effective teams
 Sets out expectations, responsibilities and accountability
 Applies to all PHC staff, physicians, students, volunteers,
contractors. . . Patients, residents, and their family
 Cross functional working groups in place to ensure policies
and support services are aligned.
 Rollout: defined process, resources in place, education
11
PHC Check-up
June 2013
12
Aim 2: How do we create "Exceptional
Leaders" and people at their best?
OBJECTIVES
• Leadership Development
Strategy – defined
competencies, learner
groups
The WORK
• Leadership Development
Strategy
• Clinical Leadership
Support Project
• Redesign leadership
structure to ensure
capacity
13
Why Leadership Development?
14
14
Leading At Providence
PURPOSE: To
provide programs and opportunities for PHC
leaders to grow their leadership and develop the attitudes,
knowledge and skills to deliver on our strategic directions and
enable exceptional care for patients, residents and their
families
15
Leadership Development
Strategy
Strategic Directions &
Personal goals, strengths
Organizational
and aspirations
Priorities
Performance Planning and Review
Leadership
Developmental Actions Plans
Self
Assessments
Leadership Development Pathways
Core
Experienced
Senior
Foundational
16
Pathways
Pathway
Criteria
Nos/
year
Lengt
h
Content
Senior
•Experienced Director
•desire to deepen leadership
skills and practice
•preparation for advancement
5
2–5
years
Transforming LINX
including executive
coach
Experienced
•Experienced Leader/ New
Director
•desire to deepen leadership
skills and practice
•preparation for advancement
8 - 10
2–3
years
Experienced LINX,
stretch project, PHC
coach, participation in
BCHLDC mentoring,
Potential additional
program
Core
•Front line leadership/
supervisory who has been in
the position for one year
•desire to gain land deepen
leadership skills
•preparation for advancement
6 –24
1–2
(2 – 8
cohorts
of 3)
(intakes
in Sept &
April)
Core LINX, peer
coaching with PHC
coach support, stretch
projects
•Management track
•Mix of F2F & online
17
self study
Leadership Support Project
Mandate:
To support PHC's clinical leaders, especially OLs by:
Identifying gaps between role expectations (JD) and
capacity
Identifying barriers to "leaders doing their best"
Address the gaps, barriers
Co-Ownership
Co-Creation
18
Top 3 Challenges to Effective
Leadership – identified by OLs
1. Workload allocation (skill to task match)
2. Managing data: gathering, synthesizing and utilizing
metrics for effective and productive operations
3. Managing people: recruitment, attendance,
performance reviews
19
Leadership Support Project
Key developments
• Survey development + data collection, completed
November 2012
• Validation of results through focus groups, completed
April 2013
• Planning – underway with OL working groups to design
the "fixes"
• Dedicated funding for administrative support for SPH
Operations Leaders
20
The SYNERGY of
PEOPLE STRATEGIES
Sweet Spot
TEAMS
ENGAGEMENT
LEADERSHIP
21
Key Accomplishments
• PerformanceLink – Phase 1 launch
• Respect & Civility Project – working groups in
place; project mapped
• Leadership Support Project – projects identified,
relationships forming, co-creation in process
• Leadership Development Strategy – drafted
• First cohorts of Mid-level and Senior leaders "in
training"
• New Employee Orientation – evaluated, in design
22
Measuring our Success
Measurement
• Engagement, Safety & Connection:
> PHC Check-up
> Sick Time
> Retention Rates
> On-boarding experience (new hires)
• Leadership Development:
> Special reports on advancement
> Performance Link (development plans in place)
24
Information on the People
Strategic Direction
• Visit the People page on the Strategic Plan site:
> Phcnews.ca > Strategic Plan > Strategic Directions > People
> Driver Diagram
> ELF Presentation
> Poster (coming October 2013)
> Q & A (coming October 2013)
25
Questions?