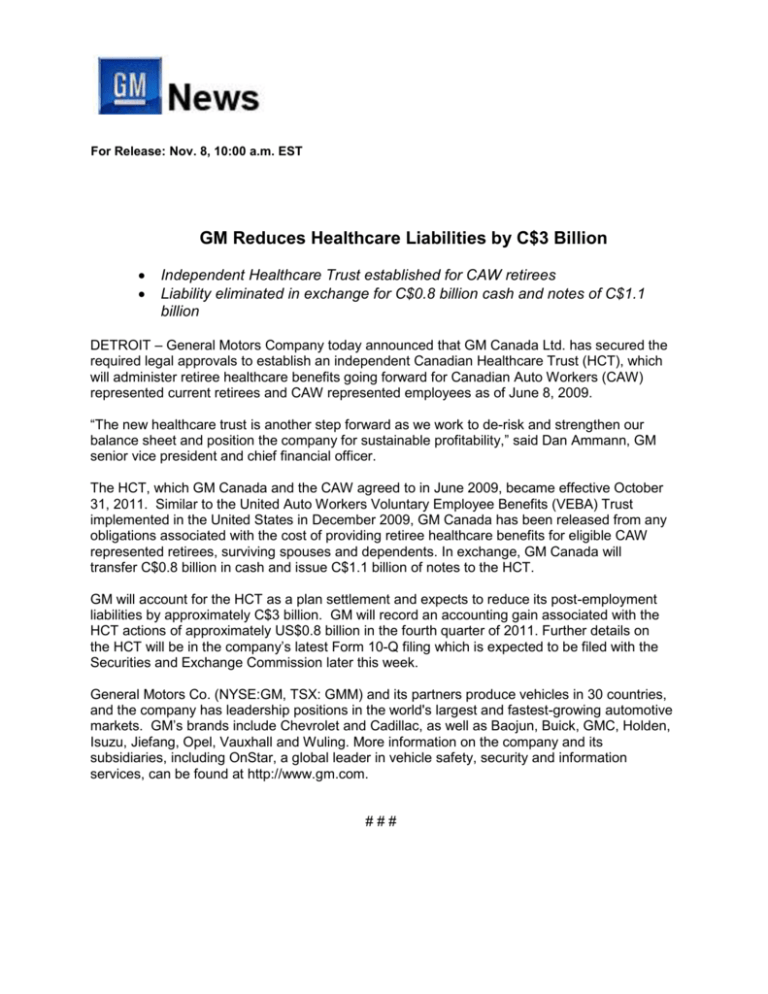 For Release: Nov. 8, 10:00 a.m. EST
GM Reduces Healthcare Liabilities by C$3 Billion


Independent Healthcare Trust established for CAW retirees
Liability eliminated in exchange for C$0.8 billion cash and notes of C$1.1
billion
DETROIT – General Motors Company today announced that GM Canada Ltd. has secured the
required legal approvals to establish an independent Canadian Healthcare Trust (HCT), which
will administer retiree healthcare benefits going forward for Canadian Auto Workers (CAW)
represented current retirees and CAW represented employees as of June 8, 2009.
"The new healthcare trust is another step forward as we work to de-risk and strengthen our
balance sheet and position the company for sustainable profitability," said Dan Ammann, GM
senior vice president and chief financial officer.
The HCT, which GM Canada and the CAW agreed to in June 2009, became effective October
31, 2011. Similar to the United Auto Workers Voluntary Employee Benefits (VEBA) Trust
implemented in the United States in December 2009, GM Canada has been released from any
obligations associated with the cost of providing retiree healthcare benefits for eligible CAW
represented retirees, surviving spouses and dependents. In exchange, GM Canada will
transfer C$0.8 billion in cash and issue C$1.1 billion of notes to the HCT.
GM will account for the HCT as a plan settlement and expects to reduce its post-employment
liabilities by approximately C$3 billion. GM will record an accounting gain associated with the
HCT actions of approximately US$0.8 billion in the fourth quarter of 2011. Further details on
the HCT will be in the company's latest Form 10-Q filing which is expected to be filed with the
Securities and Exchange Commission later this week.
General Motors Co. (NYSE:GM, TSX: GMM) and its partners produce vehicles in 30 countries,
and the company has leadership positions in the world's largest and fastest-growing automotive
markets. GM's brands include Chevrolet and Cadillac, as well as Baojun, Buick, GMC, Holden,
Isuzu, Jiefang, Opel, Vauxhall and Wuling. More information on the company and its
subsidiaries, including OnStar, a global leader in vehicle safety, security and information
services, can be found at http://www.gm.com.
###
Contacts:
Reneé Rashid-Merem
GM Financial Communications
313-665-3128 (office)
313-701-8560 (cell)
renee.rashid-merem@gm.com
Faye Roberts
GM Canada Communications
905-644-3150 (office)
905-404-3115 (cell)
faye.roberts@gm.com
Forward-Looking Statements:
In this press release and in related comments by our management, our use of the words
"expect," "anticipate," "possible," "potential," "target," "believe," "commit," "intend," "continue,"
"may," "would," "could," "should," "project," "projected," "positioned" or similar expressions is
intended to identify forward-looking statements that represent our current judgment about
possible future events. We believe these judgments are reasonable, but these statements are
not guarantees of any events or financial results, and our actual results may differ materially due
to a variety of important factors. Among other items, such factors might include: our ability to
realize production efficiencies and to achieve reductions in costs as a result of our restructuring
initiatives and labor modifications; our ability to maintain quality control over our vehicles and
avoid material vehicle recalls; our ability to maintain adequate liquidity and financing sources
and an appropriate level of debt, including as required to fund our planned significant
investment in new technology; the ability of our suppliers to timely deliver parts, components
and systems; our ability to realize successful vehicle applications of new technology; and our
ability to continue to attract new customers, particularly for our new products. GM's most recent
annual report on Form 10-K and quarterly reports on Form 10-Q provides information about
these and other factors, which we may revise or supplement in future reports to the SEC.