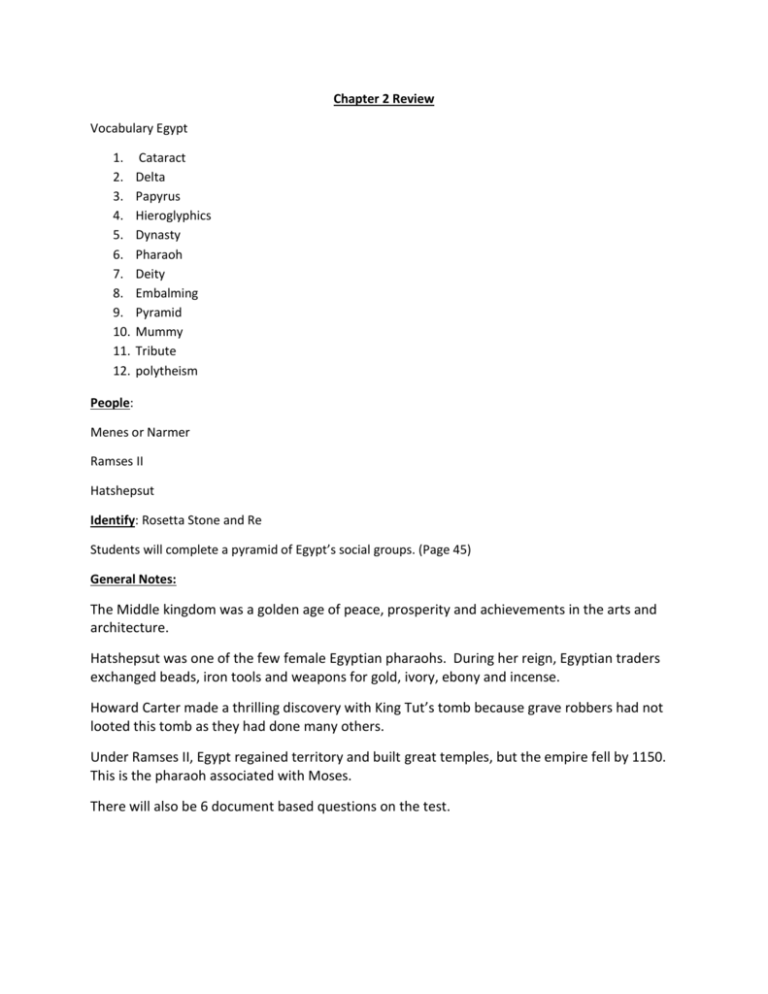 Chapter 2 Review
Vocabulary Egypt
1.
2.
3.
4.
5.
6.
7.
8.
9.
10.
11.
12.
Cataract
Delta
Papyrus
Hieroglyphics
Dynasty
Pharaoh
Deity
Embalming
Pyramid
Mummy
Tribute
polytheism
People:
Menes or Narmer
Ramses II
Hatshepsut
Identify: Rosetta Stone and Re
Students will complete a pyramid of Egypt's social groups. (Page 45)
General Notes:
The Middle kingdom was a golden age of peace, prosperity and achievements in the arts and
architecture.
Hatshepsut was one of the few female Egyptian pharaohs. During her reign, Egyptian traders
exchanged beads, iron tools and weapons for gold, ivory, ebony and incense.
Howard Carter made a thrilling discovery with King Tut's tomb because grave robbers had not
looted this tomb as they had done many others.
Under Ramses II, Egypt regained territory and built great temples, but the empire fell by 1150.
This is the pharaoh associated with Moses.
There will also be 6 document based questions on the test.