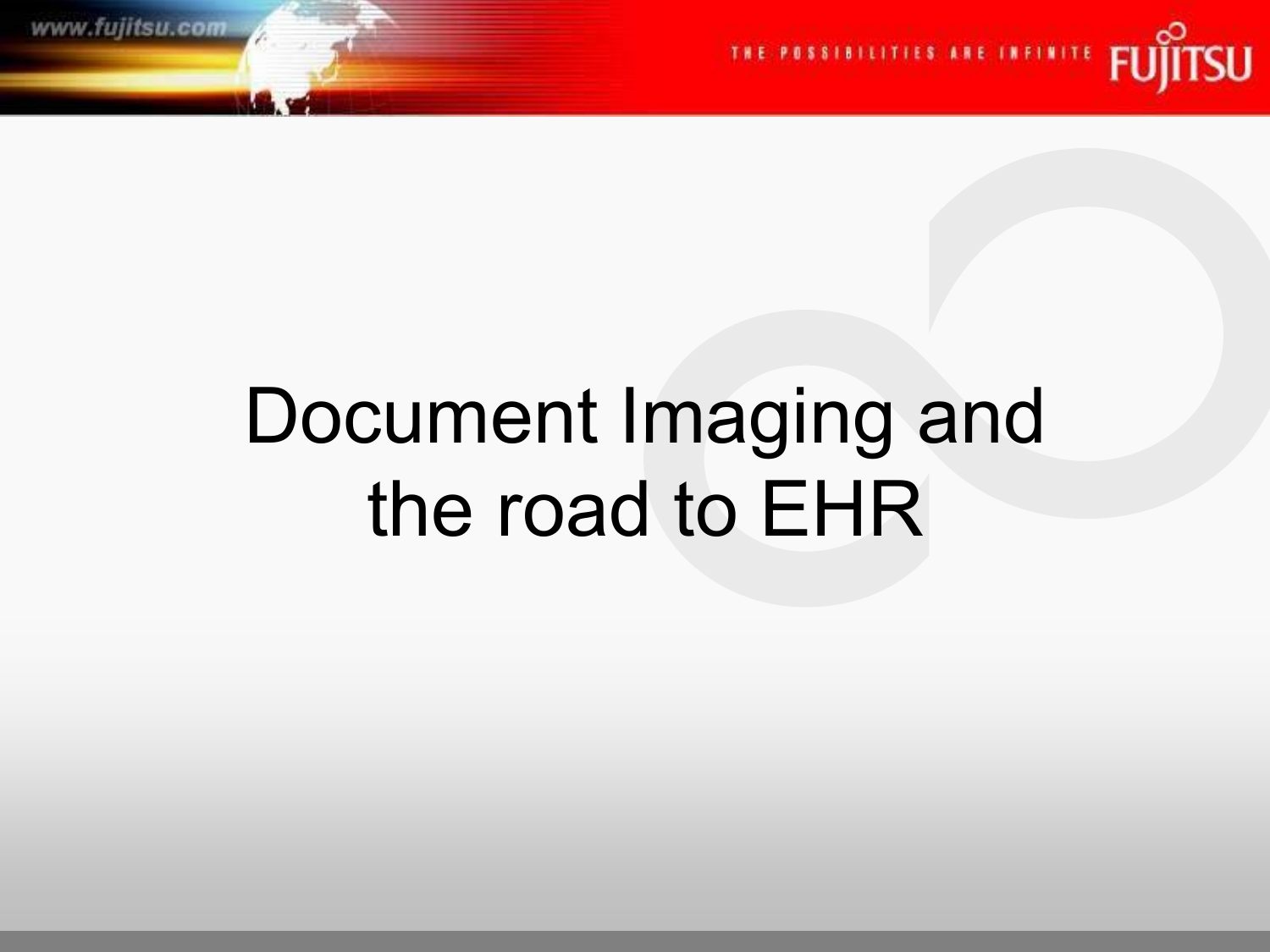 Document Imaging and
the road to EHR
Healthcare Solutions & Clients
Provider – Hospitals, Clinics, Hospice
• POS Capture, Revenue Cycle,
Medical Records
• Sharp HealthCare, Cleveland
Clinic, Allina Health
Pharmacy/Lab Automation
• Capturing prescriptions and lab orders
• Walgreens, CVS, RiteAid
Payer – Healthcare Insurance, Medicare,
ACH's
• Forms Processing (HCFA's & UB92's)
• Blue Cross + Blue Shield
Bio-Med/Pharmaceutical
• Document Capture for FDA Clinical Trials
• Pfizer, Bristol-Myers
Market Drivers
What will be driving the market through 2010?
•Need to remove paper from care delivery and operations
•Need to reduce paper document storage and filing costs
•Need to improve access to information that may be paper
•Need to become compliant with HIPAA regulations
•Need to improve operational efficiency
Time devoted to non-clinical paperwork has increased in the last three years
leading to 63 percent of Physicians to spend less time with each patient
2008 Physicians Foundation Survey
Market drivers 2011?
HITECH Act
How can Fujitsu help
Document Imaging provides the on-ramp from the
paper world to the electronic future.
• Imaged documents provide a complete patient record
• Streamline processes to improve A/R and cashflow
• Reclaim office space for additional patient care
Opportunities in "Provider" Paper Intensive Areas
Admissions
Medical
Records)
Patient
Financial
Services
Human
Resources
Lab
Denial
Management
Legal/Contract
Management
Cash Posting
Accounts
Payable
Case
Management
Patient
Consent
Forms
Explanation of
Benefits
Document Imaging Solutions for Healthcare
Fujitsu Scanners help healthcare IT departments:
Patient Intake
•
•
•
Increase customer service at admission
Streamline workflow for registration
Reduce paper related costs
Current strategy
Document imaging strategy
Administration
•
•
•
Current strategy
Optimize your business processes to increase
efficiency and productivity
Increase patient billing revenue and collections
Eliminate the chaos of lost or misplaced files
Document imaging strategy
Medical Records
•
•
•
Current strategy)
Reclaim office space for additional patient care
Allow multiple user to access same document
Promotes information sharing
Document imaging
strategy
7
Scanners for the Healthcare Industry
Fujitsu Scanners: The prescription for healthcare paperwork
Key Features:
•
•
•
Small footprint perfect for front desk
Ability to scan ID cards and documents
together
Security options to lock down your
investment
Key Features:
•
•
•
Scans very long and difficult documents
Quiet operation perfect for office environment
Simple connection via USB
Key Features:
•
•
•
Stack and scan charts up to 500 pages
Loaded with intelligent functions for more effective
scanning
High volume production scanner that is easy to
use and maintain
8
Purchasing Considerations
Questions To Ask or Consider
• How much are paper charts costing?
• How large is your records room?
• What is your admission process?
• How are you addressing HIPAA?
• What is your disaster recovery plan?
• Do you have any problems in collection?
• Are you using or assessing an EMR?
• What is your plan to take advantage of the
Stimulus Bill reimbursements?
9
Partner Solutions
•
Clinical/HIS
•
ECM
•
EHR
•
Other
Interesting Facts
Fujitsu Scanning Products
Administrative
Medical Records
NEW
fi-6770 $7,995
fi-6770A $8,995
TD part# 99535H/99536H
fi-5900C
TD part# 36284C
$24,995
fi-6670 $5,995
fi-6670A $6,995
TD part# 99533H/99534H
fi-6800
TD part# 07935S
$19,995
fi-4340C
TD part# 349761
$4,995
fi-5530C2
TD part# 28873H
$3,995
fi-6130 $1,195
fi-6230 $1,995
TD part# 99481H/99482H
ScanSnap fi-6010N
TD part# 99694H
$2,995
Patient Intake
fi-6140 $1,995
fi-6240 $2,495
TD part# 29491H/29492H
fi-5110C
TD part# 33895A
$895
fi-60F
TD part# 33841A
$395
fi-5015C
TD part# 99677H
$695
How Can We Help?
Collin Boetger – [email protected]
Fujitsu Manufacturer Store on www.techdata.com –
http://www.techdata.com/business/fujitsu/default.aspx
Meet the Team
Duane
Aaron
Alan
Kristen
Kristi
Ulla
Dedicated Document Imaging Team available to assist resellers from 8:30 a.m.
to 6:00 p.m. EST
By phone at (800) 500-0101, option 1 or email to
[email protected]
The Imaging team holds multiple certifications and is constantly trained
by the business partners on all new product & solutions available.