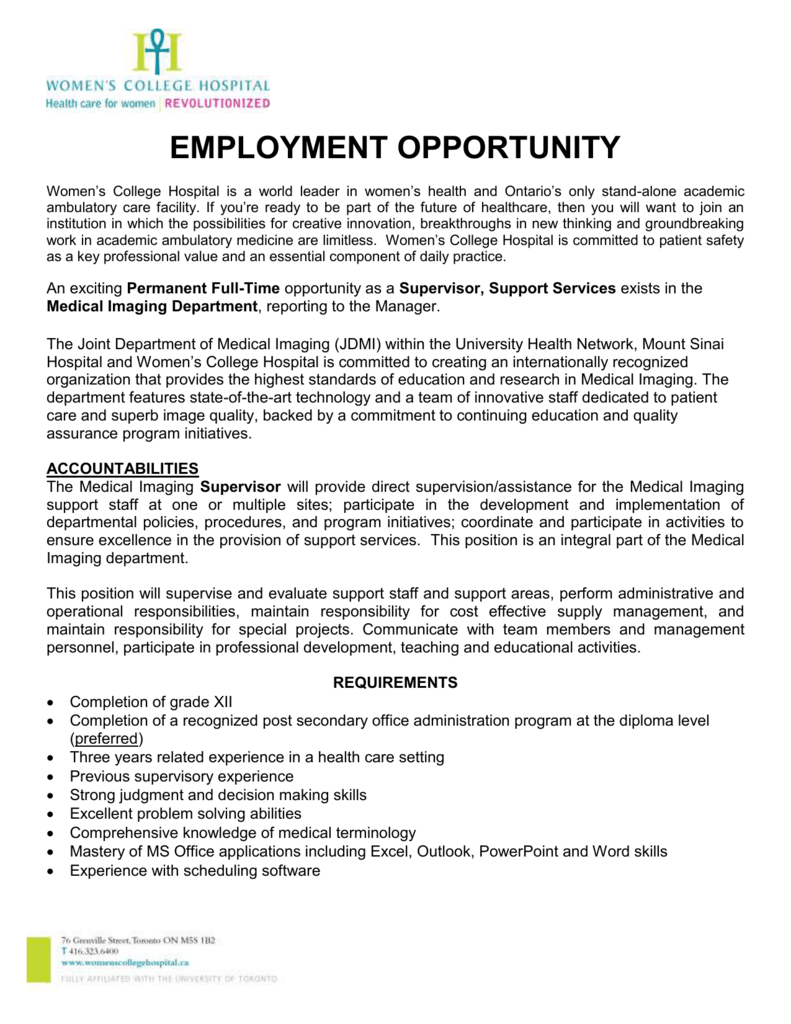 EMPLOYMENT OPPORTUNITY
Women's College Hospital is a world leader in women's health and Ontario's only stand-alone academic
ambulatory care facility. If you're ready to be part of the future of healthcare, then you will want to join an
institution in which the possibilities for creative innovation, breakthroughs in new thinking and groundbreaking
work in academic ambulatory medicine are limitless. Women's College Hospital is committed to patient safety
as a key professional value and an essential component of daily practice.
An exciting Permanent Full-Time opportunity as a Supervisor, Support Services exists in the
Medical Imaging Department, reporting to the Manager.
The Joint Department of Medical Imaging (JDMI) within the University Health Network, Mount Sinai
Hospital and Women's College Hospital is committed to creating an internationally recognized
organization that provides the highest standards of education and research in Medical Imaging. The
department features state-of-the-art technology and a team of innovative staff dedicated to patient
care and superb image quality, backed by a commitment to continuing education and quality
assurance program initiatives.
ACCOUNTABILITIES
The Medical Imaging Supervisor will provide direct supervision/assistance for the Medical Imaging
support staff at one or multiple sites; participate in the development and implementation of
departmental policies, procedures, and program initiatives; coordinate and participate in activities to
ensure excellence in the provision of support services. This position is an integral part of the Medical
Imaging department.
This position will supervise and evaluate support staff and support areas, perform administrative and
operational responsibilities, maintain responsibility for cost effective supply management, and
maintain responsibility for special projects. Communicate with team members and management
personnel, participate in professional development, teaching and educational activities.









REQUIREMENTS
Completion of grade XII
Completion of a recognized post secondary office administration program at the diploma level
(preferred)
Three years related experience in a health care setting
Previous supervisory experience
Strong judgment and decision making skills
Excellent problem solving abilities
Comprehensive knowledge of medical terminology
Mastery of MS Office applications including Excel, Outlook, PowerPoint and Word skills
Experience with scheduling software
PREFFERED QUALIFICATIONS














Working knowledge of medical imaging procedures and indications
Excellent verbal and written communications skills
Ability to work well under pressure and use good judgment in assessing difficult situations
Comprehensive knowledge of health care, organizational/office practices, procedures and
standards
Utilizes advanced functions to provide word processing/typing services to facilitate the production
of complex documents/materials
Develops, organizes and maintains electronic and paper information filing/retrieval methods,
systems, or formats
Work efficiently in a high-pressured environment
Excellent organizational and time management skills that would compliment well developed
interpersonal and customer service skills
Ability to maintain confidentiality
Ability to produce high quality work in accordance with Hospital standards
Work with and maintain quality assurance practices.
Performs cross-functional responsibilities, as required
Performs other duties consistent with the job classification, as assigned
This position plays a critical role in acting as an advocate for safety and will demonstrate
principles, practices and processes that will optimize a safe environment for all.
Please forward resumes via email to [email protected] with the position title in the subject
line.
We thank you for your interest, however, only qualified applicants who are selected to be
interviewed will be contacted.
Women's College Hospital is a fully affiliated teaching hospital of the University of Toronto and is
committed to fairness and equity in employment and encourages applications from Aboriginal
peoples, people with disabilities, members of racialized groups and women. Accommodation will be
provided in all parts of the hiring process as required under our Access for People with Disabilities
policy. Applicants need to make their needs known in advance.