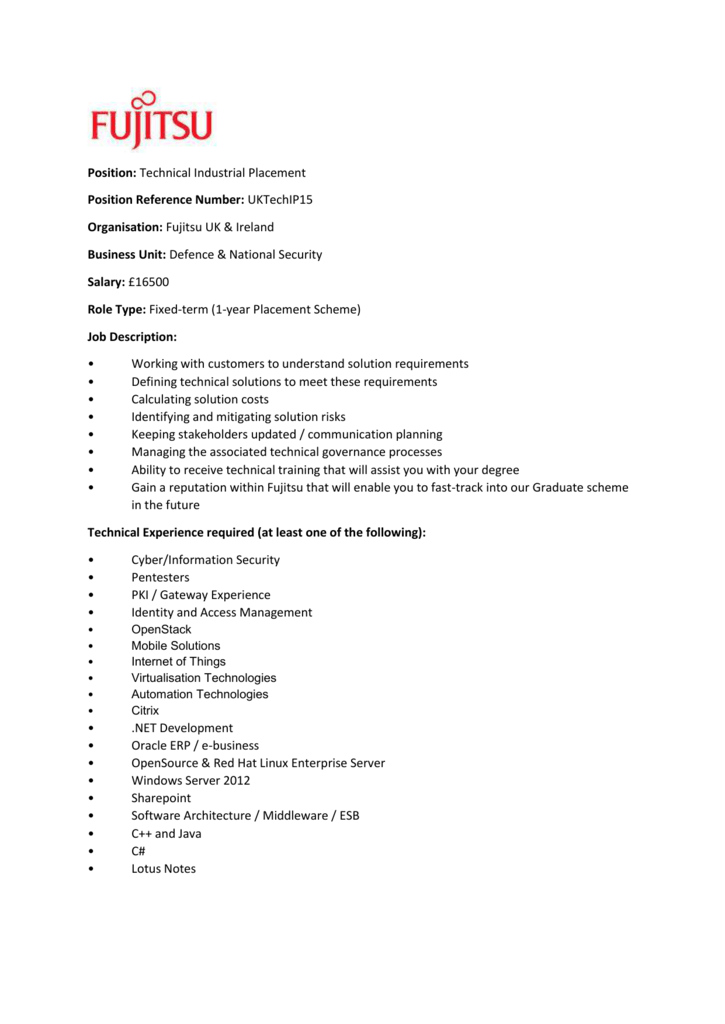 Position: Technical Industrial Placement
Position Reference Number: UKTechIP15
Organisation: Fujitsu UK & Ireland
Business Unit: Defence & National Security
Salary: £16500
Role Type: Fixed-term (1-year Placement Scheme)
Job Description:
•
•
•
•
•
•
•
•
Working with customers to understand solution requirements
Defining technical solutions to meet these requirements
Calculating solution costs
Identifying and mitigating solution risks
Keeping stakeholders updated / communication planning
Managing the associated technical governance processes
Ability to receive technical training that will assist you with your degree
Gain a reputation within Fujitsu that will enable you to fast-track into our Graduate scheme
in the future
Technical Experience required (at least one of the following):
•
•
•
•
Cyber/Information Security
Pentesters
PKI / Gateway Experience
Identity and Access Management
•
•
•
•
•
•
OpenStack
Mobile Solutions
Internet of Things
Virtualisation Technologies
Automation Technologies
Citrix
•
•
•
•
•
•
•
•
•
.NET Development
Oracle ERP / e-business
OpenSource & Red Hat Linux Enterprise Server
Windows Server 2012
Sharepoint
Software Architecture / Middleware / ESB
C++ and Java
C#
Lotus Notes
Job Function:
Information Technology
Job Location:
South (Offices in Basingstoke, Bracknell and Reading)
Criteria and degrees accepted:
Our Industrial Placement vacancies are open to students eligible to work in the UK, with a minimum
of 280 UCAS points from 3 A-Levels or equivalent, and working towards a technical degree discipline.
Please note, security clearances will be required in addition, and you should therefore have been
resident in the UK for at least 10 years.
Application Closing date:
31st January 2015
Start date:
June 2015
How to apply:
Please visit: http://www.fujitsu.com/uk/about/local/jobs/graduates/your-programme/ip-index.html
Click the "apply now" section and select the relevant dropdowns to pick the Technical Industrial
Placement vacancies. Details of the recruitment process can also be found on this site. To ensure
you are applying for the roles relevant to your specific university, please enter the following in the
free text box when prompted in your application: "Application for roles in Defence and National
Security".