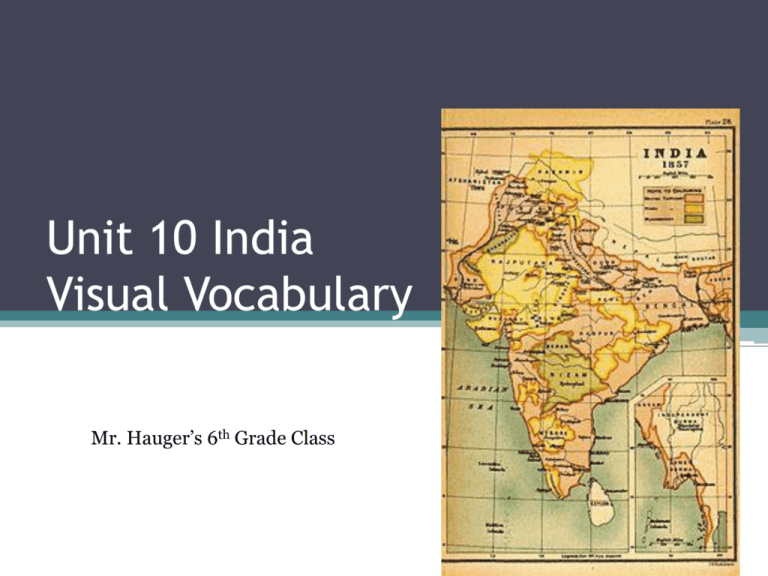 Unit 10 India
Visual Vocabulary
Mr. Hauger's 6th Grade Class
Subcontinent
• A large landmass that is smaller than a continent
Monsoons
• Seasonal wind patterns that cause wet and dry
seasons
Physical Features
• Features on the
landscape that were
formed by natural
processes. Ex.
mountains, rivers,
lakes
Himalayas
• The planet's tallest mountain range, including
the highest, Mount Everest. Provides a
natural border for India.
Indus and Ganges Rivers
• Two of the most important geographic features in India,
providing water sources and creating fertile land.
Sanskrit
• The most important
language of Ancient
India
Caste System
• Divided Indian
society into groups
based on a
person's birth,
wealth, or
occupation.
Nonviolence
• The most important
language of Ancient
India
Fasting
• Going without food. Associated with religious
rituals or protests.
Be the Change you wish to see in the
world.
-Ghandi
Missionaries
• People who work to spread their religious
beliefs.
Golden Age
• Period of prosperity, peace, and progress during
the Gupta Empire. Advances were made in
science, literature, and the arts, and people were
more enthusiastic about religion.
Empire
• a group of countries or regions that are
controlled by one ruler or one government
Other Important
Words
Hinduism
• The largest religion in India today. 1st religion in
India. Focus on 4 Noble Truths, Karma, and
Reincarnation.
Buddhism
• A religion based on the teaching of Buddha.
Centered on the ideas of the 8 Fold Path.
Alloys
• Mixtures of two or more metals.
Employees work at a plant of Indian Metal and
Ferro Alloys Limited
Astronomy
• The study of the stars and planets
Metallurgy
• The science of working with metals.
•
Inoculation
• Injecting a person with a small dose of a virus to
help him or her build up defenses to a disease.