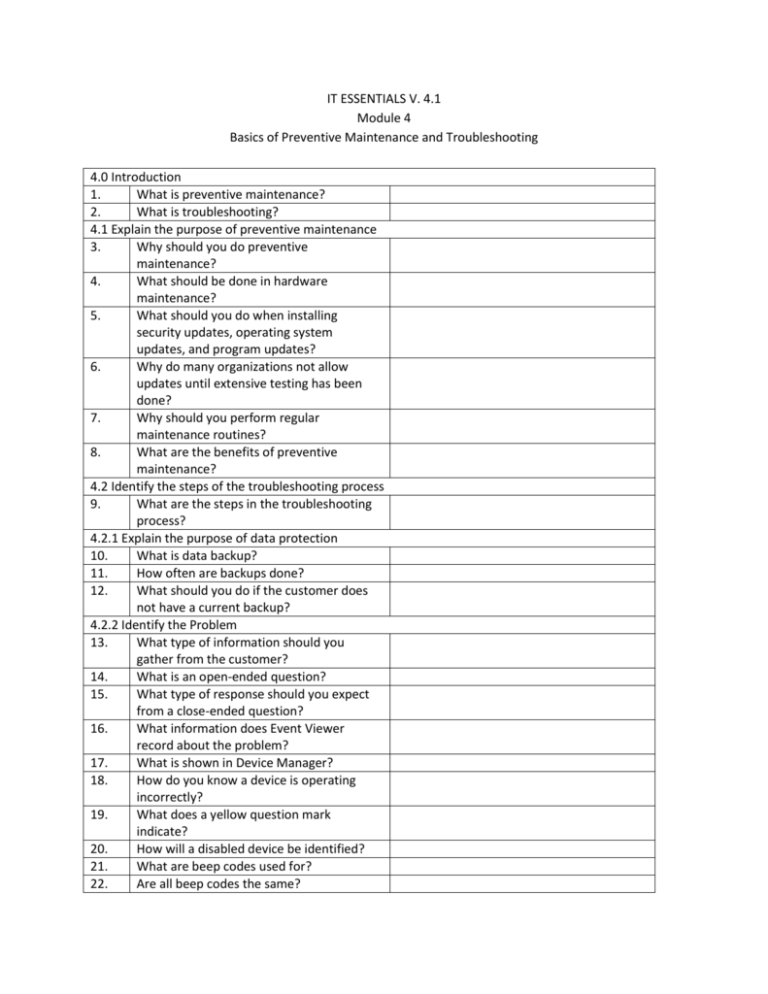 IT ESSENTIALS V. 4.1
Module 4
Basics of Preventive Maintenance and Troubleshooting
4.0 Introduction
1.
What is preventive maintenance?
2.
What is troubleshooting?
4.1 Explain the purpose of preventive maintenance
3.
Why should you do preventive
maintenance?
4.
What should be done in hardware
maintenance?
5.
What should you do when installing
security updates, operating system
updates, and program updates?
6.
Why do many organizations not allow
updates until extensive testing has been
done?
7.
Why should you perform regular
maintenance routines?
8.
What are the benefits of preventive
maintenance?
4.2 Identify the steps of the troubleshooting process
9.
What are the steps in the troubleshooting
process?
4.2.1 Explain the purpose of data protection
10.
What is data backup?
11.
How often are backups done?
12.
What should you do if the customer does
not have a current backup?
4.2.2 Identify the Problem
13.
What type of information should you
gather from the customer?
14.
What is an open-ended question?
15.
What type of response should you expect
from a close-ended question?
16.
What information does Event Viewer
record about the problem?
17.
What is shown in Device Manager?
18.
How do you know a device is operating
incorrectly?
19.
What does a yellow question mark
indicate?
20.
How will a disabled device be identified?
21.
What are beep codes used for?
22.
Are all beep codes the same?
4.2.3 Establish a Theory of probable cause
23.
Where should you start when
troubleshooting a problem?
4.2.4 Determine an exact cause
24.
How do you determine an exact cause?
4.2.5 Implement the solution
25.
Where might you research to find possible
solutions?
4.2.6 verify solution and full system functionality
26.
Why do you need to verify full system
functionality?
4.2.7 Document Findings
27.
What is the final step in the
troubleshooting process?
28.
What should be included in your
documentation?