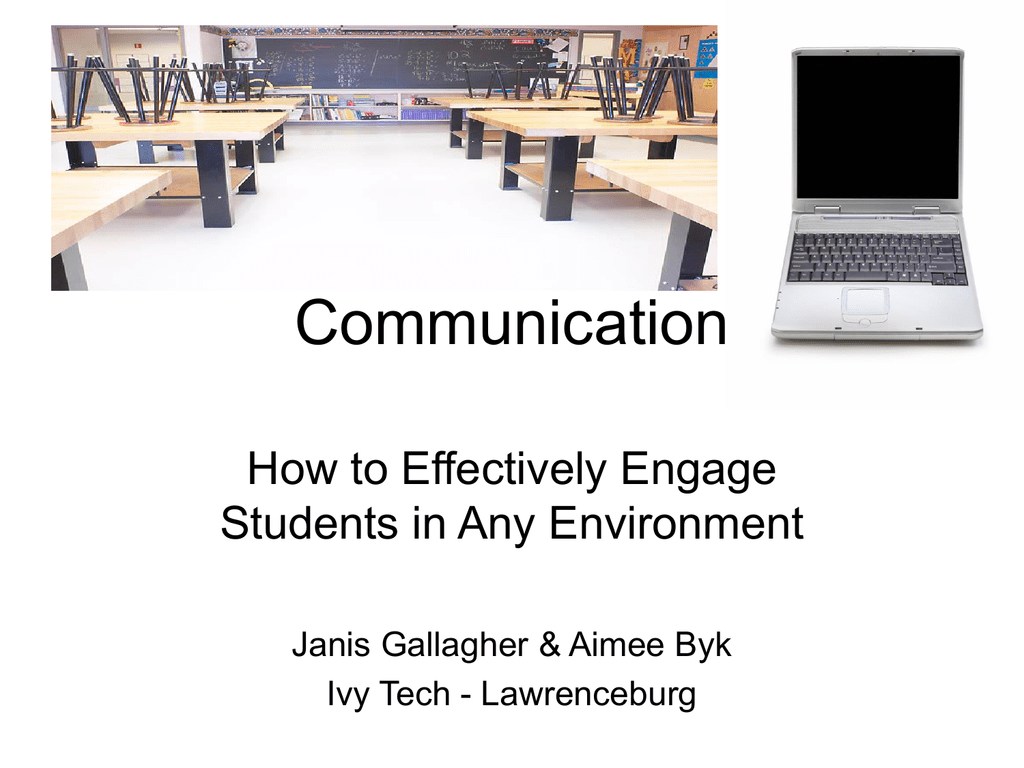 Communication
How to Effectively Engage
Students in Any Environment
Janis Gallagher & Aimee Byk
Ivy Tech - Lawrenceburg
Objectives
• Explain the value of
discussion
• How to foster
discussion from Day
One
• How to ask the right
questions
• How to troubleshoot
Four Kinds of Learning
• Students learn "information" or "facts".
• Student learn what other scholars think
about those facts.
• Students learn how to take in, process and
use all that information and create new
knowledge.
• Students learn how they can relate to and
feel about all disciplines.
The Value of Discussion
•
•
•
•
•
True learning is best achieved through dialogue.
"Talking it out" helps create new knowledge
Builds a "community of learners"
Practice "thinking" about subject matter
Thinking is active, listening to lectures is passive
(low TTT: teacher talk time)
• More likely to remember info they have
discussed
Why Discussion Works
•
•
•
•
It demands students' attention.
"Next class, prepare to talk about…"
Students receive immediate feedback.
Accommodates collaborative learning
styles
• Models work environments
• Explain all this to your students!
May I Have Your Attention,
Please?: Arousal Theory
• When arousal is too low, we get bored
• Discussion provides stimulation
• Arousal level varies from person to person,
and from one situation to another
• Student interest peaks in the first ten minutes
of class time, and then steadily decreases.
• Individual attention span is limited to 45-50
minute intervals.
The First Day: Face-to-Face
•
•
•
•
•
•
•
•
Say hello!
"M&M's work"
Learn their names.
Collect information about
each student.
Have them get to know
each other.
Reveal information about
yourself.
Invite questions
Do all this before the
syllabus!
The First Day: Face to Face
•
•
•
•
•
Define your expectations for discussion.
"Come to class ready to discuss!"
"This is your class, not mine."
Ask general, open-ended questions
"What have you heard about psychology?"
The First Day: Online
•
•
•
•
"Welcome" email/announcement
"Small talk" in the Coffee House forum
Collect information about each student.
Have them get to know each other (post
introduction/reply).
• Reveal information about yourself.
• Model discussion: Invite questions, show
enthusiasm
• Define expectations in syllabus
Ask the Right Questions:
Face-to-Face
•
•
•
•
•
Begin with common experiences
Introduce surprising/controversial topics
Ask open-ended questions
Build on their previous knowledge and interests
Give a problem that they need to solve.
Teacher's Role in Discussion
•
•
•
•
•
•
Wait it out!
"Write your answer."
Guide the discussion, do not determine it.
Leave personal bias out of it.
Restate, summarize, ask questions.
Model discussion; show enthusiasm,
acknowledge different sides and admit you
don't hold the ultimate answer!
Ask the Right Questions: Online
•
•
•
•
•
More time to formulate answer
Writing helps clarify views, time to edit
Easier to wait it out
Give several discussion options
Join in!: Ask questions, summarize progress at
end
• Provide stellar examples
• Require replies
• Hold a real-time chat session
Troubleshooting
#1. No One's Talking!
• Determine why they aren't talking.
• Get them more acquainted.
• Break in smaller groups.
• Ask them to write down the answer and then call
by name.
• Encourage them with smiles, name, points.
• Use the "good" students to get others involved.
• Ask questions that require personal knowledge.
• Make it count in their grade!
Troubleshooting
#2. Discussions Getting Heated
• Define expectations early ("listen with respect", "do not
attack other students")
• Agreements are not always ideal.
• Address the argument immediately.
• Create an assignment from it.
• Refer to book, other research.
• Be well-prepared for this situation.
• Online: Privately e-mail student, ask to modify post if
necessary, post on board
Troubleshooting
#3. Discussions are Getting Off
Track/Ineffective
• Discussions require some structure
• Give them a clear goal
• Move students around and move yourself
• Call on everyone during a two-week
period
• Assign a student leader
• Acknowledge the problem
#4. Boundary Issues
• Many students might not used to an active
classroom setting.
• "Friendly" versus "Friends"
Troubleshooting
#5. Group Project Woes
• Explain its' value.
• Define expectations
early.
• Give examples.
• Designate a leader.
• Assign individual
grades.
Conclusion
• Discussions are vital to
learning.
• Personalize your course.
• Ask the right questions.
• Guide the discussion,
don't determine it.
• Address issues
immediately, and explain
the value of
disagreements.
Conclusion
• Create a warm, safe atmosphere for students,
but don't be their buddy!
• Note what worked and what didn't work (and
ask your students).
• Share your experiences with other teachers.