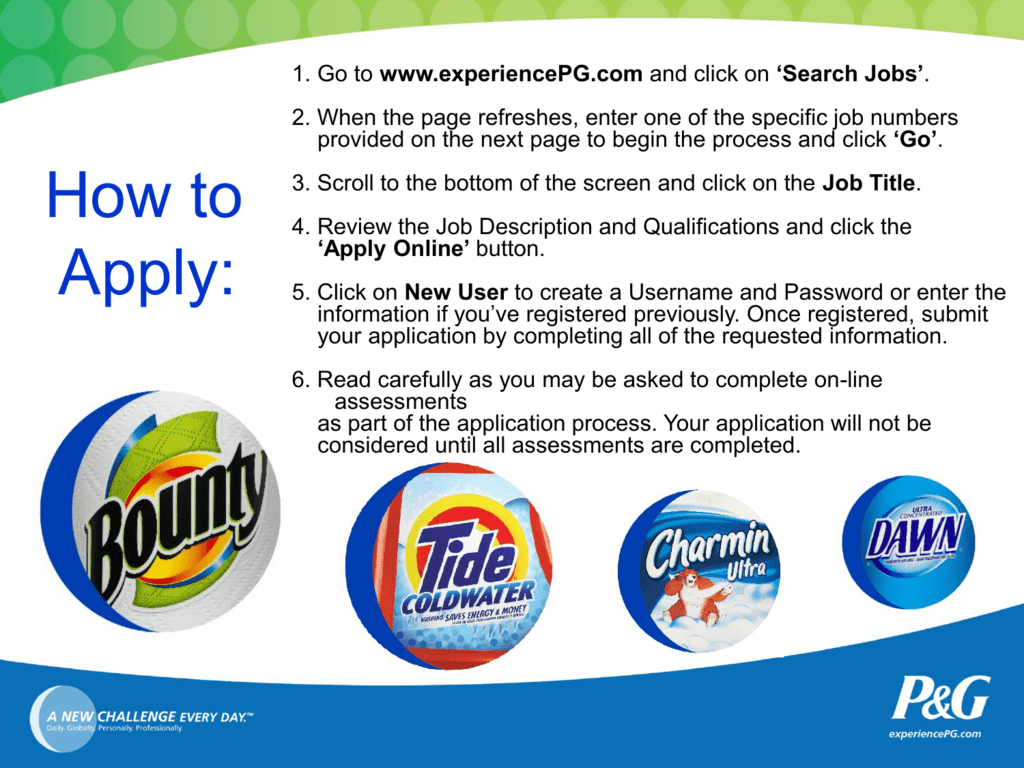 1. Go to www.experiencePG.com and click on 'Search Jobs'.
2. When the page refreshes, enter one of the specific job numbers
provided on the next page to begin the process and click 'Go'.
How to
Apply:
3. Scroll to the bottom of the screen and click on the Job Title.
4. Review the Job Description and Qualifications and click the
'Apply Online' button.
5. Click on New User to create a Username and Password or enter the
information if you've registered previously. Once registered, submit
your application by completing all of the requested information.
6. Read carefully as you may be asked to complete on-line
assessments
as part of the application process. Your application will not be
considered until all assessments are completed.
Technical Functions
Function
Full-time
Intern
Co-op
Engineering (ENG)
ENG00001187
ENG00001188
ENG00001189
Manufacturing (MFG)
MFG00002548
MFG00002549
Purchases (PUR)
PUR00000688
PUR00000689
Research & Development, Engineer
(R&D)
RND00001846
RND00001847
RND00001848
Research & Development,
Researcher (R&D)
RND00001885
RND00001886
RND00001887
Supply Network Operations (SNO)
SNO00000244
SNO00000245
SNO00000246
Engineers at P&G:
"Driven by innovation and the development of superior processes and products"
The roles vary depending upon whether you like connecting with the consumer,
designing processes and equipment or making leading consumer product brands.
Research & Development
You will connect with consumers to understand their wants, and then develop
concepts, products, process/packages and delivery systems that add performance
advantages to P&G.
Engineering (Product Supply/PS)
You will take product concepts and turn them into reality by designing new processes
through analysis, design, start up, trouble shooting, and improving process
technologies and systems.
Manufacturing (Product Supply/PS)
You will solve production issues, utilize human and technical resources, create our
products, and continually improve our equipment and process systems.
BS/MS degrees in Chemical, Mechanical, Electrical or Industrial Engineering are
required.
R&D – Research and Development
"Drive the innovation that creates the future"
Research is our business and is at the heart of who we are. In R&D, you work could
involve basic or applied research, product development, or the design and execution
of studies to identify consumer needs. You might be hands-on in developing
chemical and mechanical processes required for the formulation and manufacture of
products, or conducting chemical, biological, and physical tests on new or improved
product technologies. Your knowledge will help P&G develop new products,
packages, processes and innovative technologies that answer the needs of
consumers. Associate's, Bachelor's, Master's or Doctoral, as well as, Medical or
Veterinary degrees are preferred.
IT – Information & Decision Solutions:
"Creating connections that drive decisions"
Professions in IDS work directly with P&G's business units to provide value-added
solutions that improve our business. IDS leads the development of practical
applications for the collection and analysis and use of information to enable success.
BS/MS degrees in Management/Business Information Systems, Computer
Science/Engineering, Operations Research or an MBA is necessary.