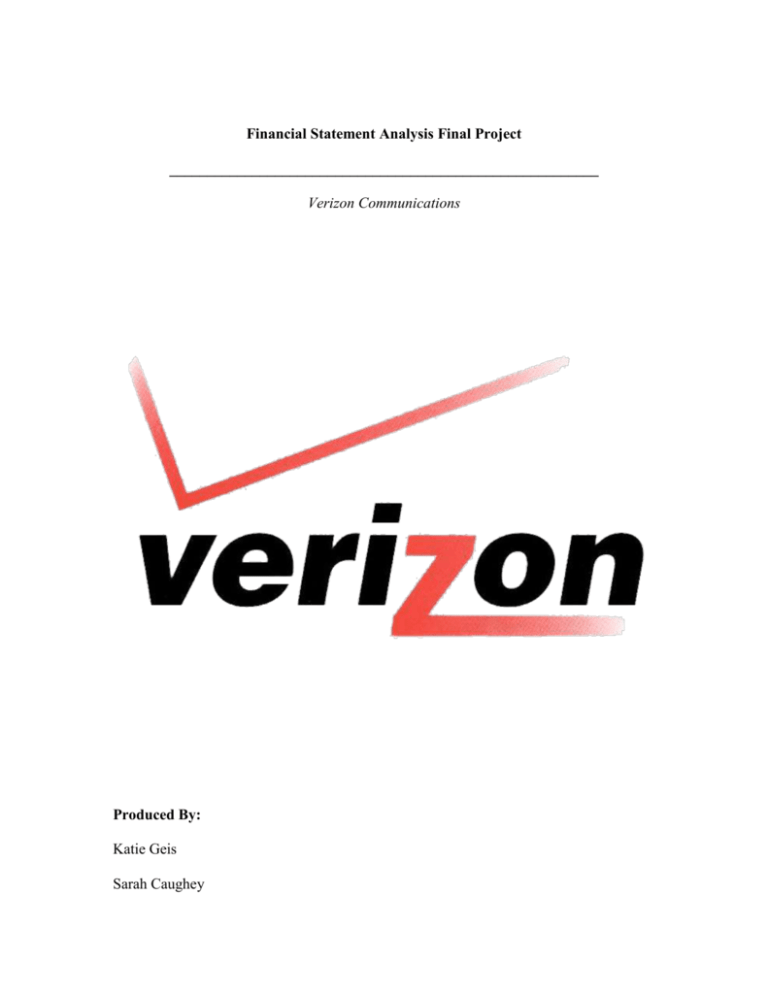 Financial Statement Analysis Final Project
_________________________________________________________
Verizon Communications
Produced By:
Katie Geis
Sarah Caughey
Verizon Communications Inc. is a global provider of telecommunication services,
Internet and media entertainment. A brief history traces Verizon's beginning back to
1995 when it was known as Bell Atlantic Mobile. In 2000, Vodafone, AirTouch and Bell
Atlantic Corporation merged, under the name "Verizon Wireless," a $90-billion joint
venture. Over the decades, Verizon acquiesced several smaller corporations, slowly
building up its empire. Today, Verizon wireless is the United State's second largest
wireless phone provider with 23.4% of the market share, behind AT&T who holds 30.5%
of the market share. They serve a total of 94.1 million U.S. customers, with over 139
million wireless and broadband customers throughout the world.
The company operates through two segments, Wireline and Domestic Wireless.
The Wireline segment provides "voice, Internet access, broadband video and data,
Internet protocol network, network access, long distance, and other services in the United
States and internationally" Yahoo finance. The Domestic Wireless segment offers
wireless voice and data services; and sells equipment in the United States. The company
serves private consumers, businesses, and government customers, as well as carriers. As
of December 31, 2010, its network covered a population of approximately 292 million
and served the previously stated 94.1 million customers within the industry.
The wireless communications industry has grown drastically in the past three
decades. Cell phones have become the number one source of interaction for people using
wireless communication in the United States. The industry has many firms and can, to
some extent, be considered a perfectly competitive industry. The industry does, however,
have two firms that make up the majority of the market share: Verizon and ATT&T.
Both firms have become great competitors, working vigorously to gain control of the
industry.
Verizon Communication's Management Discussion and Analysis is focused on
the future and how to use their networks to differentiate them from competitors. They do
this by having the largest 3G network and recently upgrading to a faster and more reliable
4G LTE network. Management expects continuing losses in the Wireline segment as
customers are moving away from having primary land line phones. They do, however,
anticipate future customer growth as a result of the introduction of smartphones, like the
iPhone 4. Verizon's number of total customers increased 5.6% from 2009 to 2010,
average revenue per customer per month also increased 17.3%. The revenue per
customer increasing reflects the increase in smart phones and the revenue received from
those customers. The data plans that smart phones require are more expensive and very
profitable. The growing market for data capable devices will continue to cause declines
in overall average voice revenues because customers are finding more creative ways to
optimize the value of their communications, i.e. texting and using data instead of voice to
communicate. Management's focus going forward will be to expand wireless data
offerings and promote sales of smart phones and other data capable devices, because that
is their fastest growing segment.
The projections for the 2011 pro forma income statement and balance sheet air
on the conservative side. We focused heavily on historical financial statements and took
into account trends and economic environment. First and foremost to determine the
projection for revenue we examined Verizon's customer increase and revenue per
customer increase. Verizon's number of total customers increased 5.6% from 2009 to
2010, average revenue per customer per month also increased 17.3%. Keeping this in
mind we looked at what percentage of these were cell phone customers, about 3%.
Currently about 30% of Verizon's cell phone user's own a smart phone, management
projected that this number would increase to about 50% by the end of the year, could
possibly be higher with the introduction of the iPhone 4 and 4S. As discussed by
management, smart phone users generate about twice the revenue that standard phone
users do. For 2011, I projected there would be a 7% increase in wireless customers as the
economy is stabilizing and consumers have more confidence. Close to 50% of these new
consumers will be smart phone users, therefore their generated revenue will be even
higher, I project this will add 9% to wireless revenues. The other aspects of their
business will likely gain 1.5% or less, I rounded this down to a flat 1% because of the
already declining operations of their other businesses. All of that added together makes
the 10% revenue growth rate we projected.
The pro forma income statement numbers were determined mostly by looking at
historical data. The common size percentages of revenues were all consistent over the
past three years so determining the projections was not difficult. The balance sheet
projections were not as consistent so we preformed a trend analysis to help look at the
changes in assets, liabilities and owner's equity over the last three years. I focused more
on the numbers from 2008 and 2009 because 2010 had a decrease in revenue and our
projections support an increase in revenue.