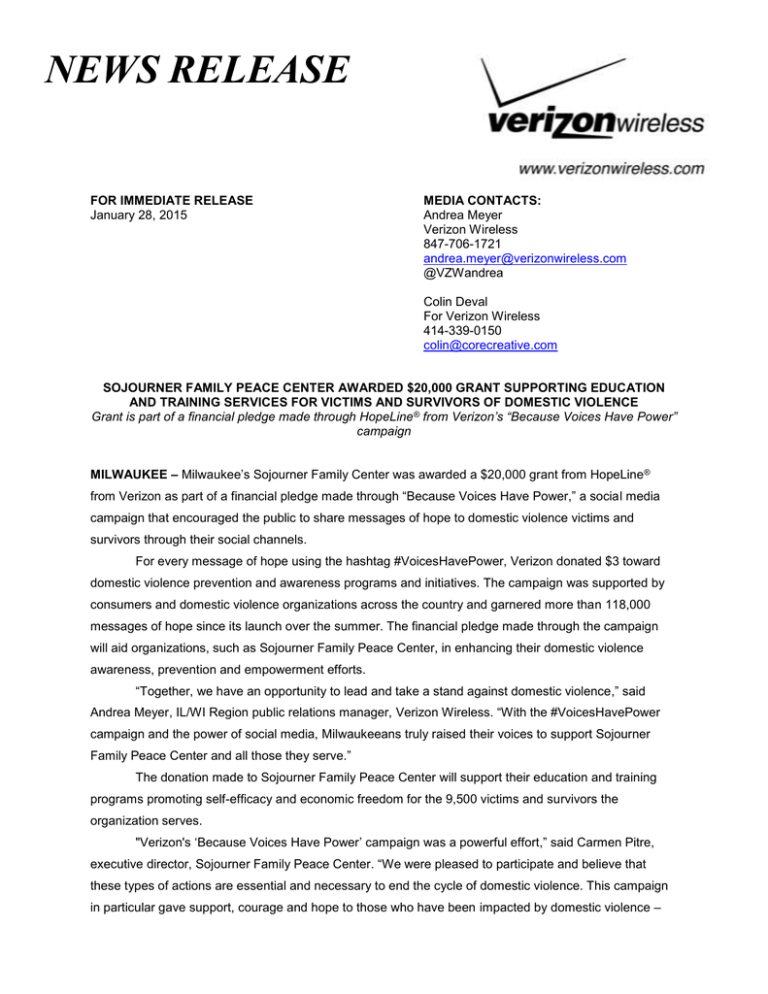 NEWS RELEASE
FOR IMMEDIATE RELEASE
January 28, 2015
MEDIA CONTACTS:
Andrea Meyer
Verizon Wireless
847-706-1721
andrea.meyer@verizonwireless.com
@VZWandrea
Colin Deval
For Verizon Wireless
414-339-0150
colin@corecreative.com
SOJOURNER FAMILY PEACE CENTER AWARDED $20,000 GRANT SUPPORTING EDUCATION
AND TRAINING SERVICES FOR VICTIMS AND SURVIVORS OF DOMESTIC VIOLENCE
Grant is part of a financial pledge made through HopeLine® from Verizon's "Because Voices Have Power"
campaign
MILWAUKEE – Milwaukee's Sojourner Family Center was awarded a $20,000 grant from HopeLine ®
from Verizon as part of a financial pledge made through "Because Voices Have Power," a social media
campaign that encouraged the public to share messages of hope to domestic violence victims and
survivors through their social channels.
For every message of hope using the hashtag #VoicesHavePower, Verizon donated $3 toward
domestic violence prevention and awareness programs and initiatives. The campaign was supported by
consumers and domestic violence organizations across the country and garnered more than 118,000
messages of hope since its launch over the summer. The financial pledge made through the campaign
will aid organizations, such as Sojourner Family Peace Center, in enhancing their domestic violence
awareness, prevention and empowerment efforts.
"Together, we have an opportunity to lead and take a stand against domestic violence," said
Andrea Meyer, IL/WI Region public relations manager, Verizon Wireless. "With the #VoicesHavePower
campaign and the power of social media, Milwaukeeans truly raised their voices to support Sojourner
Family Peace Center and all those they serve."
The donation made to Sojourner Family Peace Center will support their education and training
programs promoting self-efficacy and economic freedom for the 9,500 victims and survivors the
organization serves.
"Verizon's 'Because Voices Have Power' campaign was a powerful effort," said Carmen Pitre,
executive director, Sojourner Family Peace Center. "We were pleased to participate and believe that
these types of actions are essential and necessary to end the cycle of domestic violence. This campaign
in particular gave support, courage and hope to those who have been impacted by domestic violence –
reminding them that they matter and that they have the power to make positive changes for themselves
and their families."
Sojourner Family Peace Center has served the community of Milwaukee since 1975. The
Center's primary goals are to ensure the safety of victims of family violence and to provide a pathway out
of violence for victims and abusers through opportunities to make positive and lasting changes for
themselves and their children. Sojourner Family Peace Center is the largest nonprofit provider of
domestic violence prevention and intervention services in Wisconsin, serving over 9,500 clients each
year. Sojourner provides an array of support aimed at helping families affected by domestic violence
achieve safety, justice and well-being.
Verizon is committed to helping the nearly one in four women, one in seven men and more than 3
million children in the United States affected by domestic violence each year. Through its HopeLine
program, Verizon has donated more than 180,000 phones to survivors of domestic violence, and awarded
more than $21 million in cash grants to its partner agencies. Through HopeLine, Verizon collects nolonger-used wireless phones, batteries, chargers and accessories to benefit victims and survivors of
domestic violence. To learn more about the HopeLine program and how you can get involved, visit
www.verizonwireless.com/hopeline.
###
For Verizon Wireless Updates on Twitter
Stay in the know about Verizon Wireless news in Illinois/Wisconsin by following @VZWAndrea on Twitter at
http://twitter.com/VZWAndrea. For the latest network-related news, information and upgrades follow @VZWNews on
Twitter at http://twitter.com/VZWNews. For more news and stories specific to the Verizon Wireless Midwest Area, visit
and subscribe to our blog: http://vzwmidwestarea.com/
About Verizon Wireless
Verizon Wireless operates the nation's largest and most reliable 4G LTE network. As the largest wireless company in
the U.S., Verizon Wireless serves 108.2 million retail customers, including 102.1 million retail postpaid customers.
Verizon Wireless is wholly owned by Verizon Communications Inc. (NYSE, Nasdaq: VZ). For more information, visit
www.verizonwireless.com. For the latest news and updates about Verizon Wireless, visit our News Center at
http://www.verizonwireless.com/news or follow us on Twitter at http://twitter.com/VZWNews.
About HopeLine
Through HopeLine from Verizon Wireless, the public can help prevent domestic violence by donating no-longer-used
wireless phones and accessories in any condition from nay service provide at any Verizon Wireless Communications
Store. Wireless phones given to HopeLine are refurbished and sold for reuse, generating proceeds for the program.
Refurbished phones – complete with 3,000 minutes of wireless service and text-messaging service – are provided to
local domestic violence agencies or local government and law enforcement agencies for use with their domestic
violence clients. If donated phones are unsalvageable, they are recycled in an environmentally sound way under a
zero landfill policy. Donated phones can help victims of abuse feel safer and less isolated by giving them a way to call
emergency or support services, employers, family and friends. Phone donations given locally benefit victims of abuse
within Milwaukee. HopeLine also donates cash grants to nonprofit organizations to help fund education, programs,
support services and community outreach. Since 2001, more than 10.8 million phones have been collected
nationwide, more than $21.4 million in cash grants have been given domestic violence organizations and more than
180,000 HopeLine phones have been donated to victims and survivors.