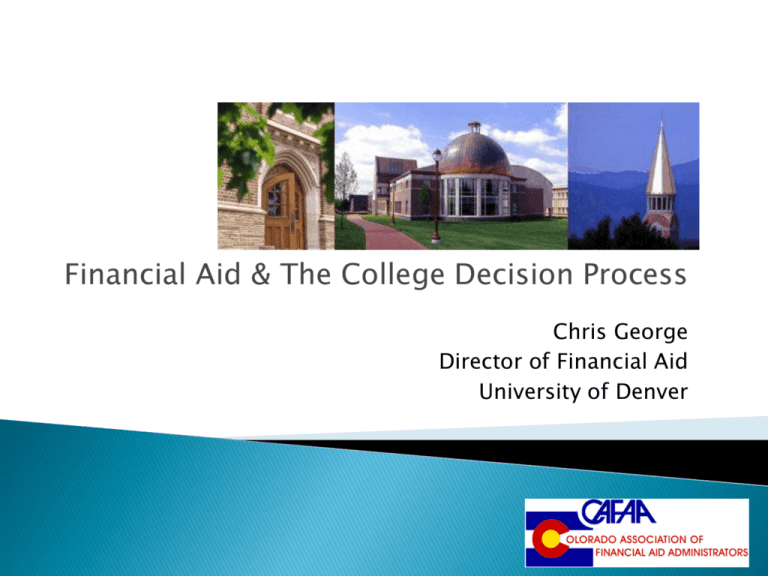 Financial Aid & The College Decision Process
Chris George
Director of Financial Aid
University of Denver
Determines eligibility for merit based aid
•
•
•
•
•
•
Evaluate GPA
ACT and/or SAT Scores
Extracurricular Activities
Leadership
Community Service
Teacher Recommendations
Determines eligibility for need-based aid
• Establishes the cost of attendance (Sticker Price)
• Evaluates family's ability to pay by determining an
expected family contribution (EFC)
• Offers financial aid based on the cost of attendance
and the expected family contribution
• Distributes resources in an equitable manner
• Counsels families on financial issues
FAFSA – Free Application for Federal Student Aid
• Required to determine eligibility
for many federal, state and
institutional aid programs which
can include scholarships, grants,
work study and student loans
• www.fafsa.gov
CSS PROFILE – College Board
• Many private universities and scholarship
providers require the CSS PROFILE application to
determine financial eligibility for institutional aid
programs
• Daniels Fund, Colorado College, University of
Denver
• profileonline.collegeboard.com
• $25 Application Fee
FAFSA PIN
• www.pin.ed.gov
• Required
• Serves as a signature
• Student
• Parent
• Instant – email confirmation
• Apply at any time
• If lost, duplicate can be requested
Documentation needed to complete
applications (Parent and Student)
•
•
•
•
•
Federal Income Tax Returns
W-2 Forms
Driver's License
Social Security Numbers
Savings and Checking Account Information
Additional Documentation needed to complete
CSS PROFILE application (Parent and Student)
• Records of untaxed income &
benefits
• Current Mortgage Information
• Records of stocks, bonds,
trusts, and other investments
Top Tips for Completing Applications
• Meet Deadlines
• You can estimate information on both the FAFSA
and CSS PROFILE applications
• Ensure Social Security Number is correct
• Send applications to the correct institutions
• Attend completion events
• Ask questions if you are unsure
Resources
• Financial Aid Office & Website
• Webinars / Chats / Videos / FAQs
• Application Completion Events
• High School
• College Goal Sunday
• Financial Aid Office
• Department of Education
• @FAFSA
• www.fafsa.gov
Expected Family Contribution
• What a family should be
able to contribute toward
the student's education
over a 9 month period of
time
Cost of Attendance
• Direct Costs
• Tuition and Fees
• Room & Board
• Indirect Costs
• Books & Supplies
• Transportation
• Personal Expenses
Financial Need
Cost of Attendance
- Expected Family Contribution
Financial Need
• Need varies based on cost
• Most colleges are unable to meet 100% of
financial need with scholarship and grant aid
Scholarships & Grants
• Need-based, merit-based, or a combination
Federal and State Grants
• For lower income students & familes
Student Employment
• Students work on campus 10-20 hours a week
• Paid hourly and variable wage rates
• Great way to gain valuable work experience
Loans
•
•
•
•
Colorado Residents/Schools Only
Apply at any time
Not Financial Aid
Eligibility varies based on school you will be
attending
• https://cof.college-assist.org/
•
•
•
•
•
•
•
•
Civic Groups/Organizations (Rotary, Lions, etc…)
Religious Organizations
Corporations (Target, Coca Cola, Ford, etc….)
www.collegeincolorado.org
www.fastweb.com or www.scholarships.com
Facebook App: My College Dollars
High School Counselor
College or University Financial Aid Office Website
•
•
•
Net price is the sticker price minus all scholarship
and grant aid
The sticker price of a college is not always what
parents end up paying
All undergraduate institutions are required to offer
a net price calculator that provides students an
estimate to attend their college
Comparing Financial Aid Offers
• Grants and Scholarships
• Self-help Aid
• Work Study
• Direct Stafford Loans
• Additional Loan Resources
• Parent PLUS or Private Loans
• Multi-year investment and costs
• Tuition increases
• Make financial aid part of your college visits
• Do a bit of detective work! Do the colleges use
financial need in determining their admission
decisions? How does the college treat private
scholarships?
• Net Price Calculators
• Research the school's outside scholarship policy
• Inform colleges about special circumstances
• Review admissions and
financial aid websites
• Meet all application
deadlines
• Investigate and apply for
private scholarships
• Financial fit is important!
Good luck!