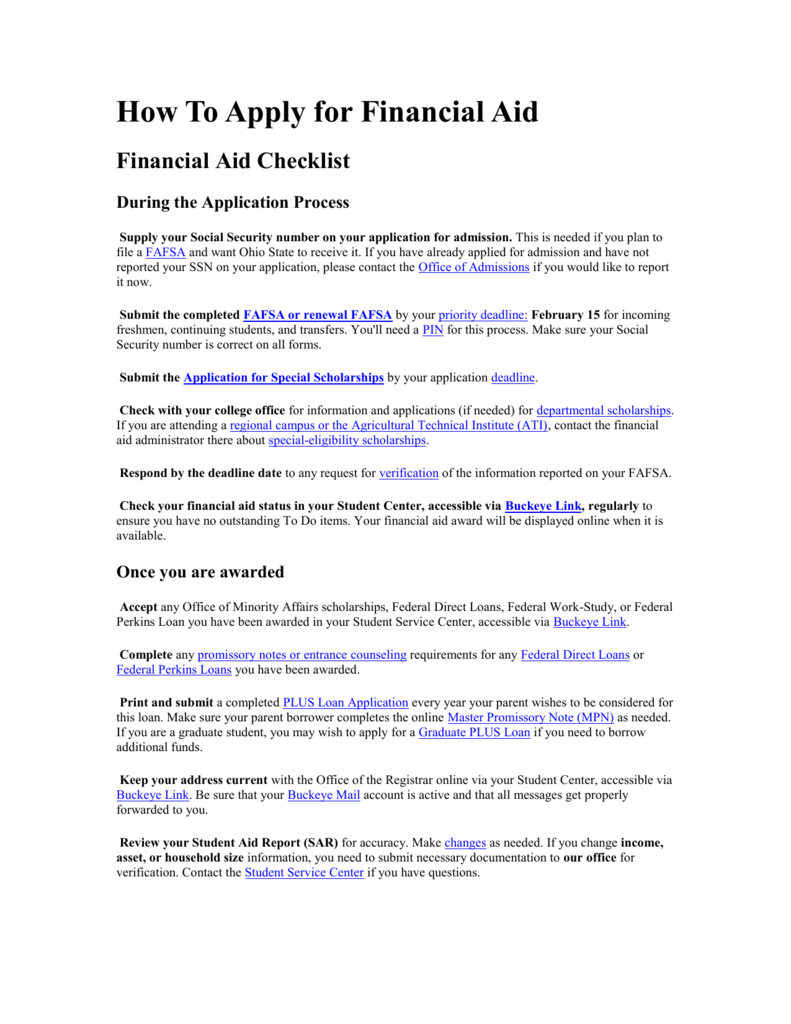 How To Apply for Financial Aid
Financial Aid Checklist
During the Application Process
Supply your Social Security number on your application for admission. This is needed if you plan to
file a FAFSA and want Ohio State to receive it. If you have already applied for admission and have not
reported your SSN on your application, please contact the Office of Admissions if you would like to report
it now.
Submit the completed FAFSA or renewal FAFSA by your priority deadline: February 15 for incoming
freshmen, continuing students, and transfers. You'll need a PIN for this process. Make sure your Social
Security number is correct on all forms.
Submit the Application for Special Scholarships by your application deadline.
Check with your college office for information and applications (if needed) for departmental scholarships.
If you are attending a regional campus or the Agricultural Technical Institute (ATI), contact the financial
aid administrator there about special-eligibility scholarships.
Respond by the deadline date to any request for verification of the information reported on your FAFSA.
Check your financial aid status in your Student Center, accessible via Buckeye Link, regularly to
ensure you have no outstanding To Do items. Your financial aid award will be displayed online when it is
available.
Once you are awarded
Accept any Office of Minority Affairs scholarships, Federal Direct Loans, Federal Work-Study, or Federal
Perkins Loan you have been awarded in your Student Service Center, accessible via Buckeye Link.
Complete any promissory notes or entrance counseling requirements for any Federal Direct Loans or
Federal Perkins Loans you have been awarded.
Print and submit a completed PLUS Loan Application every year your parent wishes to be considered for
this loan. Make sure your parent borrower completes the online Master Promissory Note (MPN) as needed.
If you are a graduate student, you may wish to apply for a Graduate PLUS Loan if you need to borrow
additional funds.
Keep your address current with the Office of the Registrar online via your Student Center, accessible via
Buckeye Link. Be sure that your Buckeye Mail account is active and that all messages get properly
forwarded to you.
Review your Student Aid Report (SAR) for accuracy. Make changes as needed. If you change income,
asset, or household size information, you need to submit necessary documentation to our office for
verification. Contact the Student Service Center if you have questions.
Complete and mail the Report Your Changes form or notify SFA by e-mail at [email protected] if you receive any scholarships, loans, or tuition reimbursement not listed on
your Award Notification from donors outside the university.