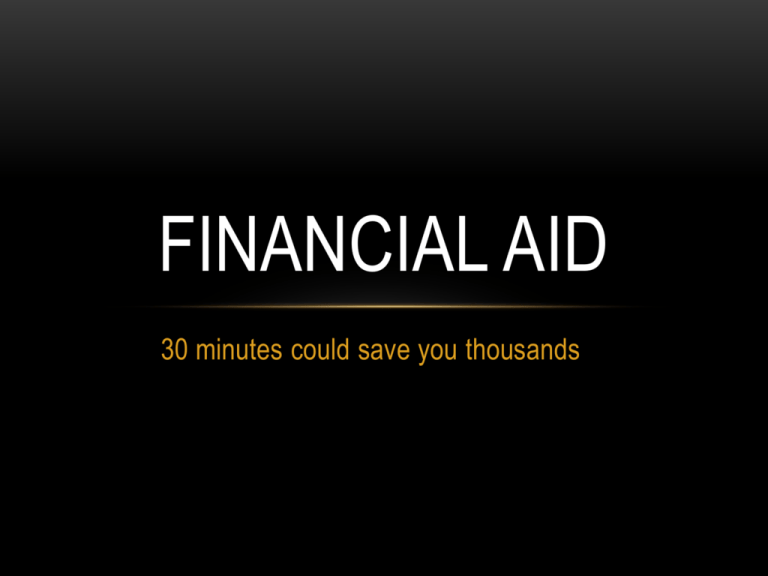 FINANCIAL AID
30 minutes could save you thousands
WHAT WE WILL COVER
• Federal student aid
• State student aid
• Student aid from colleges
• Scholarships from other sources
FINANCIAL AID SUPPORT
•
January 13th – Financial Aid Parent Information Night 7PM – QPAC
• Two members of the financial aid department of Lehigh University will present
information about the financial aid process and will field general questions
• Snow date is January 20 th
•
February 10 th – FAFSA Completion Night 5 to 6:30 PM – Cyber Commons
• This is a work session, not a presentation
• Laptops will be set up in the cyber commons for families to start and hopefully
complete their online FAFSA application
• A member of PHEAA will assist any participants who have questions while filling
out the application
• Prior registration is mandatory. Students can sign up in the guidance office or
parents can email Mr. Gozzard at egozzard@qcsd.org
WHAT IS FINANCIAL AID?
• Financial aid is any assistance to help
students fund their education. It can take the
form of:
• Grants
• Loans
• Work-study
• Scholarships
• Merit Aid – Awarded to students based on academic performance or
other skills
• Needs Based Aid – Based on financial need
4
SOURCES OF AID:
• Federal
• State - PHEAA
• Educational Institutions
• Outside or Private Organizations
• Civic Organizations
• Parents
• Employers
• Schools
5
HOW DO I APPLY FOR FINANCIAL AID?
• Complete the Free Application For Federal Student Aid online
•FAFSA
• You and your parent/guardian must go to…
•www.fafsa.gov
• This is the OFFICIAL financial aid application website.
HOW TO FILL OUT THE FAFSA
REVIEW OF STEPS
•
1. You and your parent/guardian will need to get a personal identification number (PIN)
• www.pin.ed.gov
•
2. Gather needed documents
• Social Security Number
• W-2 Forms from 2014
• Completed Taxes for 2014
•
3. Go on www.fafsa.gov
•
4. On the confirmation page of the
FAFSA, click on the PA state
link to apply for state aid
•
5. Monitor your email and mail for
application status updates
ONCE FAFSA HAS BEEN SUBMITTED
SAMPLE AWARD LETTERS
•
ADD Drexel Award Letter
SAMPLE AWARD LETTERS
•
ADD PSU Letter
DECIDING ON WHICH SCHOOL
• Be sure you have visited the campus – more than once if possible.
• Do you see yourself being comfortable on this campus for the next 4
years?
• Is the distance from home acceptable?
• Is the amount of loans or money you will have to pay out of pocket
feasible?
• Multiply the amount of loans you are taking out over 4 to 5 years.
• Does the potential job you could get pay well enough to pay off the
loans you have taken out? See the "career" tab on Naviance for
salary information.
• Attend the college/trade school because it is right for you, not because
a friend or significant other is going as well.
RESPONSIBLE BORROWING
SCHOLARSHIPS YOU CAN APPLY FOR
•
Check out the financial aid web page of schools where you have applied. They may offer
a scholarship list
•
Naviance has a scholarship list of local and regional scholarships and a "national college
search" tool as well.
•
Avoid Scholarship Scams
• Never pay to apply for a scholarship
• Never give your Social Security Number when applying for a scholarship (you will
need this for colleges and FAFSA)
• Do not give bank or credit card information
•
Investigate your employer and parents' employer for scholarships
•
Church and local civic organizations
ACCEPTANCE LETTERS WITH SCHOLARSHIP
INFO
•
Please share the great
news.
•
If you get a scholarship
award letter, please
bring it down to
guidance.
•
We will make a copy and
give you back the
original.
•
We will keep a running
total of all scholarships
awarded to our seniors
and will announce the
total at graduation.
•
Your info will be kept
confidential!