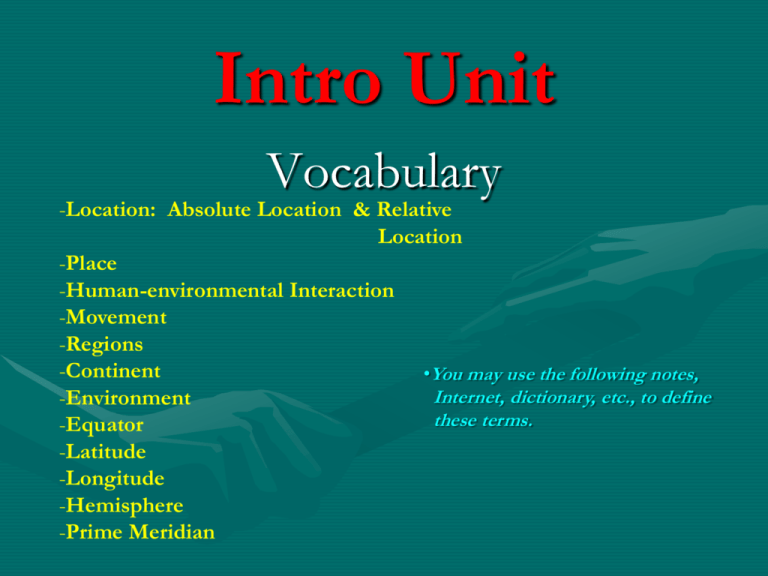 Intro Unit
Vocabulary
-Location: Absolute Location & Relative
Location
-Place
-Human-environmental Interaction
-Movement
-Regions
-Continent
•You may use the following notes,
Internet, dictionary, etc., to define
-Environment
these terms.
-Equator
-Latitude
-Longitude
-Hemisphere
-Prime Meridian
I The Five
Fundamental
Themes of
Geography
A) LOCATION
Where
are
we?
(1) Describes where places are on earth
(2) Types of Location:
(aa) ABSOLUTE: exact location on earth (fixed)
- Doesn't change
Latitude/Longitude
Hemispheres
Grid System
Address
(bb) RELATIVE: compared to other Latitude - Longitude:
36.961996,-86.459348
places (variable) / Changes are
dependent upon comparisons
Lat: 36° 57' 43.185"
Miles
Distance
Direction
Long: -86° 27' 33.6528
B) PLACE
– people, culture, language, religion,
buildings, landmarks, cities, etc.
What is it like there, & what kind of place is it?
(1) Human
(2) Physical
Characteristics
Characteristics
(aa) What are the main
languages, customs, and
beliefs?
(bb) How many people live,
work, and visit a place?
(aa) landforms (mountains, rivers,
etc.), climate, vegetation,
wildlife, soil, etc.
C) HUMAN-ENVIRONMENTAL
INTERACTION
1) How do humans and the environment affect
each other?
(aa) We depend on it.
• People depend on the Tennessee River for water and
transportation.
(bb) We modify it.
• People modify our environment by
heating and cooling buildings for comfort.
(cc) We adapt to it.
• We adapt to the environment by wearing
clothing suitable for summer (shorts), winter (coats), rain (rain
boots) and shine (sunglasses).
D) MOVEMENT
(1) How are people, goods, & ideas moved from
place to place?
(aa) Human Movement
• trucks, trains, planes
(bb) Information Movement
• phones, computer (email), mail
(cc) Idea Movement
• How do fads move from place to place?
TV, radio, magazines
E) REGIONS
(1) How are regions similar to and different from other
places?
(aa) Formal Regions
• Regions defined by governmental or administrative boundaries (states,
countries, cities, etc.)
• Regions defined by similar characteristics (Corn Belt, Rocky Mountain
region, Chinatown, etc.)
(bb) Functional Regions
• Regions defined by a function (newspaper service area, cell phone
coverage area, etc.)
(cc) Vernacular Regions
• Regions defined by people's perceptions (middle east, the south, etc.)
WTL/DTL Assignment:
• Use your Internet, magazine, or your own pics
or drawings to describe your life based on The
Five Fundamental Themes of Geography.
• Make sure each pic has a caption describing it:
At least two COMPLETE SENTENCES!