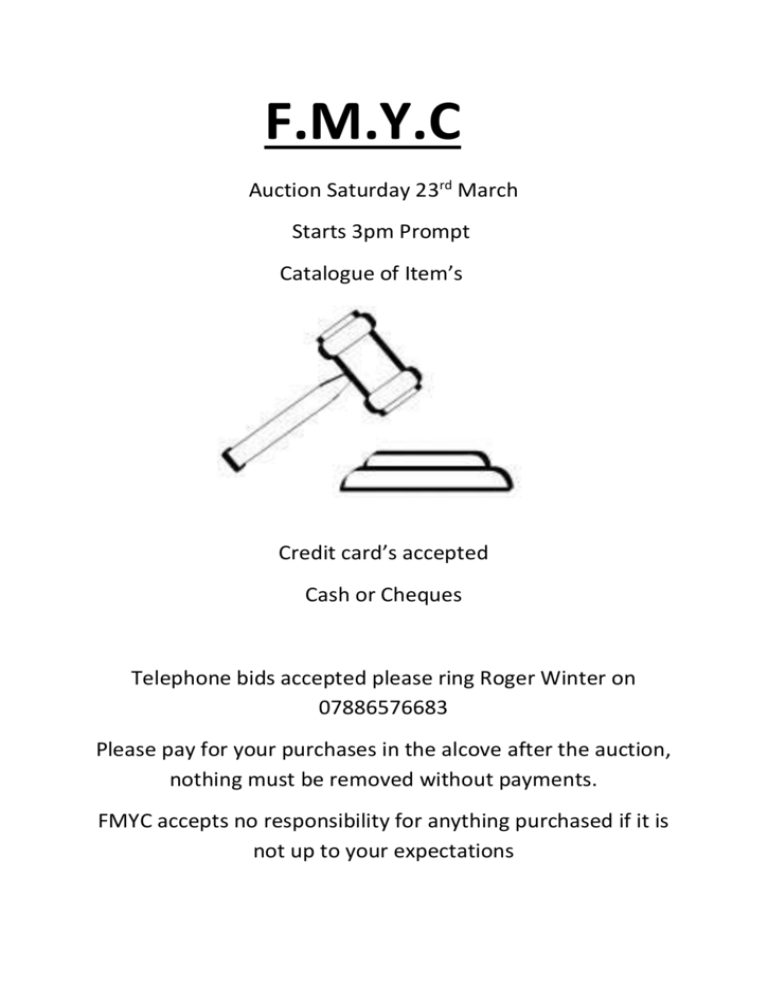 F.M.Y.C
Auction Saturday 23rd March
Starts 3pm Prompt
Catalogue of Item's
Credit card's accepted
Cash or Cheques
Telephone bids accepted please ring Roger Winter on
07886576683
Please pay for your purchases in the alcove after the auction,
nothing must be removed without payments.
FMYC accepts no responsibility for anything purchased if it is
not up to your expectations
F.M.Y.C
Auction Catalogue
LOT 1: Two sails washed free of charge.
LOT 2: Bottle of Jameson's Whisky
LOT 3: Laser pressure Washer
LOT 4: Golf bag and trolley to include:
No 3 wood-John Letters
No 1 wood-Northmestestone
No 1 wood-John Letters
No 3 wood-Aldridge
No 4 wood-John Letters
No 3 Iron – Spalding
No 6 Iron- John Fews
LOT 5: Set of dodgers or sail cover (not a stack pack) made using weather max 80 (this does
not include lettering.
LOT 6: Bass fishing trip for two at a time to suit all parties
LOT 7: Set of Eva Trio Stainless steel saucepans
LOT 8: Bread maker
LOT 9: Wooden barometer
LOT 10: Reflector telescope 262 power and tripod
LOT 11: Black and Decker DP80 Horizontal Drill Stand
LOT 12: Black and Decker D984 Circular San Attachment
LOT 13: Lift out and Scrub up to 44ft
LOT 14: Anchor
LOT 15: 60: scope Nx gen monocular
LOT 16: A set of boat names in one colour
LOT 17: Dart Board
LOT 18: Sea fishing trip for 4 including bait at a time to suit all parties
LOT 19: Fujisan Camera STx1
LOT 20: A/V system platform
LOT 21: Use of engineers, labour only for 3 hours, to do a service of your engine-you supply
the parts.
LOT 22: Gibb Winch Handle
LOT 23: Westfalia digital organizer HC800
LOT 24: Flat to wall with tilt LCD/Plasma mount 32-42(80-105cm)
LOT 25: Key Board (never used)
LOT 26: Prop LH 25 x 28.5 49454
LOT 27: Pair of port and starboard navigation Lights
LOT 28: A pairs of clocks
LOT 29: You have the chance to bid for 2 young muscular men- with a tan, for 2 hours to
attend to your boat in any way you wish. These young men are Knowledgeable and able to
undertake your requirements and have boating knowledge, at a time to suit all parties
LOT 30: Nova sonic therapy pain relief hand held machine
LOT 31: Epson Stylus C48 Printer and mouse
LOT 32: National Geographical Atlas of the World
LOT 33: Portable toilet (never used)
LOT 34: Family photograph portrait
LOT 35: Free Rigging check and tune up
LOT 36: 2 pkts Shroud Protectors
LOT 37: Euro trans Vertor 7 language translator with euro calculator
LOT 38: Hanoptik binoculars 7 x 18 9.3 163m/1000m
LOT 39: Heavy duty gooseneck
LOT 40: 2 + 2 examined and tests, signed of their ICC and Cervni
LOT 41: Custom hand made belt.
LOT 42: Local National boiler service( no parts).