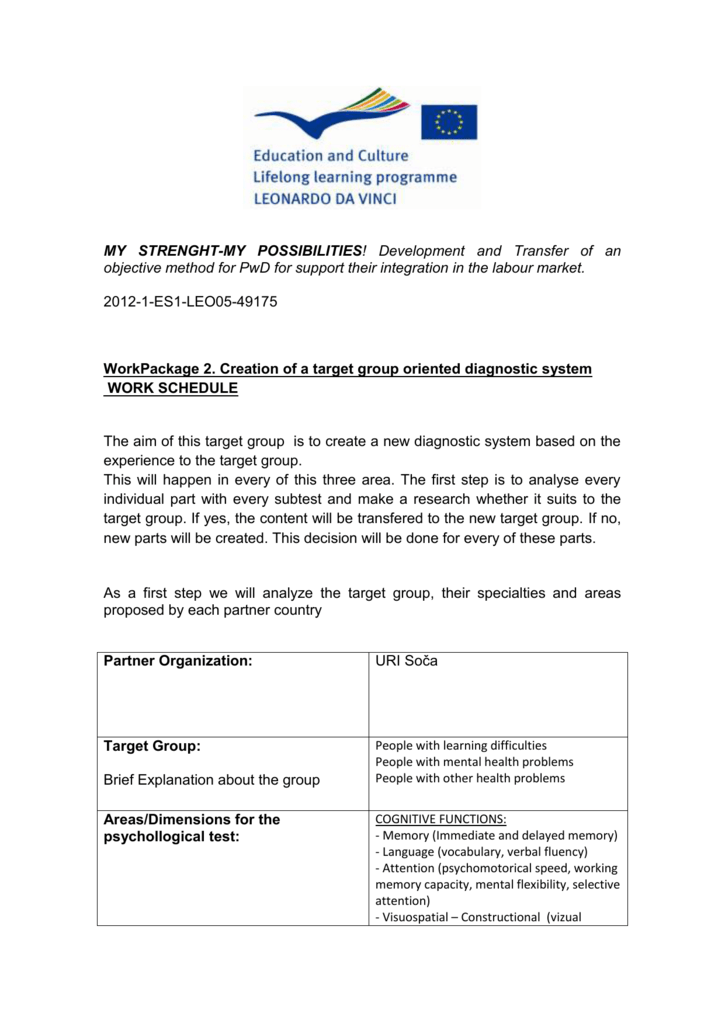 MY STRENGHT-MY POSSIBILITIES! Development and Transfer of an
objective method for PwD for support their integration in the labour market.
2012-1-ES1-LEO05-49175
WorkPackage 2. Creation of a target group oriented diagnostic system
WORK SCHEDULE
The aim of this target group is to create a new diagnostic system based on the
experience to the target group.
This will happen in every of this three area. The first step is to analyse every
individual part with every subtest and make a research whether it suits to the
target group. If yes, the content will be transfered to the new target group. If no,
new parts will be created. This decision will be done for every of these parts.
As a first step we will analyze the target group, their specialties and areas
proposed by each partner country
Partner Organization:
URI Soča
Target Group:
People with learning difficulties
People with mental health problems
People with other health problems
Brief Explanation about the group
Areas/Dimensions for the
psychollogical test:
COGNITIVE FUNCTIONS:
- Memory (Immediate and delayed memory)
- Language (vocabulary, verbal fluency)
- Attention (psychomotorical speed, working
memory capacity, mental flexibility, selective
attention)
- Visuospatial – Constructional (vizual
perception, reproduction of spacial
relations)
- General knowledge
- Understanding of social interactions
- matematical skills
- executive functions
PERSONALITY:
- somatization, anxiety, obsesive-compulsive
features, depression, paranoia,
schizophrenia, borderline features, antisocial
behavior, aggression, alcohol / drug use, self
concept, ...
INTERESTS, OCCUPATION
- activities
- abilities
- professions
- self-assessment
Exemples of methodologies used in RBANS (repeatable battery for the
Assessment of Neuropsychological Status)
each partner organization.
WAIS IV (Wechsler Adult Intelligence Scale)
TOL (Tower of London)
WCST (Winsconsin Card Sorting Test)
MAS – memory assessment scale
RCFT – ray complex figure test
PAI – personality assessment inventory
MMPI – Minesotta Multiphasis personality
inventory
BHI2 – battery for health improvement
SDS – self directed search (Holland)
Question proposed
We could use questions / questionnaires
that are already made and have diagnostical
value.
Additional fields for diagnostics, to add:
COGNITIVE FUNCTIONS:
- Attention test,
- General knowledge
- psychomotor speed
PERSONALITY – motivation for improvemnt and rehabilitation and more psychopathological
dimensions, like:
somatization, anxiety, depression, aggression, thought disorder, attitude towards health,
Occupation:
In sense of both abilities, interests, education and experiences, not only interests.