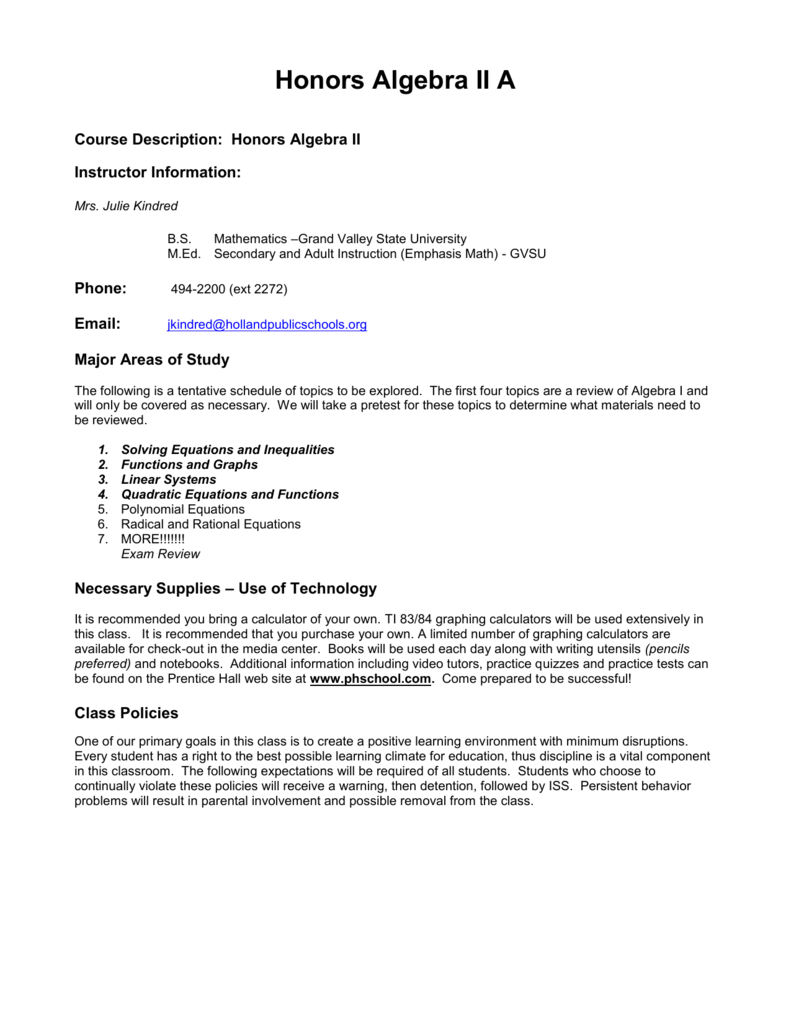 Honors Algebra II A
Course Description: Honors Algebra II
Instructor Information:
Mrs. Julie Kindred
B.S.
Mathematics –Grand Valley State University
M.Ed. Secondary and Adult Instruction (Emphasis Math) - GVSU
Phone:
494-2200 (ext 2272)
Email:
[email protected]
Major Areas of Study
The following is a tentative schedule of topics to be explored. The first four topics are a review of Algebra I and
will only be covered as necessary. We will take a pretest for these topics to determine what materials need to
be reviewed.
1.
2.
3.
4.
5.
6.
7.
Solving Equations and Inequalities
Functions and Graphs
Linear Systems
Quadratic Equations and Functions
Polynomial Equations
Radical and Rational Equations
MORE!!!!!!!
Exam Review
Necessary Supplies – Use of Technology
It is recommended you bring a calculator of your own. TI 83/84 graphing calculators will be used extensively in
this class. It is recommended that you purchase your own. A limited number of graphing calculators are
available for check-out in the media center. Books will be used each day along with writing utensils (pencils
preferred) and notebooks. Additional information including video tutors, practice quizzes and practice tests can
be found on the Prentice Hall web site at www.phschool.com. Come prepared to be successful!
Class Policies
One of our primary goals in this class is to create a positive learning environment with minimum disruptions.
Every student has a right to the best possible learning climate for education, thus discipline is a vital component
in this classroom. The following expectations will be required of all students. Students who choose to
continually violate these policies will receive a warning, then detention, followed by ISS. Persistent behavior
problems will result in parental involvement and possible removal from the class.
In this classroom students are expected to:
*Follow all policies outlined in the HHS handbook
*Respect all individuals and to pick up after themselves
*Come prepared and ready for class to begin when the second bell rings
*Request bathroom privileges only in emergencies (no more than once a week)
*Show work and give this class your best effort
Grading for Honors Algebra II
Trimester Grade
80% ( 10% HW, 90% Quizzes &Tests)
Homework
10%
Daily homework is important and will be checked in one of the following ways:
a. At seat for completion
b. Collected at the beginning of the hour
c. Through an open note quiz
d. Alternate make-up assignments may be available (must be completed by test date)
Quizzes, Tests and Other
90%
Chapter tests (each worth 100 points) are necessary to monitor understanding of the material. Tests
may involve both calculator and non-calculator sections. Additional projects will also be assigned.
Test retakes – Students are given the option to retake a chapter test. In order to retake a test the
student must:
a. Have no more than 3 missed assignments during the chapter (alternate assignments available)
b. Attend study sessions and complete a review, This will be done at Saturday school
c. Take the retest (a new test) within two weeks of assessment.
Final Exam
20%
A 90 minute comprehensive final exam will conclude the course.
Grading Scale (note: grades are rounded up)
94 – 100%...A
90 – 93%...A-
87 – 89%...B+
83 – 86%...B
80 – 82%...B-
77 – 79%...C+
73 – 76%...C
70 – 72%...C-
67 – 69%...D+
63 – 66%...D
60 – 62%...D-
Infinite Campus
I would encourage parents and students to become familiar with the Student and Parent Portal provided by
Holland Public Schools. This will provide access to current trimester grades and attendance and is a wonderful
way to keep up to date on assignments, projects and tests.
Tutoring Opportunities:
I am available for additional help in the mornings and every lunch hour. Please take advantage of these help
sessions.