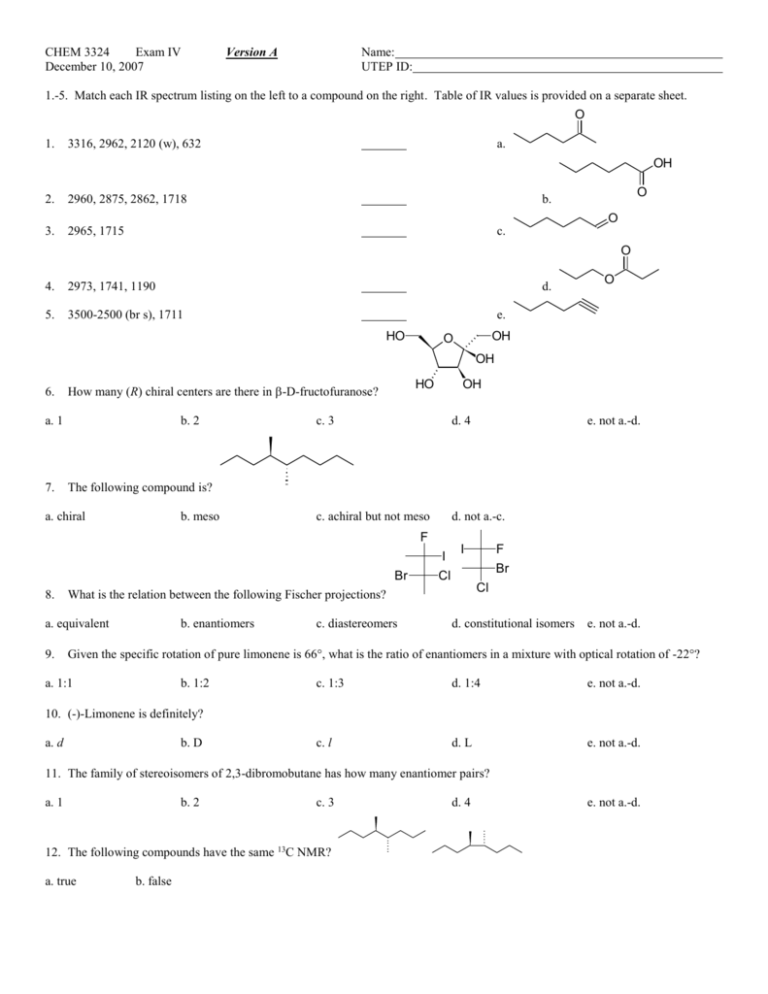 CHEM 3324
Exam IV
December 10, 2007
Version A
Name:
UTEP ID:
1.-5. Match each IR spectrum listing on the left to a compound on the right. Table of IR values is provided on a separate sheet.
O
1.
3316, 2962, 2120 (w), 632
a.
OH
2.
2960, 2875, 2862, 1718
3.
2965, 1715
O
b.
O
c.
O
4.
2973, 1741, 1190
d.
5.
3500-2500 (br s), 1711
O
e.
HO
OH
O
OH
6.
a. 1
7.
HO
How many (R) chiral centers are there in -D-fructofuranose?
b. 2
OH
c. 3
d. 4
e. not a.-d.
c. achiral but not meso
d. not a.-c.
The following compound is?
a. chiral
b. meso
F
Br
8.
I
b. enantiomers
c. diastereomers
F
Br
Cl
What is the relation between the following Fischer projections?
a. equivalent
9.
I
Cl
d. constitutional isomers
e. not a.-d.
Given the specific rotation of pure limonene is 66°, what is the ratio of enantiomers in a mixture with optical rotation of -22°?
a. 1:1
b. 1:2
c. 1:3
d. 1:4
e. not a.-d.
c. l
d. L
e. not a.-d.
10. (-)-Limonene is definitely?
a. d
b. D
11. The family of stereoisomers of 2,3-dibromobutane has how many enantiomer pairs?
a. 1
b. 2
c. 3
12. The following compounds have the same 13C NMR?
a. true
b. false
d. 4
e. not a.-d.
O
H
OH
a. true
H OH
O
13. The following compounds have the same biological activity?
b. false
14.-18. Match each structure on the left to the number of 13C NMR signals that it has. Answers may be repeated.
14.
a. 3
15.
b. 4
16.
c. 5
17.
d. 6
18.
e. not a.-d.
H H1H
H
H
H7
H
H2
H6 H5 H4 H3
H
19.-23. Match each pair of hydrogens on the left (referring to the labeled hydrogens in 3-methylpentane above) to a topicity
relationship on the right. Answers may be repeated.
19. H1, H2
a. equivalent
20. H3, H4
b. enantiotopic
21. H4, H5
c. diastereotopic
22. H4, H6
d. constitutional heterotopic
23. H2, H7
e. not a.-d.
24-28. Match each 1H NMR spectrum on the left to an isomer of C4H8O2 on the right.
O
24. 3.7 (8H, s)
O
a.
O
H
25. 11.9 (1H, br s), 2.6 (1H, sept), 1.2 (6H, d)
O
b.
OH
26. 11.5 (1H, br s), 2.3 (2H, t), 1.7 (2H, sex), 0.9 (3H, t)
c.
O
O
H
27. 4.1 (2H, q), 2.0 (3H, s), 1.2 (3H, t)
d.
O
O
28. 4.3 (1H, q), 3.6 (1H, br s), 2.2 (3H, s), 1.4 (3H, d)
e. O
These exams sheets may be picked up after 1 p.m. today in PSCI 202. A copy will also be available online. The retake homework is
due Wednesday, December 12 by 1 p.m. No excuses. Don't forget to put your name, Exam IV, and your version letter on your
scantron!